As the year's end looms, let's take a look at what our economic story looks like right now. And then I'll make some forecasts for next year.
I'll sum it up in point form and emphasise how good things are looking right now. So here goes:
• Unemployment: started at 6.6%, fell to 5.2% but was a low of 4.5% in August, until lockdowns kicked in.
• ANZ job vacancies: a 13-year high!
• Wages: the strongest annual growth rate in 18 months.
• National home prices: up 22.2% over the year – the strongest annual growth rate in 32 years!
• Loans: We're borrowing at the fastest pace in 5 years.
• NAB business confidence: This is at the second highest result on record!
• Westpac Consumer Confidence hit 118.8 in April — the 6th highest reading ever! It's now at a good reading of 105 but the fall was due to lockdowns.
• The stock market: the ASX 200 is up 10.5% year-to-date.

• Super funds: these are up about 10% as well.
• Savings: our household saving rate jumped from 11.8% to 19.8%, with household gross disposable income up 4.6% – the strongest pace in 13 years!
• Wealth per adult: we're the wealthiest in the world!
See the table below.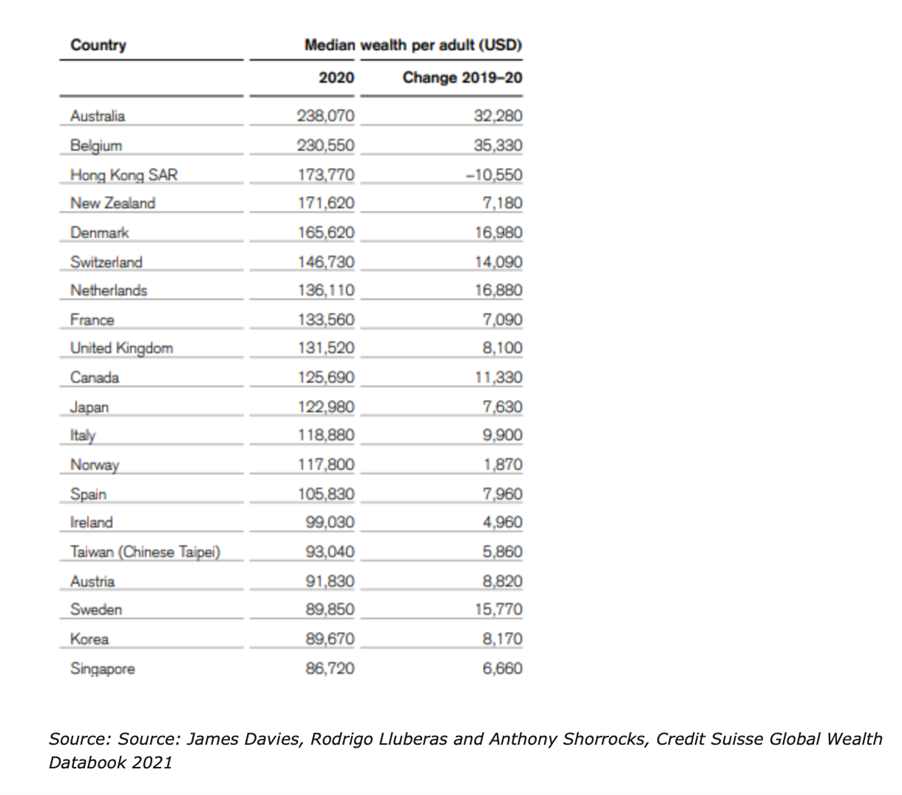 CommSec: "Australia's median wealth per adult now sits at the highest in the world. According to recent data from the Australian Bureau of Statistics (ABS), total household wealth rose 4.3 per cent in the March quarter 2021 to $12.66 trillion, while wealth per capita jumped to a record high of $492,055. Through the year, household wealth jumped 15.3 per cent, the strongest annual growth since December 2010."
What about the future? Well, high-frequency indicators such as debit and credit card spending is rebounding strongly. Meanwhile, the RBA Governor Philip Lowe now says it's "possible" that rates could rise before 2024, which means he starting to see a better-than-expected economy on the way.
CBA's economics team thinks the RBA will do the first hike of the cash rate of interest in November next year, while other economists think early 2023, which implies 2022 will be a good or even a boom economic year.
I'm investing with the idea that the index will gain at least 10% plus dividends, which might mean a 15% gain, if you add in dividends and franking credits.
Of course, I'm hoping that Omicron will be less problematic than the Delta variant but there are always curve balls with investing. I love this chart from AMP Capital's Shane Oliver, which shows what happens to economic activity when lockdowns end and the virus is not hurting business.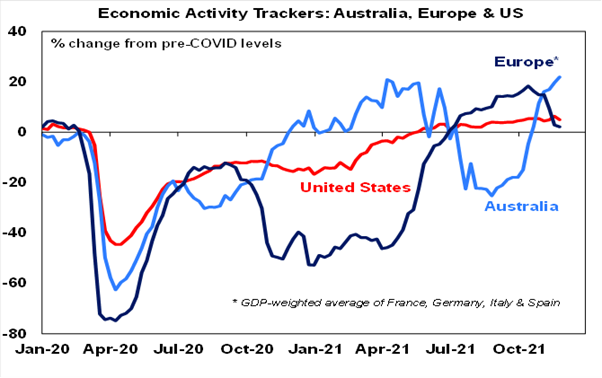 That blue line shows how we're rebounding out the lockdowns while Europe is struggling and the US is going sideways. If 2022 brings to Australia and the rest of the world a big win over the Coronavirus, economic growth will go gangbusters, which will power company profits, stock prices, great super returns, jobs, taxes to pay down our budget deficits, rising interest rates for savers and materially a better life for all.
Sure, a cranky China, a federal election and other curve balls will come along next year, but if we nail this virus, that big positive will drive so much confidence and growth that negatives will be overwhelmed.