For the last two weeks when I've been trying to have a break in France and Italy, the stock market has made me toil harder than I wanted to. That said, I suspected the market was going to remain 'crazy' mad, with the Fed likely to raise interest rates by 0.75%, which, of course, it did last week.
Given our market is now down 14.69% year-to-date and off about the same since late August last year, at least we've outperformed the Yanks. They've seen their market slump over 23% to be in a bear market, while we're only in a correction.
Three big reasons explain this and here they are:
1. Inflation is worse in the US at 8.6%, while ours is 5.1%.
2. The US economy looks more likely than ours to end up in a recession.
3. The US stock market boomed excessively after the Coronavirus crash with its tech stocks overbought, which drove their share prices to ridiculous levels. This powered the market up much more than our stock market, so the fall of the S&P 500 Index had to be bigger.
Right now, the consensus view of those who really drive share prices short-term is that the Fed and other central banks will screw up these rate rises (i.e. too many and too fast) and they will create recessions.
This is a guess by a bunch of people who've never been great at guessing when a recession comes.
Last week Jerome Powell took a shot at economists, fund managers and media critics who think he's a knucklehead and will create a recession. Powell argued that a soft non-recession landing for the US economy is a good chance.
To get even with those who maintain the sell-off of the stock market says the smarties there don't agree, Powell quoted famous US economist Paul Samuelson, whose textbook I revered as a student and teaching academic many years ago.
The AFR's US correspondent Matt Cranston captured it neatly with this: "After the biggest rate rise in 28 years, Federal Reserve chairman Jerome Powell went to great lengths to convey what Nobel Prize-winning economist Paul Samuelson said almost 60 years ago about predicting recessions. Samuelson quipped that US share-market sell-offs had correctly predicted nine of the last five American recessions."
The stock market and the bond market sometimes get it right and sometimes get it wrong, and Powell in the US and Dr Phil Lowe here in Oz have to raise interest rates judiciously to bring inflation down but they also have to avoid a recession.
That's a big task but they're the guys paid the big bucks to make it happen. In case you're interested, this is what they get:
Dr Phil Lowe: A$1,059,761!
Jerome Powell: US$203,500! (Gee, you have to hope he has a great retirement package!)
So what do we need to watch in the coming weeks and months because I can't see much relief from the stock market anxiety until some good news arrives? Like what? Try these:
1. Lower US inflation. By the way, AMP's Shane Oliver says his US Inflation Pipeline Indicator is telling us inflation is starting to fall.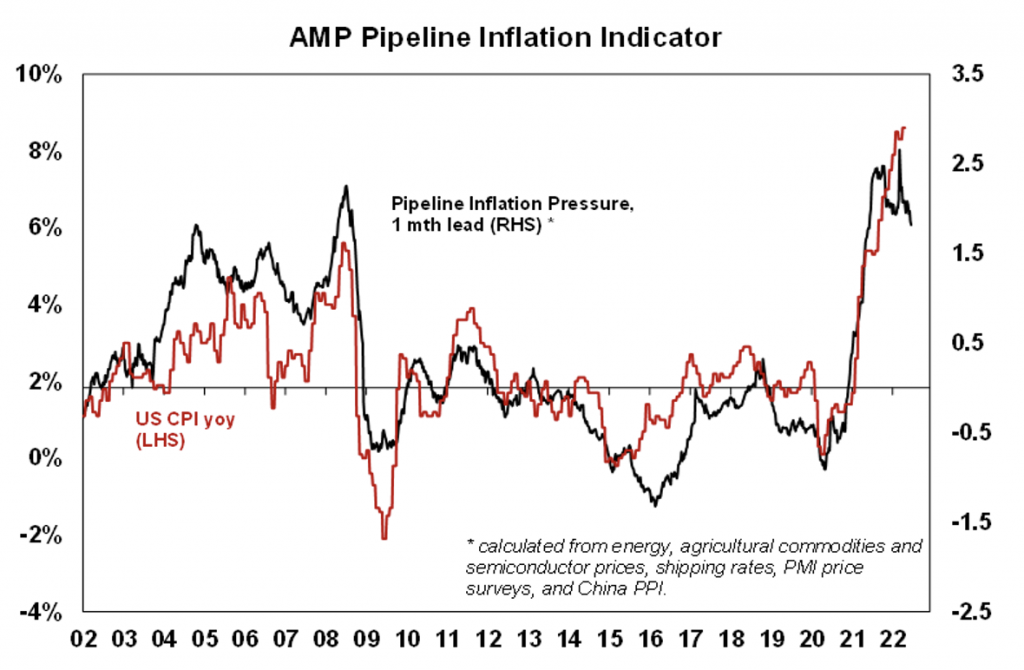 In economics there are lags. See how the red CPI/inflation line is going up but the black Pipeline Inflation line is falling. Keep your fingers crossed that the CPI in June starts falling like the black Pipeline line did in May and is doing now.
Stock markets want to see inflation on a slide, which will make them believe they've been too negative on rate rises and stock prices.
2. Other economic data in the US and here needs to point to the fact that previous rate rises are scaring consumers and businesses. Falling house prices, slower retail sales, rising unemployment, fewer job ads, this slumping stock market and so on, will make central banks less aggressive with rate rises. They've been trying to scare us into less spending to slow down the demand-driven aspect of inflation.
3. China completely out of lockdown and back to full normal production and exporting, which will really cut into inflation.
4. An end to the Ukraine war, which will bring down the price of oil and damn well bolster confidence, especially in Europe.
Note this well: if in a couple of months' time, the recent (and maybe the next) interest rate rise bumps into less cost-push inflation from the problems in China and Ukraine, then stocks will spike in the latter part of 2022.
History has shown that the S&P 500 usually beats the annual inflation rate. If the central bankers play a good game and China (at least) delivers cost reductions by avoiding more lockdowns, then the US and us in Oz, might have the conditions to avoid a recession, which will be great news for stocks.
By the way, if the Ukraine war can end, it will give global and local normalcy a chance to reassert itself. And normalcy will help bring down inflation as well.
Last week a good back-to-normal indicator started to bob up, with CommSec reporting that: "In May, provisionally there were 651,060 overseas arrivals to Australia – the most since Covid-19 international border restrictions were imposed in March 2020. And there were 663,970 overseas departures from Australia last month – the most in over two years."
Yep, tourists are coming and some will be foreign workers, which will help the tight job market that's pushing up wages and inflation. Also, economists think we're starting to buy services again like in normal times, which will mean we'll buy fewer TVs and other retail products, which will lead to rising inventories in places like JB Hi-Fi and Harvey Norman, which will lead to price decreases and lower inflation.
If you don't believe me, just look at this headline from Reuters on May 27 last month: 'U.S. Retailers' ballooning inventories set stage for deep discounts.' This kind of thing is good news for bringing down inflation, slowing up interest rate rises and helping stocks to stop falling. "Major U.S. retailers that recently scrambled to restock shelves amid product shortages disclosed this week that their stores are now packed with too much merchandise, and some are even doing what was unthinkable just a few months ago: discounting unsold goods," Brendan McDermid reported.
That's how normalcy can help reduce inflation. For those who think a recession is a done deal, this is what a trained economist like Shane Oliver wrote on Saturday: "We remain of the view that a global recession can be avoided but with central banks now hiking rates aggressively the risks have increased to the point that it's now close to 50/50."
This stock market craziness mightn't end as soon as we'd like, but I bet it will be sooner rather than later (which is what many are predicting).