In case you're not a historian who specialises in the story of Australian interest rates (which few people are), my old economist mate, Craig James at CommSec, tells me this is the "most aggressive interest rate move in 28 years".
This strong-arm interest rate play comes at a time when RBA Governor Dr Phil Lowe is coming under pressure to resign after his very public call that interest rates would in all likelihood be at the very low levels seen during the pandemic start year of 2020 until 2024.
Some media commentators are saying he promised they wouldn't move until 2024, and while some borrowers might have thought they heard this, Dr Phil never said it. And I've always argued he needed to say that about rates probably not rising until 2024 when we were all worried about our economic futures as lockdowns closed down economies and threatened a rerun of the 1930s Great Depression.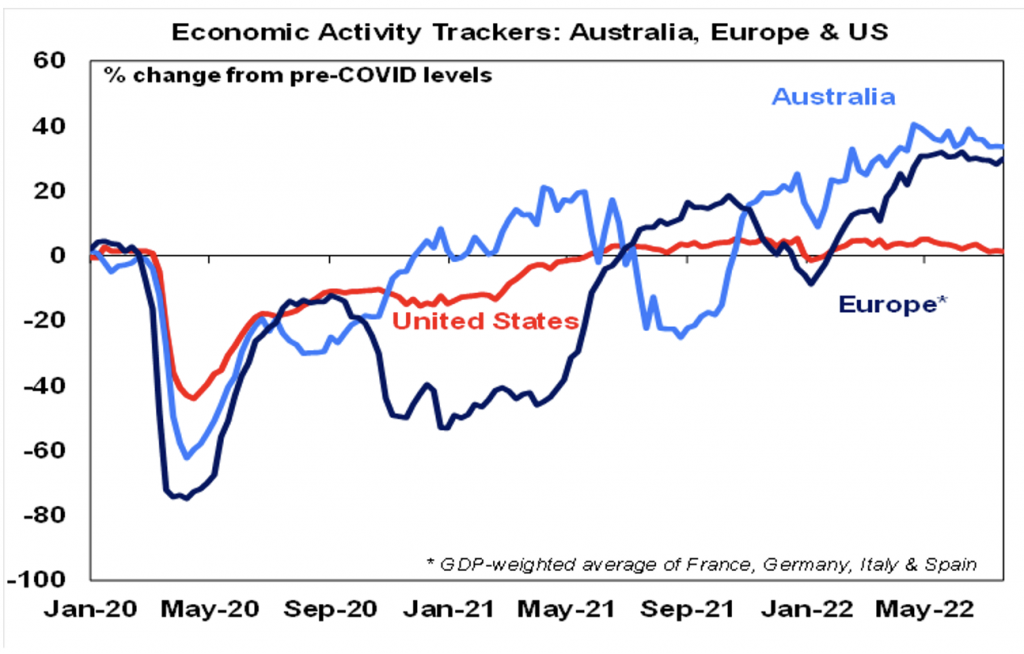 Dr Phil's big mistake was not to back away from his 2024 call when he saw what happened after we all got out of lockdown, which this economic activity tacker chart above shows. The blue line is Australia's level of economic activity. When it dipped in March 2020, it was the start of the pandemic lockdowns, but have a look at how it rebounded when we were granted freedom.
The next dip was shallower because that was Melbourne going into its own second lockdown, but when that ended the blue line spiked again big time!
Then in 2021 along came that damn Omicron virus and we dipped again. After that, we got our tickets of leave and started spending again, and still are. What that blue line shows is that if Dr Phil had foreseen the possibility of another economic leg down for 2021 after the first rebound of the economy in 2020, he really should have dropped his 2024 call in 2021, but he didn't.
25 years of Aussie economic growth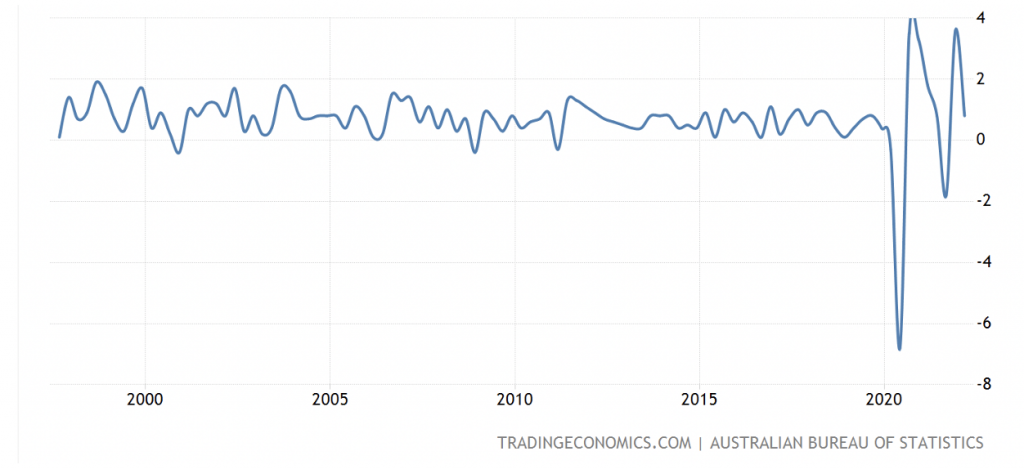 This chart shows how the lockdowns drove economic growth down. But it also shows how after those lock-ups of Aussie consumers and businesses, the surges in growth were higher than the average growth of the past. This is when Dr Phil should have warned borrowers that his 2024 call was no longer believable.
He could have said that our management of the economy (i.e. the RBA, Josh Frydenberg and the state premiers) was so good that it means we've dodged the Great Depression bullet and therefore interest rates will probably rise in 2022 or early 2023.
So where are we now with Dr Phil? Well, he's still telling us to expect interest rates to go higher, but I don't believe he and his monetary policy experts have a set-in-stone plan to keep raising rates month after month for the rest of this year (and beyond) until the cash rate gets to 2.5%, 3% or even 3.6%. These are the calls that have been out there scaring the pants off people in recent times. But the one worth keeping in mind is the 2.5% number, which Dr Phil has pinpointed as an important level in the normalisation process for interest rates here in Oz.
After the 0.5% rise yesterday, the cash rate is now 1.85%. While some expert economists have predicted 0.5% rises in September and October, others have gone for 0.25% and then another 0.25%. However, yesterday Dr Phil virtually said: "Not so fast!" So these guys could be wrong.
Of course, he's not one for high drama and theatrics but through his Board's statement yesterday he did say that the RBA "expects to take further steps in the process of normalising monetary conditions over the months ahead, but it is not on a pre-set path".
As Craig James noted: "This is an important addition to the final paragraph of the statement to indicate that future rate hikes could be either smaller or larger depending how data evolves".
Rates might be put on hold quicker than we expect if the data drop in coming months really surprises or shocks the boffins in the RBA's economics team.
Craig James put this in historical perspective with the following: "The Reserve Bank has hiked rates for an unprecedented fourth month in a row with the cash rate now at the highest level in over six years. Whether you call the moves a 'removal of stimulus' or a 'tightening' of monetary policy, the intention is the same – to slow down the pace of spending or demand at a time when supply (production) is constrained at home and abroad. The aim being to achieve a better balance between supply and demand, thus restraining inflationary pressures."
If the data in coming weeks and months says that confidence is crashing, with house prices and retail prices starting to tank as weaker spending consumers replace the big spenders since 2020, while import prices start to slide as supply chain problems become less of a problem, the RBA could easily pause its rate rising program.
If you want to know what economists are guessing right now, here's what the CBA economics team is telling us: "expect the cash rate to rise further in coming months — another 50bp move is expected in September and a 25bp move in November, taking the cash rate to 2.60 per cent by year-end".
And this is the latest call from AMP's Shane Oliver: "Market and consensus expectations for the cash rate to rise above 3% are too hawkish. We see the pace of cash rate hikes ahead slowing down with the cash rate peaking around 2.6% either at the end of this year or early next year, which is at the low end of market and economists' expectations."
And get this huge revelation: Shane expects interest rate falls sometime next year! So why does he expect the cash rate to peak at 2.6%? He offers five reasons:
1. Global supply chain pressures on inflation appear to be easing.
2. The RBA is already getting traction in terms of slowing demand and is starting to recognise this, with downgrades to the outlook for economic growth.
3. RBA 'tough talk' on rates and the media/economists' message carrying of what lies ahead could prove to be a tad excessive (my take on what Shane implied).
4. Inflationary expectations are still contained; and
5. Many households will experience significant financial stress with rising rates.
Also note how Shane thinks the RBA might not hit his 2.6% call until next year, which suggests that the rate rise torture for those with big debts could ease up sooner than many might be worrying about: "We see the pace of cash rate hikes ahead slowing down with the cash rate peaking around 2.6% either at the end of this year or early next year, which is at the low end of market and economists' expectations. Rates are likely to be falling in the second half of next year".
Interestingly, one economist thinks the RBA should stop the rush to raise rates, to make sure Dr Phil and his team aren't cooking the economy. "With a slowing global economy and the US Federal Reserve close to neutral (rate settings), it's time for the RBA to be cautious," Dr Pradeep Philip, the Deloitte Access Economics lead partner, told The Australian. And that's the message I hope Dr Lowe is telling us when he says rate rises are not "on a pre-set path".
If the economic data says it's time to pause or stop, that's what the RBA has to do.
Given all this, my big watch over coming weeks and months will be inspired by the Elvis Costello song Watching the Detectives.
I want to look to economic indicators that will be detectors of how the interest rate rise program is working to beat inflation. When Costello wrote this song, he went without sleep for 36 hours and says he was kept awake by a big jar of instant coffee, while listening to The Clash's debut album (called The Clash) and watching US detective programs. I won't go that far but I will be burning the midnight oil watching for every important detector/indicator that might tell me inflation is coming down, which means rate rises will be less of a threat. This will be good for the economy and, importantly, the stock market.
As you can see, I'm forgiving Dr Phil and his 2024 call, but if he missteps with his rate rise program and does cook us into a recession, his job will be under threat.