It's crunch time for borrowers who've been given a Coronavirus break from loan repayments. But it's also crunch time for the banks and how they behave, the shareholders who want the bank share price to rise and the Government needing the economy to rebound in the December quarter.
There are only 23 days left in the September quarter and Victoria's Coronavirus calamity has pretty well assured us that this current quarter will be another negative three months' growth, effectively taking the recession into three quarters. The World Bank chart below shows how bad unemployment can get.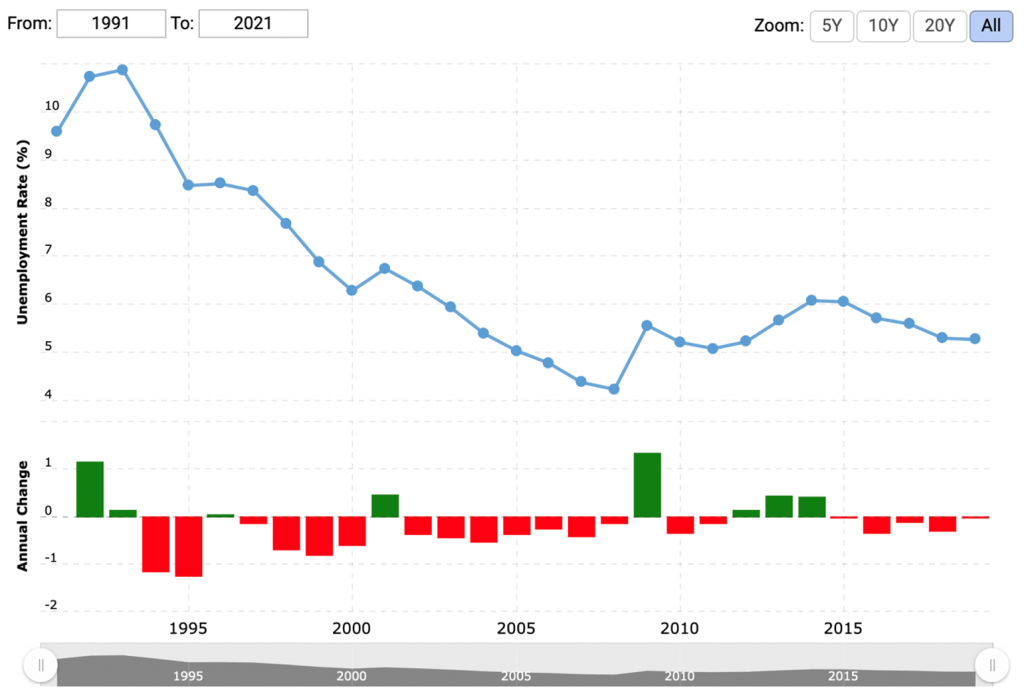 The 1991 recession was only two quarters, so this puts this Victorian problem into perspective. Clearly, the Treasurer Josh Frydenberg doesn't want to see unemployment hit the 10.87% level it did in 1993. And it remained high and over 6% until the Olympics year of 2000!
But this was a more conventionally-caused recession. What we have now is a recession caused by a pandemic-closure of the economy, so maybe we can see a quicker economic comeback. In fact, the rebound of the US stock market is implying just that, so we have to hope that Wall Street's smarties are on the money.
Last week I pointed out that US economist and market veteran, Ed Yardeni of Yardeni Research had given the US economy the thumbs up, in terms of the positive economic signs he was detecting. "The worst of the hit from the coronavirus pandemic appears to be over and markets could see a rebound in revenues from here," Yardeni told CNBC on Tuesday. "All in all, we're still seeing that economies are recovering pretty well from what was basically a lockdown recession."
Over the weekend we learnt that Yanks created 1.37 million jobs in August and unemployment fell from 10.2% to 8.4%.
Today's Australian newspaper shines the spotlight on borrowers (both household and business) as the six-month period of grace for COVID-affected borrowers approaches its end.
Yesterday the Treasurer said "temporary insolvency and bankruptcy protections would be extended a further three months to December 31," the Oz's Patrick Commins tells us. Clearly, if banks move too fast to get borrowers to face the new reality about their capacity to repay their loans, it could actually deepen and extend the length of this recession.
So banks will contact those in loan trouble (potentially 450,000!) to see if they still need time (as special case situations). The picture that emerges will not only be an important forward economic indicator, it will tell company analysts a thing or two about the banks' future profitability, when they might pay dividends again and where their share price might be heading.
And this will determine what happens to the overall stock market index as financial companies are about a third of the total share market's value!
The Australian Banking Association's CEO (and former Queensland Premier) Anna Bligh says banks want to know who really needs help and who can resume normal repayments. There are options, such as putting some borrowers on interest-only loans if their cash flow is still lower than it was before the virus infected our lives.
A longer loan deferral period going out to four months is a possibility for some.
To date, the COVID-19 rescue operation involving all the country's governments, banks and landlords has worked better than expected. "An Australian Institute of Company Directors survey published in June found that 12 per cent of respondents — including 16 per cent of SMEs — said the laws [related to this rescue] had influenced their decision to continue trading through the crisis," Commins reports.
All up, 900,000 customers received loan help. And the banks think 10% won't make it, which will become a problem for their bottom lines.
The Australian reported that the ABA said that of the 450,000 customers who'll be receiving calls from the banks in September and October, 105,000 are SME loans, while 260,000 are for mortgages.
If Victoria doesn't rebound out of its lockdown in the December quarter with a strong comeback, and the banks play harder ball with borrowers than they need to, then this recession and the unemployment it creates could become a huge worry.
Go Victoria! And a message to the banks? Be humanly nice as well as sensible!