US inflation rising a huge 4.2% in April has spooked tech stock players on global share markets, but should you dump these stocks or see this as a buying opportunity? How you play this depends on whether you think the central bankers of the world know what they're talking about.
And this inflation concern isn't just a stocks worry. Should those in debt start thinking interest rates could rise sooner than what the RBA has been telling us?
Yep, this is a big call for Reserve Bank boss Dr Phil Lowe and his worldwide group of central bankers. They better be right or we could be in for a worrying time.
In October last year, former PM and Treasurer Paul Keating slagged off at our Reserve Bank accusing the RBA of "indolence" and an unwillingness to help "shoulder the load" in the current economic emergency.
Given his own battles with interest rates when home loans went to 18% when he was Treasurer and had more control over the central bank, perhaps this a tad hypocritical.
I have to admit I have disagreed with the RBA on my TV programmes or in my newspaper columns on a number of times but I guess I remember the times when I was right rather when the Big Bank was on the money.
I'll delay my call on interest rates until later in this piece. For now, let's look at why central banks won't be worrying about this spike in inflation.
First up, it should be pointed out that this 4.2% number was much higher than the 3.6% tipped by economists in a Dow Jones survey. And interest rate sensitive shares like tech stocks fall because investors fear rising inflation squeezes margins and reduces profits. But the big concern is that this is the start of bigger inflation spikes for longer.
Central bankers have been preparing us for a base jump in inflation because of the adjustment in pricing following the craziness of the Coronavirus, the lockdowns it created, the job losses that followed and the recession that resulted.
Since then we've had huge government spending programs and record low interest rates that have pumped up demand for goods, services, houses and stocks. Throw in supply problems because the pandemic closed down Chinese factories and then the Suez Canal blockage and you've got demand and cost pressures pushing up inflation big time.
But central banks expected this and have always warned that this inflation surge would happen but it won't last. So that's the bet you have to think about if you're toying with the idea of buying tech stocks for the time when and if Wall Street and other stock market influencers eventually agree that this inflation rise is temporary so tech stocks are a buy again.
The stock-watching website FNArena surveys analysts who look at our tech stocks. These experts remain supportive of these companies geared up for a future that will eventually beat the pandemic dramas and will embrace a more normal world.
I'll show you a few tech companies and what the experts think could happen to their share prices: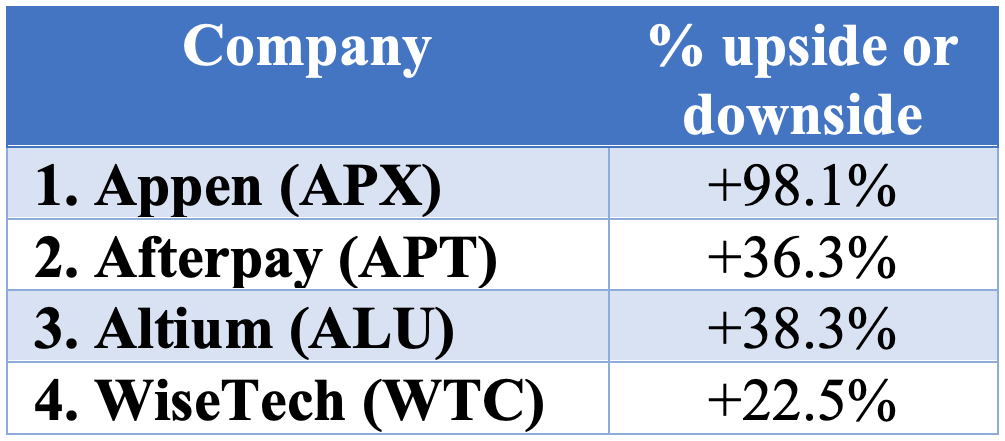 These specialist company watchers don't have to be right, and banking on their calculated gains being totally accurate is very risky, but do you see the pattern? They all think these companies have futures that will push up their share prices significantly.
And if central banks prove they know more about the economies they monitor, and know how to protect them from long recessions and excessive inflation bouts than the money-making speculators who dominate stock markets, then buying tech stocks in coming weeks might payoff in some months' time.
I can't say how long it should take before the views on tech stocks change but it should coincide with the eventual fall in inflation.
So it gets down to the RBA's handle on inflation. And we better hope they're right because if they're not, interest rates will rise faster than they've been predicting which could cause a recession with overborrowed homeowners at the core of a potential drama of unthinkable proportions! This would not be good for tech stocks either. Pray the RBA and its central bank buddies worldwide are the smartest people in the room!