Bosses are on a collision course with Labor and the unions, but it's a fight the Morrison Government doesn't really want to have!
To set up this story, we have to remember the trouble top TV chefs like George Calombaris got into because of pay problems. At the time, the media and unions wanted to call it pay theft, while the chefs said it was caused by mistakes linked to a complicated pay system.
And the argument that the system isn't easy to get right was underlined when the highly experienced (and I bet highly paid) accounting team at Woolworths was caught out for 'underpaying' staff.
But wait, you might be thinking that this was a case of a big business typically ripping off workers. But the case for maybe thinking the pay system has some complications was doubly, no, triply underlined when the ABC was caught out for what their own journalists were accusing others of — and that was pay theft!
I employ people and I've interviewed industrial relations experts for over 20 years. I know awards are complicated. And when you add in a chaotic business environment — be it a successful or struggling one — you can bet mistakes are made.
And yes, some employers who are in trouble or on the brink of going broke or just surviving, may use the system to survive and keep jobs happening. But you'd have to be suffering from the challenge of having only one eye, if you think the award pay system's silliness isn't part to blame for wage mistakes.
Retail and hospitality employer groups want workers to trade their penalty rates for higher wages in a move they say will fix pay problems that new data suggests affects a third of businesses in the sectors.
As you'd expect, the employers say their proposal "would encourage businesses to hire more workers as it would simplify pay calculations and reduce fears of being hit with underpayment claims, but Labor and unions view it as a scheme to cut pay." (SMH)
But working out whether this is true is as complicated as the awards themselves. Data from the Fair Work Ombudsman showed 29% of accommodation and food services businesses and 28% of retailers who faced a worker complaint either had to repay money or faced other enforcement.
So that means around 30% of bosses in accommodation or food services are either pay thieves or dopes, or maybe the system is too complicated to get right 100% of the time.
I believe workers getting their correct pay is a basic right but if the system makes for problems in seeing that happen, then our leaders should work together to make it right. This shouldn't become a political football field where Labor's leader, Anthony Albanese, teams up with the unions to portray himself as the champion of workers.
This might be a smart political move as surprisingly the two-party preferred Newspoll says the Government and Labor are 50-50, despite Scott Morrison being the preferred PM, as the chart below from Newspoll shows.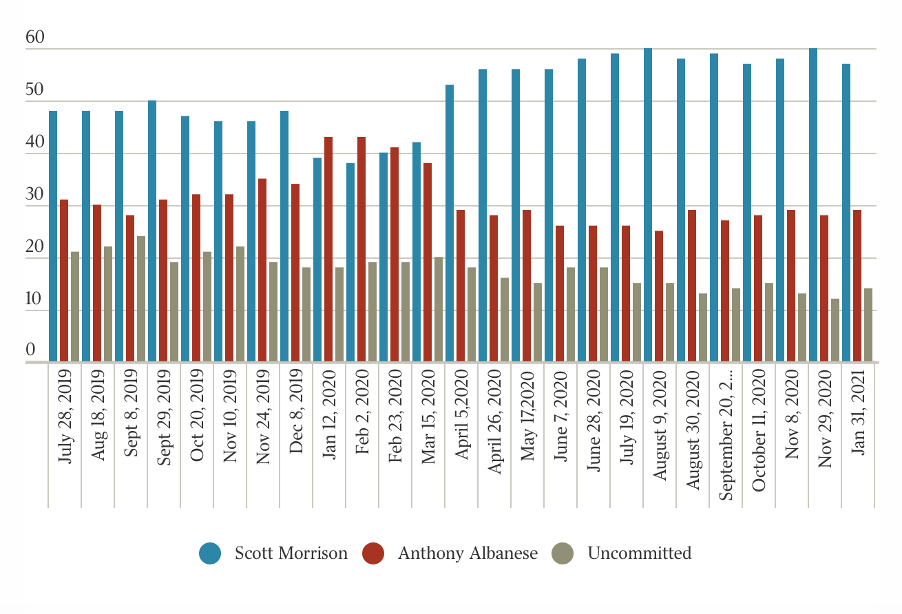 This is a smart political play as Scott Morrison would have to support bosses, even though on Monday at his National Press Club speech he told us he didn't want a wage battle right now. Vaccinations and getting the economy booming were far more important.
The SMH's Nick Bonyhady says "In question time on Tuesday, the Opposition argued workers who traded their penalty rates for higher base wages could be up to $10,179 a year worse off under an 'exemption rate' proposal advanced by retail associations."
In contrast, the Restaurant and Catering Association has proposed an exemption rate, where chefs on higher pay grades could earn 150% of the award rate – a minimum of $85,566 a year – in exchange for forgoing penalties, overtime and allowances.
Both sides will have arguments that seem believable, but trusting a politician or a union leader with numbers is as naïve as trusting economic statistics out of Beijing.
The hope of the team should be the Fair Work Commission, whose President, Iain Ross, will look at the matter and do a pow wow with unions and bosses later this week. Mr Ross was a Labor appointee but he has shown himself to be a two-eyed referee at times and following the allegations of wage theft, that has killed businesses like those of George Calombaris, we really need an honest broker to fix this job-killing problem.
And by the way, given the challenges hospitality businesses have had to deal with during the Coronavirus restrictions, and the fact that JobKeeper ends in March, some sensible, simplification changes look very timely. This could be a big test of the visionary leadership qualities of Albo, at a time when a number of his colleagues want his job!
By the way, I know a guy who owned a bookshop that has a café and bar but his hospitality workers had a different award to his bookshop employees. If the café got too busy and the bookshop was quiet, if a worker from the latter helped out the former, there were potential wage adjustments for the time that worker performed different tasks.
If an adjustment wasn't made, say for one hour's work in the café, my friend could've been accused of wage theft! And the crime could've been even more ridiculous if he wasn't at the shop at the time and no one told him that the worker performed another task for an hour! Aim for good sense Mr Ross, for intelligence sake.