Just when I was cheering about a great unemployment number of 4.9%, which is the best in a decade, along come complaints that you can't trust this number and that it's artificially created!
While this bleating is arguably true, I respectfully ask: "So what?" And disrespectfully I suggest the complainers should save their whinging for something really important.
So am I saying getting the accurate measure on the actual number of the unemployed is unimportant? On thinking about it, the answer is yes, definitely yes!
If this horrifies you, let me show the difference between you and an economist like me. You see, 'normal' people would think it's important to know that the actual number of people jobless isn't 679,000 but really 1.4 million!
The Australian Bureau of Statistics (ABS) says our unemployment rate is 4.9% but the Roy Morgan Research number is, wait for it, the mirror opposite — 9.4%!
Let me put this statistical stoush between the ABS and Roy to one side while I look at what the ABS numbers have shown us and what explains it.
For starters, unemployment fell from 5.1% to 4.9% while jobs created were up 29,100 in June, with 51,600 being full-time. And this good labour market news also comes as CommSec's Craig James says "…the SEEK job ads data was up almost 24 per cent on two years ago, despite falling 1.3 per cent in June. And applications per job ad rose 6.1 per cent in June – a sign of confidence."
June has brought the start of lockdowns, with Sydney most in the virus pickle, but it's great to see that our economy has gone into this in really strong condition, even if it has been artificially created.
Artificially created? Yep, it's artificially created, but it's real for the people and businesses who are benefitting from it. These great workforce numbers have come out of the following:
Historically huge stimulus from a budget deficit of about $167 billion!
Historically low interest rates — home loans under 2%!
Historically low immigration levels, which once was 200,000 plus a year!
Historically low backpacker employee levels!
Historically low Aussies travelling overseas which gives us $65 billion spending here and not overseas!
These are all real dollar spendings that are employing people, creating profits and breeding confidence now and then for future consumption and business investment, which is bound to go ballistic next year when most of us are jabbed into safety from the Coronavirus. The belief that 'normal' life is just around the corner will be an enormous fillip to promote further jobs, profits and economic success for the individual, businesses and the overall economy.
Of course, there will be losers and laggards. There always are. After the GFC, Western Australia, Queensland and the Northern Territory were booming on the back of the mining super cycle, but NSW was virtually in recession.
These historically positive forces that explain why the unemployment rate has fallen to 4.9% are fantastic as 10 million people in Sydney and Melbourne are in lockdown this weekend.
It means the huge positives listed above will swamp the shorter-term negatives of the lockdown, and history says after a state shutdown, economies rebound strongly. And the greater availability of vaccines over the next few months will bring more positives to eventually nullify and trump the lockdown negatives.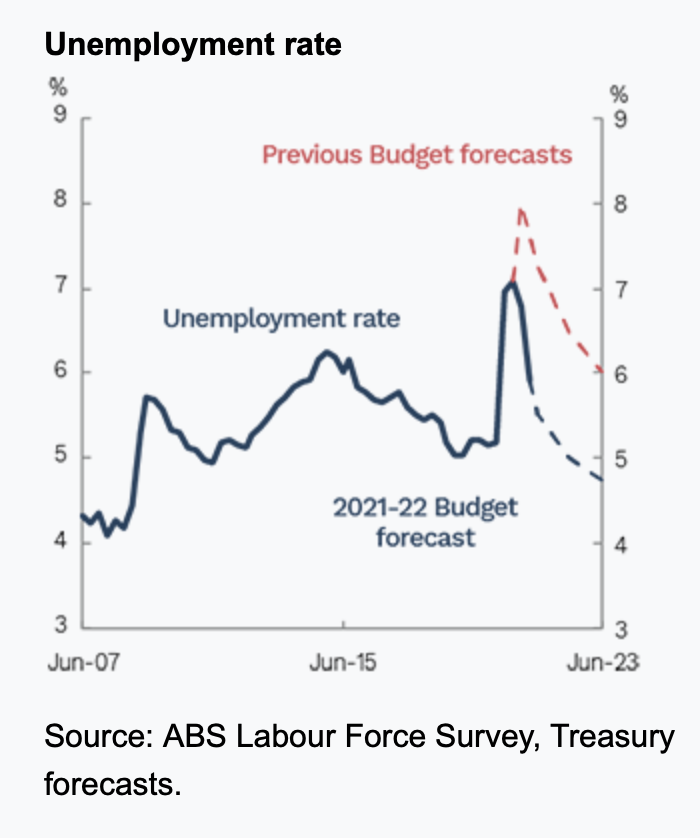 As an economist, this 4.9% number might not be as accurate as Roy's 9.4% but as we have historically used the ABS number, it tells us the economy is miles better than what the Treasurer thought in last year's late Budget delivered in October.
Based on the dodgy ABS unemployment numbers, Treasury economists thought the jobless rate would be still 7% in 2022! And this 4.9% number was not due to show up until 2023!
This is an historically unique improvement in the economy because the policies are historically big and unique but the problem was created by an historically unique virus and an historically unique worldwide government response called a lockdown!
So we have hysterically high complaints about the statistical method used to calculate unemployment, but I suggest this is a trivial complaint. The people unemployed who need government help go to Centrelink and possibly that should be the source of information on who is unemployed.
However, there are those too rich to get government help, who also could be without a job. This shows how hard it is to work out who is really unemployed.
The ABS method has similarities with methods used worldwide, which means we can compare ourselves to other countries, and that's useful.
When as a young student I saw how they assessed if someone is unemployed or not, I questioned the definition. The ABS defines people as 'employed' if they work one hour or more in the reference week!
My university lecturer agreed it was a crazy definition but explained as long as the method is consistent, and the definition is constant, we can work out whether the economy is improving or going backwards. And that's really important for Treasurers, Reserve Bank Governors, businesses wanting to invest and create jobs and so on.
Roy Morgan's 9.4% number now looks big but it was close to 17% in April last year, so it's telling the same important economic story that our economy is going gangbusters and should be able to cope with these bloody annoying lockdowns.
And this is a far more important story than some debate between pointy-headed statistics people.