Budget weeks are special to people like me, who are very different 'beasts' to the more normal Aussie. I've always hated terms like the average person or the common man because I believe we're all quite unique but I can be comfortable with the idea of a normal Aussie.
But on my difference to normal people, you should take the advice I once got from our dearly departed PM, Bob Hawke, who once said to me — "You better get out more son" — after I commented on his amorous actions towards Blanche on set while I was interviewing them both on my old Sky Business TV show.
Hawkey was unique and so was Blanche. And all my Budget experiences since 1988, which was my first lock-up in Canberra to cover the Budget, have put me in touch with very unique Aussies and probably has helped change me such that I love Budget time!
As I reflect on those times that gave me head-to-head brushes (both pleasant and unpleasant) with some of the legends of Australian politics, I realise how privileged I've been to be allowed to be a player on the field with the likes of Paul Keating, Peter Costello, the late great man John Fahey, the always likeable Joe Hockey, the guy who blew it Bill Shorten and my ex-student, PM Scott Morrison.
There was Wayne Swan, who looked like the least qualified person to be Treasurer but he did a good job during the GFC and shocked us all, including his own team, when he won the Finance Minister of the Year in an international business magazine. The fact we were the only Western economy to avoid a GFC recession gave him an awfully good chance of winning that award.
Ironically, the guy who helped him get it right, Ken Henry (as head of Treasury), later was pilloried as the chair of NAB after the Hayne Royal Commission. Ken was a great economist and maybe should have stuck to economics.
As I've already implied, I do hate to be so abnormal to admit I love the Budget but I do, because we're such a unique country. I've travelled the world and have always filed stories for newspapers, radio, TV and for my own Switzer Daily and Switzer Report whenever I've left the country because I've always been a business selling my work to the likes of Fairfax in my Sun-Herald column and News Corp in my Tele column too, The Australian eras and Sky Business days.
I remember in the 1980s when I gained my first column in the Daily Telegraph, I was flying to LA and asked for the copy of the Wall Street Journal, because I'm that kind of guy. And to my surprise, my old head of the Commerce Faculty and my boss at UNSW, Dr. John Hewson actually had a column in that great business publication.
That was a great stimulus for me. And as I travelled the world I was shocked how disinterested the rest of the world was about their own economy, policy and their Budget!
Great publications such as The Times of London buried stories of their economy, while our tabloids give our Budget 20 pages or more of coverage.
Front page debates about a floating dollar, privatisation, GST, twin deficits, fiscal drag and the J-Curve have become so vital to the political debate. People like me and my colleagues in the money world have worked hard to dumb down these egg-headed economic theories to explain it to normal people.
I congratulate people like Paul Keating and Peter Costello for making us engage with key economic theories and issues. And a hell of a lot of this stuff came out of the drama of Budget night, as nearly all TV channels historically promoted their coverage of the Treasurer's economic game plan for the year.
And TV, like it is with most things, has been vital to making the Budget a big deal. And then by sheer exposure has made it a more important matter for the populace of the most economically literate country in the world. (Of course, I have no proof of this but I bet I'm right!)
But why was TV so committed to the Budget and Australian politics? Well, that's simple. The most powerful media families/businesses (the Packers, the Fairfaxs and the Murdochs) had a big interest in being very involved in the huge decisions that Canberra could make that might help or hurt their bottom lines.
It was rational business behaviour but it has ended up being a win-win development that has left my fellow countrymen and women very interested in what the Treasurer comes up with on the second Tuesday in May.
Of course, this year that traditional day was moved to October 6, so the Treasurer could estimate the damage caused by this damn virus and then come up with the measures that have a good chance to make 2021 spectacularly good.
Right now, the Budget guessing by Treasury suggests that after contracting by 3.75% in 2020, we'll bounce-back next year to grow at a strong 4.25%. By the way, Treasury isn't alone, with Coolabah Capital's Chris Joye, (whose forecasts on everything, from when the virus infection would peak to the rebound in financial markets, have been on the money) told me on Thursday that he expects property prices to spike seriously higher. And he's even bullish on a resurgence of immigration with a vaccine due to be available by year's end.
I know these are big calls but Chris has been on the money and the Government listens when he talks. And his recent predictions add credibility to the Budget's optimism. (You can see my interview with Chris here:
Budget nights bring back pleasant memories of upsetting Paul Keating when I told him that Max Walsh said his Budget Surplus was a "phoney surplus". Boy, did he go off at me and we got that on tape for the morning news on Triple M!
Then when home loan interest rates were 17% and everyone was asking him on Budget day about when they'd be cut and he refused to talk about it, he gave me a scoop, when I put the issue in a different way.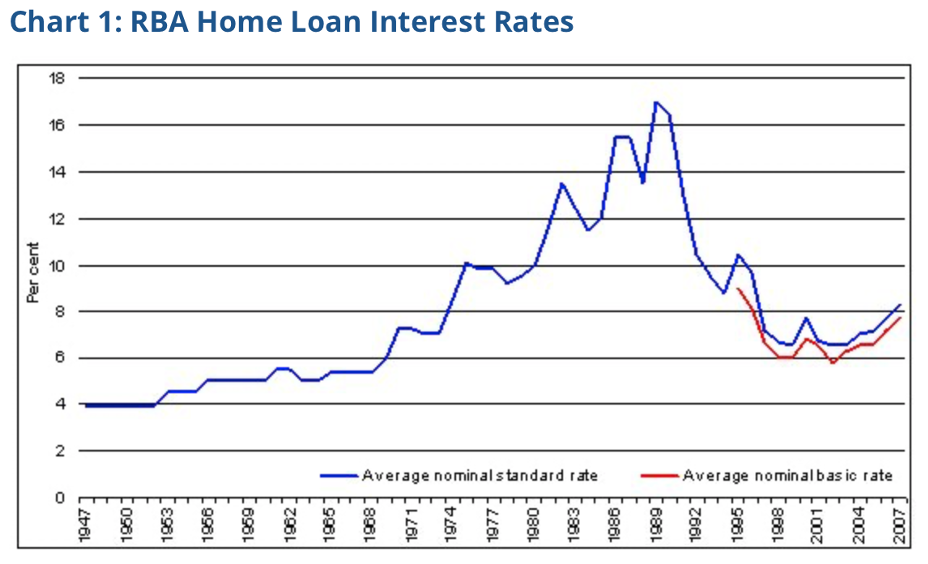 I asked him if his niece went to him and said: "Uncle Paul, I'm getting married and we're buying a home, should I fix my rate or go with a variable one?" I recall his smile when he considered the question and he replied: "It's hard to pick where interest rates go so I'd tell her to stick to variable."
Not long after rates started to fall, as the chart above shows. I think there were seven rapid cuts as a recession loomed. Of course, at the time, none of us knew how big a tip Paul gave us but it's something I'll never forget.
And that's the point about Budgets and the fact that our media gives prominence to them, as well as to interest rates, unemployment and inflation, because it can give money-making and money-saving hints that can really be important to everyone's bottom lines. Finally, I guess I have to say that I appreciate all the forces that have made Aussies money and economy interested, as it has helped create for me a great, socially-useful business and a damn interesting life. And to think I did that all on a Budget! I guess I could channel Bob Ansett and say that "the Budget has driven my dollars further!"