I'm driving in my car,
I turn on the radio,
With trucks so close
They're going so slow,
I can't say I don't like it
'Cause I'd be a liar,
'Cause with those statistics,
Ooooh, FIRE!
This week I drove from Sydney to our office in Melbourne for the first time since March 2020. After a terrific run, when I struck the southern capital, I encountered something any self-respecting Sydney driver would hate — a Dan Andrews created car park on the toll roads into 'his' city.
The driver in me wanted to blame someone and as Premier Dan has been the whipping boy for New South Welshman over the 2020 year of the Coronavirus, I did hurl a few expletives his way as we crawled toward the Tullamarine Freeway. But then the economist in me made me swing to the positive and it took me back to Italy 2016!
There I was taking my life into the hands of what looked like a nation of reckless, maniacal Italian speedway drivers on the autostradas that crisscross the country.
And if I wasn't being beeped at, cut-off and harassed by would-be Fangios, I was terrorised by the highway police who don't tolerate slow Aussie drivers in the fast lanes, even if they're bullied out of the slow lane by truck drivers who seem to have gone to the Darwinian school of driving, which lives by the mantra the survival of the "fastest"!
But even then as I was stressed by all things auto in Italy, I saw an economic silver lining in the dark clouds of Italian highways — there were a hell of a lot of trucks! And for an EU economy finding it hard to grow after the GFC, to see the regions third biggest economy cluttered with trucks (all seemingly hellbent to kill me on the road) was a great real life sign that an economic rebound was in train!
It was déjà vu but of an Aussie kind for me in Melbourne on Thursday and I cheered the economic implications of the torture I endured driving on four lane highways that were more like a car park after a grand final or a U2 concert, which nearly takes until dawn to escape!
The gods of economics work in strange ways because as I snuck along the quagmire roads of Melbourne praying for a break and a nice run to my office and digs, I heard the Federal Treasury Secretary, Steve Kennedy, assure us on ABC radio that the end of JobKeeper won't lead to a disastrous loss of jobs to "anything like 200,000" (or words to that effect).
With the state of mind I was in stressing about the traffic (I'm queue phobic as well!), I can't be expected to remember verbatim what he told MPs in Canberra but I got the gist of it, and the economist in me said: "I think he's on the money and this damn car park of trucks on this so-called highway is real life proof of it!"
In fact this week there has been a long list of very solid economic indicators (both statistical and reality-based) that scream out at economic doubters that 2021 will be great for the economy and stocks.
So let me share them with you, in case your favourite media outlet refuses in principle to look for positives and optimistic omens on the basis that their modus operandi is "if it bleeds it leads and screw good news because it doesn't rate!"
So this is the good stuff I've found this week:
Maersk, the world's largest container shipping firm, posted an upbeat outlook for 2021, despite its CEO saying that there was an "exceptional while challenging quarter." This is great news for an export trading economy like Australia.
Late last week, AMP Capital's Shane Oliver reported that "New coronavirus cases continue to decline globally in most regions, with new deaths starting to follow." And he showed this heartening chart.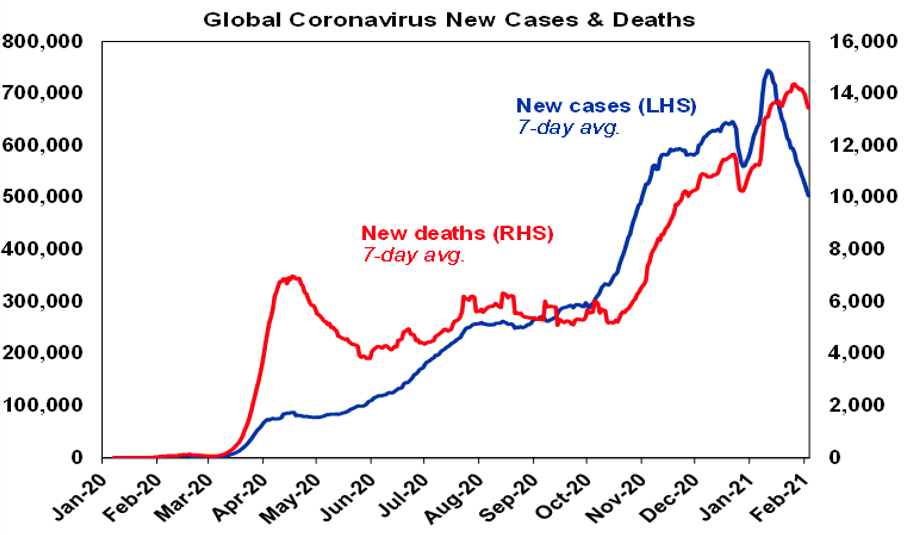 "We are continuing to see a steady lift in vaccinations in several countries with 15% of those in the UK and 8% of those in the US having at least one dose," Oliver revealed. "Rough estimates suggest that herd immunity in the US can be reached around mid-year with Australia maybe around October."
I liked this CNBC headline: "CEO of Singapore's largest bank [DBS] says it sees 'signs of strength' in most of its markets."
Local data readings this week showed that the NAB business confidence index rose from 4.7 points in December to 10 points in January, which is much better than the long-term average of 5.1 points. And though the business conditions index fell from a 28-month high of 15.8 points to 7.2 points, it too is still above the long-term average of 5.3.
But it's not all business positivity, with the Westpac-Melbourne Institute Index of Consumer Confidence reading rising by 1.9! in February to 109.1 – the second highest reading in seven years. And get this: the index is now 14.2% above its pre-pandemic level in February 2020 and up 44.3% on the 29-year lows hit in April 2020 of 75.6. Any reading above 100 points denotes optimism, so we're talking about an increasingly optimistic Australia.
I could go on, but I won't. There will be both economic and market ups and downs over 2021 but they'll be on a rising trend upwards when it comes to economic growth, job creation and stock prices.
Meanwhile, other readings such as unemployment and pessimism will be on the slide, so I suggest you position yourself as an optimist looking to turn any once perceived threats into real opportunities for success.
And if you ever feel wobbly or excessively negative, you don't have to go to Melbourne or Italy to get a spike of positivity, just make your way to www.switzer.com.au or tune into me with Ben Fordham each weekday morning at 7:35 am on 2GB.
I will remain optimistic until the statistical and real world indicators say it's time to change!