All state Premiers face the same challenge: is the critical health of the economy more important than the 100% protection of people?
The new Premier of NSW has attracted praise from conservative commentators and employers when he defended his new approach to the daily shock session of revealing infection and death numbers from the virus, reminding his media tormentors that we're living through not only a health crisis but an economic crisis.
Ironically, in the past, governments have been heavily assessed on the economic outcomes that showed up on their watch, but for obvious reasons (health and death) premiers around the country have been doing daily show-and-tell press conferences on infections and fatalities.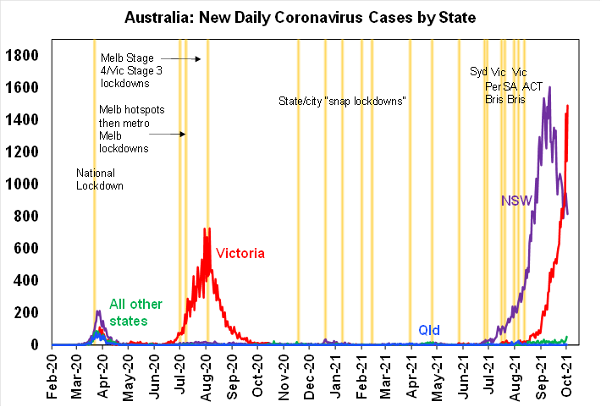 Never in my three decades of economic and financial commentary have I been so statistically watchful on health-related readings, but there is an inextricable connection between beating the virus and economic activity.
The chart above shows what economist Dr Shane Oliver is watching for his role at AMP Capital. And it's not economics but health readings on daily cases of the Coronavirus.
But these numbers have a direct effect on this economic activity chart that Shane also looks at weekly.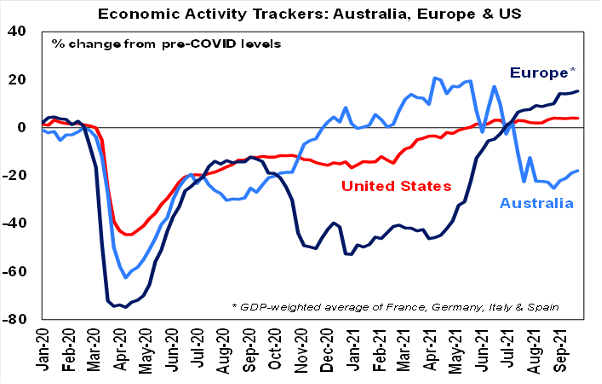 The blue line actually tells a historical story. The world economy crashed in March 2020. You can see the red (USA), black (Europe) and blue (Australia) lines fell together. However, as the US and the EU struggled to beat the virus, our blue line showed we were beating the related economic crisis.
That was until Victoria had its hotel guard problem. Our blue line didn't complete the V and went sideways until the Victorians got on top of the virus and the blue line became more like a Nike swoosh-like recovery rather than a V-shaped recovery.
But by October we will outperforming the US and Europe, economic recovery-wise, as they had a second wave from the virus hurting their economies, undoubtedly after rushing back to summer holidaying too quickly.
That said, their better vaccination programmes eventually saw their economies (i.e. the red and black lines) start rising as our economy went into "crisis" mode again with that damn Delta variant and the lockdowns/restrictions it brought with it.
Graphically, you can see Dominic Perrottet was spot on when he reminded us that we have an economic crisis. So how does it show itself? Try these if you need reminding:
• 2.2 million Australians have been on government support.
• CBD businesses are lucky to be on 20% of usual turnover.
• Skilled job vacancies fell by 5.6% (or 12,828 jobs ads) in August — the biggest monthly fall in job ads in 16 months.
• Travel businesses have been crushed for over 18 months and normalcy is at least six months away.
• Holiday regions have been smashed with the Gold Coast a billion dollars down thanks to lockdowns.
• Hairdressers and other body service businesses have been shut down in NSW and Victoria.
• Payroll jobs are below pre-pandemic levels.
• Interest rates on bank deposits are under 1%.
• Home loan interest rates are close to 2%, which has created a housing crisis, with prices going way too high, which has forced APRA to make lenders play hardball with loans.
• Oh yes, our Federal Budget deficit is $134 billion, which was only morphed by the post-World War II budget as Australia tried to recover, following the end of hostilities.
• Australia's net debt is expected to reach $729 billion (34.2%of GDP) by 30 June 2022 before peaking at $981 billion (40.9% of GDP) in 2024–25.
Away from statistics of concern, we know locked-down Australians are not only struggling with their productivity trying to work from home with their kids out of school, but mental health issues are also undermining the confidence of many employees and employers. This could be an enduring problem for them, with news stories predicting workers will be suing bosses for contracting the virus in the workplace!
This is just another new curveball an employer will have to contend with as they try to rebuild their businesses and reinstate their employees' normal jobs and pay. Being a boss is not all beer and skittles!
In the world of economics and business, we analyse big decisions via a cost/benefit analysis, and Dominic Perrottet is swinging the pendulum from sheer respect for health issues (which it has been as this is what a lockdown does) to gradual respect for the economic considerations that the rest of the world (especially Europe and the US) have always elevated to a higher rating than we have here in Australia.
I'm not saying they've been right and we've been wrong, but I am arguing that you can't protect those who refuse to get vaccinated — even Dan Andrews has made that point.
I interviewed a medical expert for my podcast this week. Dr Ross Walker explained that the real threat to anyone from vaccinations is so low that it's crazy to find excuses even for pregnant women and those who have had cancer operations. That surprised me!
He also said there's a danger of too many people being unvaccinated making it easy for a stronger variant to develop that will threaten those vaccinated!
The cost/benefit analysis that Dominic Perrottet has done has to be telling him two important things. First, he's got to start reopening the economy ASAP and he has to get as many people as possible vaccinated. And every premier should have the same game plan.