One of the most memorable ads of 2020 and the Coronavirus world we were introduced to was the one that told us that "we're all in this together." Yep, we used the industry super fund tagline to muster national support for the fight against the pandemic threat.
And while at times there have been typical politicians trying to score cheap points at some failings of other politicians, the smarter and more objective Australians out there must have learnt that beating the virus and leading a country or state isn't easy.
I confess I've given Dan Andrews a burst or two because his political decision to reject defence force help with quarantine hotels ended up costing Victoria lives. That said, it wasn't an intentional mistake and it has been a steep learning curve for all leaders worldwide.
The deaths in the UK (128,431) and the USA (622,906) prove that! We've had 911, with poor old Victoria losing 820, NSW 55, Queensland 7, WA 9, SA 4 and Tasmania 13.
But despite these tragic losses, the economy has weathered the storm well, and we can thank the determination of our governments to spend bigger than ever before, the Reserve Bank's smart low interest rate policy and the national and collective success of keeping the virus at bay.
Despite the current problems with lockdowns and the unexpected clot issues with AstraZeneca, our economic outlook still looks better than most would expect.
And that's not my cockeyed optimist's 'one-eyed' view — it's owned by one of this country's best economist.
"Despite the economic hit, Deloitte Access Economics partner Chris Richardson said that even a further month of restrictions was unlikely to send the budget position backwards given the out-performance – including the blockbuster jobs growth and massive iron ore earnings – recorded since the May federal budget," The Australian reported today.
And that's the view, despite the fact that this lockdown won't end on Friday and could go on for another four or six weeks!
Chris is right on a year's basis, but on a September quarter basis (the one we're in now), CBA's Gareth Aird says this longer-than-expected lockdown could take 1.5% (or $7.5 billion) off economic growth.
He has rightly said this lockdown could "send the economy backwards" but he said that not knowing what kind of rescue programme will be outlined by the PM, Treasurer and the NSW leadership today.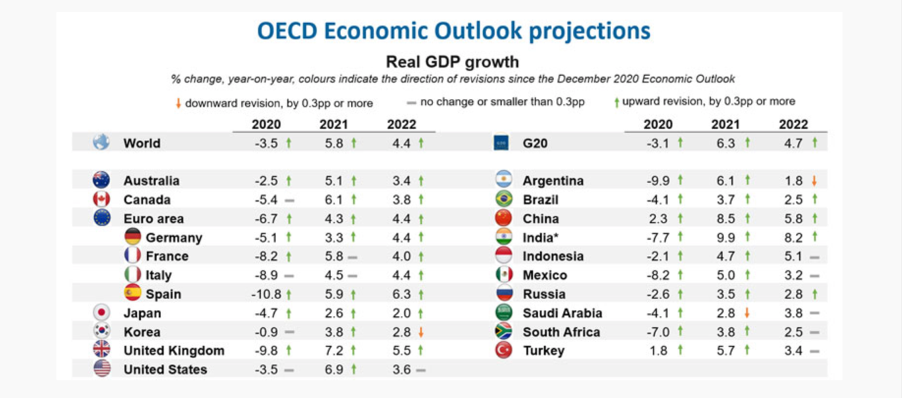 Remember it has been our Federal and state governments spending that has helped our economy be one of the smallest contractors on the planet in 2020.
Anyone whinging today should not forget yesterday.
As to what we know ahead of the official announcement, it looks like real help to Sydney, NSW and, ultimately, the overall economy, is on its way from Canberra.
It looks like there will be a "cash flow boost" payment to businesses that pay staff. This was the first big measure announced by the Morrison Government before JobKeeper came along.
The cash flow boosts, which they were called, were delivered as credits in a business's activity statement system. They were equivalent to the amount withheld from wages paid to employees for each monthly or quarterly period from March to June 2020. If you paid wages, you got a minimum of $10,000 and it went up to $50,000.
Early reports say employers in Greater Sydney will access this lifeline first but then other regions will have access to it.
The Federal government is also working on ways to encourage more NSW workers to apply for its COVID-19 disaster payment, with only 110,000 people lodging an application for payment since Sydney's latest lockdown started.
In addition, applications for the NSW Government's first round of business grants of between $5,000 and $10,000 will open on July 19 but these have been bagged for being too slow for businesses in real lockdown pain.
And for employees in lockdown trouble, there is a disaster payment that gives people who would have worked more than 20 hours in the week of a lockdown $500, and those who would have worked fewer than 20 hours $325. Fortunately, these people no longer need to have less than $10,000 in the bank or shares, after the Federal government last week axed the liquid asset test.
To be fair, the last two measures were based on a belief that the lockdown would last only two weeks but that has been well and truly shown to be way wrong!
A part of my job in explaining the news and especially economic, business and money news, is to also pass comment, and I have to admit that this ordeal that all our leaders have gone through trying to best handle the Coronavirus challenges has meant I've cut them some slack.
Why? Because beating this damn virus with all its health and wealth threats is easier said than done. Anyone who disputes this hasn't used their one eye to look at the rest of the world over 2020 and until the vaccines came to town. Why am I so concessionary? Well, that's super simple — "we're all in this together."