Stocks have to rise today with the Dow Jones Index up nearly 2,000 points (or 9%) on Friday. We did add 4% ourselves on Friday, and we should sneak out of the bear market territory, but the question has to be: can we stay there?
Pulling stocks up will be the US stimulus package, which was unwisely delayed by President Trump until Wall Street screamed "Bad call, Donald!". Rate cuts and a possible deal on oil by OPEC and Russia could help but who knows what those oily guys are thinking?
Ultimately, the total impact of the global stimuli will create demand and growth for the second half of 2020 but the 'here and now' is the big deal, with our wealth being gobbled up by the Coronavirus.
At the moment, fear of what the pandemic and the containment policies will do to economies, growth and company profits has taken stock markets and their share prices into bear market territory, which happens when a fall is more than 20%.
That said, in the new age of computer and algorithmic trading, the market index swings, along with individual share prices, are much more volatile. If you don't believe me, just look at Wall Street on Friday, where we saw a 9.36% jump, which translates into 1,985 record point rise for one trading day!
This is wild, wacky and weird stuff and it means you have to temper your exuberance as well as your fearfulness when you see huge ups and downs of the market.
That said, you can't treat the current threats to stocks and economies as exaggerations. They are real, but the ultimate severity of the effects of the Coronavirus have to be assessed objectively.
We all need to understand that the most significant statistics that will impact on the economy and stocks will be infection and death rates. If they explode beyond expectations, the calculations of economic destruction will magnify and stock prices will slide. However, if containment policies work better than expected, then the worst-case scenarios become less credible.
So it's a waiting game and I'll be watching European and US virus data, as well as our own numbers.
But we do have to be careful not to be sucked in by the pandemic dramatists. I say this from personal experience. I recently read something that I thought was a credible analysis of what could happen. The data, tables and charts were all very insightful and the tone was convincingly worrying, until the writer jumped out of stats into the real world.
He then described how our hospital systems won't be able to cope with the demands of virus victims who present to hospitals but the hospital won't have enough respirators, so the staff will pick and choose who gets to breathe and live!
That's when I said to myself: "Hang on, most doctors say the symptoms for most are ignorable and many people infected won't even know they have it!"
Sure, if you are over 60 and have respiratory issues, you should take extreme precautions but this table I showed in my Weekend Switzer story shows who should be Coronavirus cautious.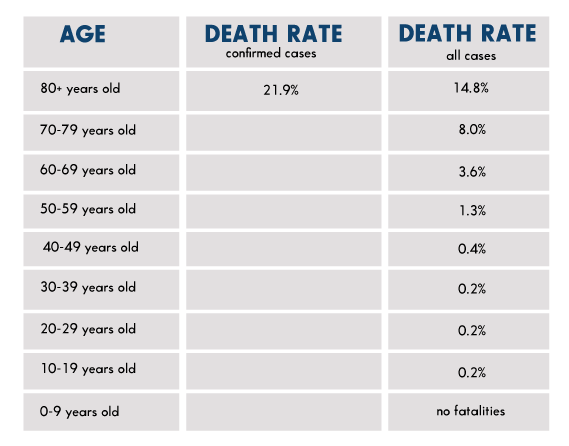 Of course, any percentage of people dying should not be taken lightly, but every year influenza takes too many innocent flu victims. What I'm arguing is that this doomsday dramatist may have watched one too many Gwyneth Paltrow Pandemic movies!
I'd like to tell you the worst is over for stocks, but I'd simply be giving you my best guess. If virus statistics look like a global horror movie, then it will give rise to global market madness and mayhem.
I'm trained to guess/forecast economies and financial markets, but Pandemics 101 was never offered in any courses I studied and taught at the University of New South Wales.
But as a market and economic historian, I'd say we'll rise today. But I suspect the people who make money out of selling and then buying when others are fearful will be ready to pounce and sell again to cash-in on the uncertainty, which increased over the weekend.
Yep, when you ramp up self-isolation, social distancing, ban gatherings over 500 and virtually send a nation home for two weeks or maybe more, you hurt the economy, company profits and income-earning. And share prices have to come under pressure again.
The question is whether the $17.6 billion stimulus package will be enough to offset all these Government-imposed changes?
In the GFC, the Rudd Government threw $10.6 billion at the recession threat in October 2008 and then brought out the bazooka in February 2009, pumping a huge $42 billion into the economy. Unlike any other Western economy, we avoided a recession and our unemployment rate didn't top 6%! Now that was a HUGE positive result and our stock market reacted in this way: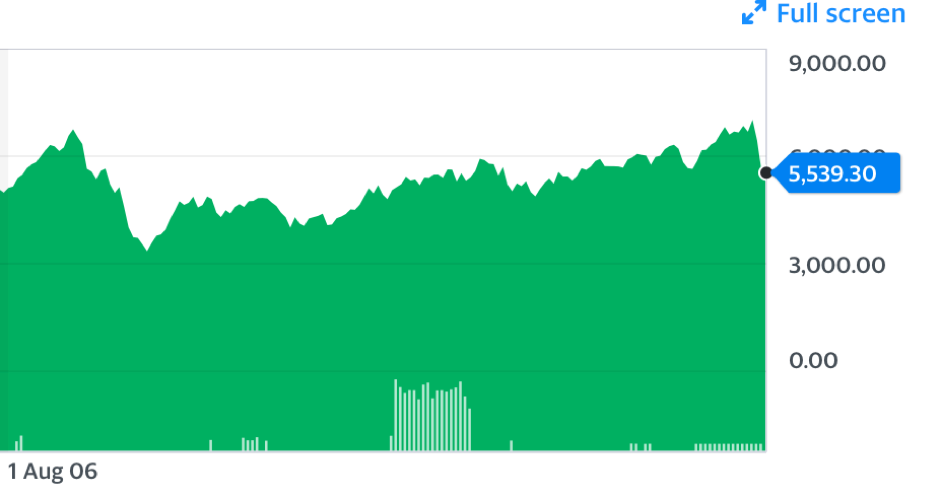 The big drop on the left of this chart is the GFC stock market crash. And the big spike to the right of it followed the $42 billion package and the US rescue policies that gave Wall Street positivity.
We are still in the fear zone for stocks, and sell offs are likely as surprise negative revelations come along. If the virus stats get better quicker than expected because of these global policies of 'closing stuff down' work, then stocks could beat gravity. But until then we need to be cautious.
The Wall Street bounce was a great sign, but I suspect we have a few more market challenges ahead. No one is an expert on how this pandemic will affect stocks but I'm hoping for big stimulus packages as a form of insurance against a very bad recession. Watch this space!