Another great day on Wall St for stocks and I'm very happy about that but there is a problem — I could be in trouble with someone close to me. Call it something sexist like women's intuition but this person, who keeps her own portfolio, wanted to buy stocks late last week. I talked her out of it on the basis that I thought there'd be another leg or two down for stocks.
The sizeable gain for the Dow Jones and S&P 500 indices should keep it positive here today, so I'll have some explaining to do, which I'll share with you.
Yesterday I argued that we needed the four legs of the stool upon which an economic and stock market recovery would sit on, to be strongly screwed in place.
The first three legs are in place. Right across the world, central banks have very accommodating monetary policies in place. With the US stimulus US$2 trillion package now passed and the likes of the UK and Australia going with packages around a big 10% of GDP, and the Germans shooting for a huge 30% of GDP, you'd have to agree that fiscal policy is locked and loaded.
The third leg sees banks on board, with the likes of CBA promising up to six months deferment of loan repayments for those temporarily crushed by the containment policies of the Coronavirus.
But the fourth leg is the troublesome one — and that's beating the spread of the virus. And we don't have to actually beat this for the stock market to take-off with credibility, but we have to show that the rate of spread is easing up. The mathematical types talk about the "flattening of the curves" that plot the spread of the virus, that is, they're getting less steep and rounding off until they're in freefall.
That's when most governments will call off the lockdowns and we can go back to the pubs, the cafes and oh yes, work!
The graph below shows how China's curve has levelled off and South Korea's too. Japan's and Singapore's slopes are easing off, while the US curve is still on the rise, being relatively early days, and Italy is still too steep to feel relaxed about.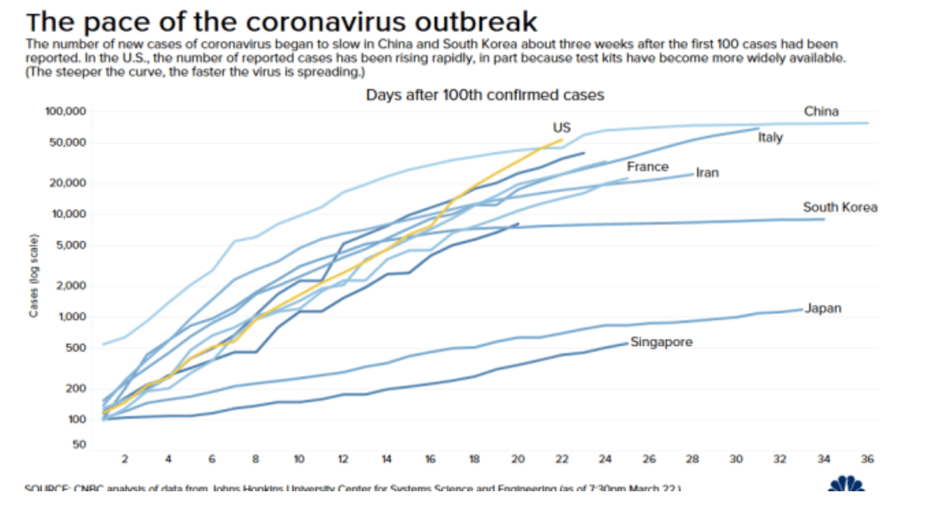 Australia didn't get a start on this graph but our performance so far looks pretty good. Australia's confirmed cases are 2,475 with 9 deaths, while a country like the Netherlands with 17 million has had 213 deaths!
We compare pretty well but we still have a threat, which means normalcy for the economy is some time off.
To understand Wall Street's second day of big rises, we have to look at the latest stats on the virus.
A bear market traditionally has three phases, where the first has people saying that it's temporary. In the second phase, people say "this was worse than I thought" and in the third phase people say it's "never been so bad!"
But the question is: is this a traditional bear market or a weird one?
Sure, the fact that this started with a virus that was linked to people eating Armadillo 'spiced' with bat droppings or whatever, certainly makes it very weird.
This not only infected humans worldwide, it also created a financial virus that has rocked the stock market and the bond market, and the property market has nearly been closed down here in Australia.
An expert on the Great Depression, the former Fed boss, Ben Bernanke, told CNBC that this bear market "…is much closer to a snowstorm or natural disaster than it is to a classic-style 1930s-style Depression…and different tools are necessary". He insisted no work from the Fed and fiscal policy can work if we don't get the public health policy right.
Bernanke is regarded as a Great Depression expert. The fact he's downgrading the economic threat of the Coronavirus out of the Depression category is great to hear but he does underline the big watch for the next three weeks — and it's the data on the virus in terms of infections and deaths that counts.
Harvard experts say it takes four weeks from lockdown before you should see the flattening of the curve and the New York Governor, Andrew Cuomo, says the city needs three weeks before he expects to see the apex of the infections.
Meanwhile, Italy continues to show some positive trend signs, with the infection rate at 8%, which is the lowest for a long time. But here experts say we need to see at least a week or two of data before we celebrate anything. Unfortunately, Italian deaths now top China's tragic figures. A total of 6,820 deaths is just too hard to believe.
For as long as I've been educating people about investing, I've always argued that "hope is not a strategy". But hope is still a valid attitude to have, though it's not the smartest motivation for buying stocks now.
These two good days on Wall Street show the stimulus package is a big help for stocks. It's interesting that where the Coronavirus is playing havoc — Europe — stock markets were up overnight. The German DAX was up 1.79%, the UK FTSE rose 4.45%, the French CAC 4.47% and even the Italian market was up 1.74%!
Hardheads who've been caught out by stock market gyrations in the past, don't think we've seen the bottom. But Ed Yardeni of Yardeni Research, who was chief investment strategist at Deutsche Bank in the past, thinks we might have seen the bottom!
Of course, that doesn't mean that there won't be more down days but maybe the lowest point has been reached, with the stimulus packages around the world, and especially the US$2 trillion from the US Congress possibly being a game-changer.
Let's hope so but I maintain that the key driver of what stocks do — up or down — will be the Coronavirus stats. When they're unambiguously good, stocks will soar but, until then, I remain cautious with my finger on the BUY button. I won't be pressing it just yet.
I hope I'm wrong and I have to beg for forgiveness from my friend but I have always invested in losing stocks or markets after it has been proved that a bottom has been reached. I don't care if I miss the first 5% or 10% of a rise, as long as I get onto an uptrend when it's in place. And when that's proved, I then go hard.