The good news is that this chart says Australia is doing OK with the Coronavirus.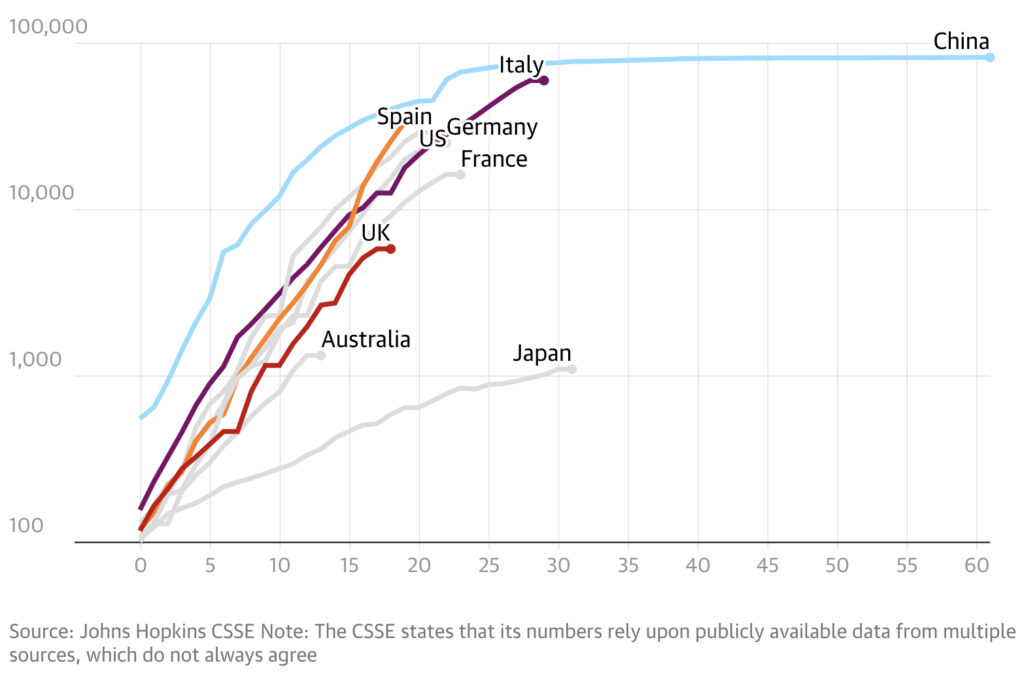 Yep, we are hanging around with the countries doing OK with Coronavirus and while I (and all of us) hate the restrictions now being imposed, it could be a plus that keeps us in the not-so-threatened group of countries.
The bad news is that there isn't enough good news around. This headline in the AFR, is a case in point: "IMF tips global recession."
Headlines like that don't help but they undoubtedly are going to be accurate.
The only two hopes that will make the recession shallower and shorter is a quicker-than-expected beating of the Coronavirus, and stimulus packages that shock and awe economies.
Right now the Americans are screwing around trying to play politics with the overdue stimulus package. If it fails, it could make Donald Trump a oncer US president!
If the handling of this damn virus ends in a huge death toll and a US economy in a deep recession, then we could see chefs cynically cooking up something called Trump toast!
So in many ways, we should be on a unity ticket with the Trump campaign because only a better-than-expected death count and better-than-expected comeback of the US economy will excite Wall Street enough to stop selling off.
This dumping of stocks is simply linked to the impact of the worldwide lockdown to beat the virus, which is reducing profit and sales forecasts of big and small companies, which in turn kills share prices and jobs!
That's where stimulus comes in and here in Australia the Government and the RBA, as well as the banks have mustered a package of measures to help resuscitate the economy. In total it was worth about 9.7% of GDP. And in contrast the Yanks last week were talking about a trillion stimulus package, which was more like 5% of GDP.
However, the penny has dropped and reality is biting and now the President's economic adviser, Larry Kudlow, has started talking about a two trillion dollar splurge.
That's good news but this delay is plain dumb, though the Yanks have a history of arguing politics when "it's the economy stupid", as Bill Clinton reportedly said and made famous.
But it's not just the economy — people like me are watching and I do have good news.
CNBC this morning was reporting that "Italy sees fewer new cases for second day in a row." You have to hope that their recent lockdown measures are taking effect. And if that's the case, then we here in Australia might sensibly expect that our costly containment measures, on top of our relatively low infection and death rates, might suggest we could get lucky on both the medical and economic fronts.
This in turn will be critical to what our stock market does. Did I say we need good news?
The Germans are trying with a stimulus package of 1.35 trillion euros, which is about 30% of GDP! And as a consequence, they're tipping that their economy will only shrink by 5% this year, which would be a great result.
Meanwhile, the US congress fiddles and argues over the stimulus package as their economy starts to smell a bit too smokey for my liking.
In the GFC, Lehman Brothers failed in September 2008 but the US rescue package wasn't signed off until February 2009. It was a good package and the stock market rocketed up a month later and proceeded to skyrocket until this damn Coronavirus came to town.
We're now waiting for that stimulus package and better news on the slowing up of the virus worldwide, which at the moment isn't happening.
And so we wait. But when it does happen, this is what Chris Joye of Coolabah Capital Investments, who currently has a team of his money market researchers constantly watching the growth of the virus to try and see the peak, which after that, optimism will start replacing pessimism and stocks would start heading higher more convincingly.
Better virus victim stats combined with fair dinkum stimuls packages and helpful central banks will turn around this market and economic negativity that currently prevails.
"When all is said and done, markets will get what they want through signalling what is and is not acceptable," Chris recently wrote in the AFR
"Order will eventually be restored. And this crisis will pass, probably within one or two months. Those that survive will face the investment opportunity of a life-time…"
So the message is: don't panic; have patience and there will be a recovery of the economy and stock prices.