Today Treasurer Jim Chalmers will give us the state of the economy going forward and The Australian headlined his address as "Dour forecast: risk of $30bn wipe-out!" But after 35 years of economics reporting and even longer teaching it, I've seen and heard it all before.
The numbers and causes of our economic threats are different but the warnings are essentially the same, and the corrective actions will all be somehow linked to belt-tightening, less government spending and some of us facing more taxes.
It comes as inflation came in at 6.1%, which was less than the 6.3% economists predicted. It actually shows we're doing better with inflation than similar countries. The Kiwis have inflation at 7.3%, the Eurozone is at 8.6%, the USA is at 9.1% and the Poms 9.4%.
Dr Jim is set to tell us that our economic growth will fall from the post-pandemic lockdown surge in economic activity, which took growth at one crazy stage to nearly 10% but then came back to a still huge rate of 4.4% in 2021. The annual growth to March this year was 3.3% but this picked up to 3.75% for the year to June.
That was once expected to be 4.25% but those guesses were made pre-Ukraine war and China going back into lockdown.
Now Dr Jim's boffins in Treasury predict growth will be 3% for this financial year and 2% for the 2023-2024 financial year. These are slower growth years but they're still not bad figures when you look at the history of growth in the chart below.
Australia economic growth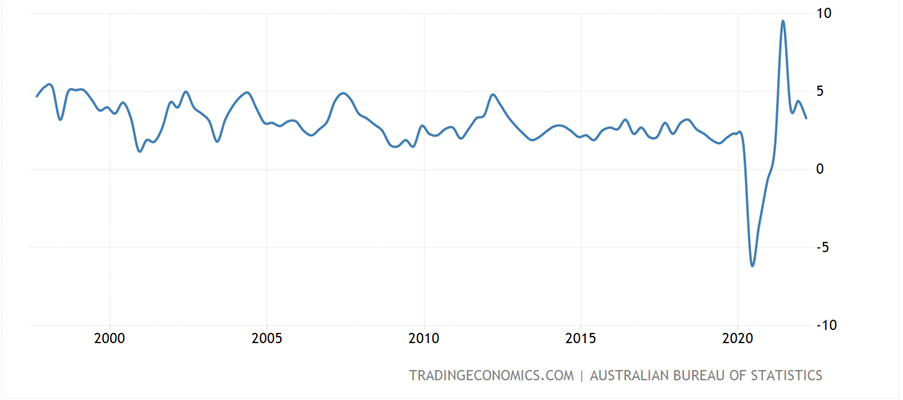 Oscillating between 2-3% growth is OK growth, especially when you consider the Reserve Bank is taking money off borrowed households with a very aggressive rate rise program.
But Dr Jim won't want to tell us a story that will make us feel relatively relaxed because he and his policy buddy, Dr Phil Lowe, are embarking on a scare campaign to stop us spending and fuelling inflation. And they're doing it for the right reasons, that is, to get inflation down, which will actually mean the RBA won't have to slug us with too many interest rate rises.
There's method in their madness and part of that method will be revealed by Dr Jim in his address to the nation today.
This all comes as we learnt that our inflation rate has spiked to 6.1%, which was better than the 6.3% expected but most economists, including those in the Reserve Bank, think it could creep up to 7% before falling.
In a perfect world, the Treasurer would love to see 4% economic growth that will lower inflation, so he could bring down our budget deficit, which is historically high because of the pandemic.
That deficit was estimated at $79.8 billion in March this year. Dr Chalmers will say the slowing growth could hit his Budget on 25 October by $30 billion. And given he has three years to show us he'a good money manager, he has to start playing hardball now because in three years' time (the next election), he'll have to win hearts and influence voters with pre-poll promises, so he'll want a healthy budget to do so.
Dr Phil Lowe really started the scare campaign with his aggressive rate rises, which will continue next Tuesday with a 0.5% hike to the cash rate, which then will be 1.85%. Dr Jim will keep the horror headlines coming but he's doing it for a good reason.
In case you haven't got it yet, let me sum it up using what I call Sussan Economics — "this goes with this, goes with this…". If the two doctors scare us sufficiently, we spend less, inflation falls, interest rate rises are curtailed, the economy grows faster and the budget deficit falls as we have more people in jobs, paying taxes and not getting the dole. All this would be helped by more immigrants to help employers find workers.
You have to hope the two doctors pull it off. By the way, for savers who like the recent higher interest rates, if the inflation rate falls, your 'real' returns from now higher term deposit rates actually increase.
Lower inflation is good for all, so get scared and fast!