As the old saying goes, a little bit of knowledge is a dangerous thing, and it can be. But is the titbit from finance websites that the Oracle of Omaha is cashing up and selling stocks a warning that Warren Buffett is getting nervous about US stocks?
And it comes as the CBA — our strongest bank — saw its share price tank 8% in a day on Wednesday? Are these little signs of big trouble for stocks and economies ahead?
If you want to wonder if the US stock market is overhyped, just look at the S&P 500 chart compared to the local S&P/ASX 200 chart.
S&P 500

S&P/ASX 200

Both charts show the huge sell-off in March 2020, thanks to the Coronavirus, but see how much the S&P 500 Index has rebounded.
Before the crash, our market was close to 7140 and is now at 7369 — that's only 229 points higher or 3.2%. In contrast, the US market index is up 1,314 points or 38%, which gives you reason to think of a number of potential scenarios:
• The US market has gone up too fast and has to pullback and Warren might be thinking that.
• Our market has risen too slowly and must play catch-up with the US stock market in 2022.
• If the US market sells off, it has to hurt us because it's argued that "we play follow the leader with Wall Street".
Here's my best guess and it's not a story that Warren Buffett is expecting a big stock market sell off and is cashing up to avoid big losses.
I think the US market has rocketed ahead because it has globally outstanding companies listed on its stock market such as Microsoft, Apple, Facebook, Alphabet (Google), Amazon, Pfizer, Tesla and even old stagers such as Oracle, which is up 67% over the past year.
These spectacular companies have pushed up the S&P 500 Index hard while our market has suffered a slowdown in the iron ore price boom and we've had more serious lockdown periods, which have hurt the economy, companies' profits and their share prices — but I think that unwinds in 2022.
Right now some of these stellar stocks on the S&P 500 are pulling back with Tesla down 10% since November, Peloton off 60% year-to-date. Interestingly, individual companies are being reassessed, especially if they did well because of the lockdowns and the working-from-home trend.
Now those companies that suffered because of lockdown restrictions are making comebacks and a local company that makes most of its money in the US is a case in point. The company I'm talking about is CSL.
CSL

In March this year, this blood plasma business saw its share price fall to $246 because blood donors were scarce with the threat of Covid-19. Now its business is getting back to more normal and its share price is $309. That's a 25% gain, which reflects the changing times brought in by the arrival of vaccines and more normal life.
Given what that chart of S&P 500 shows, I can see a sell off in the US as a possibility, short term, but the latest company earnings in the States were so good, I think stocks will still head higher. Goldman Sachs thinks US stocks will be up 9% next year.
AMP Capital's chief economist, Shane Oliver, can see a "mini correction on inflation and interest rate concerns," for US stocks and we could fall in sympathy with the Yanks but he's generally with Goldman being positive on stocks for 2022.
To Buffett's sell-off and CNBC tells us that "Warren Buffett's Berkshire Hathaway has been a net seller of stocks for the past four straight quarters as the legendary value investor sees few bargains among surging equities".
That's a year where he has sold more than he'd bought and the company is sitting on $149.2 billion in cash!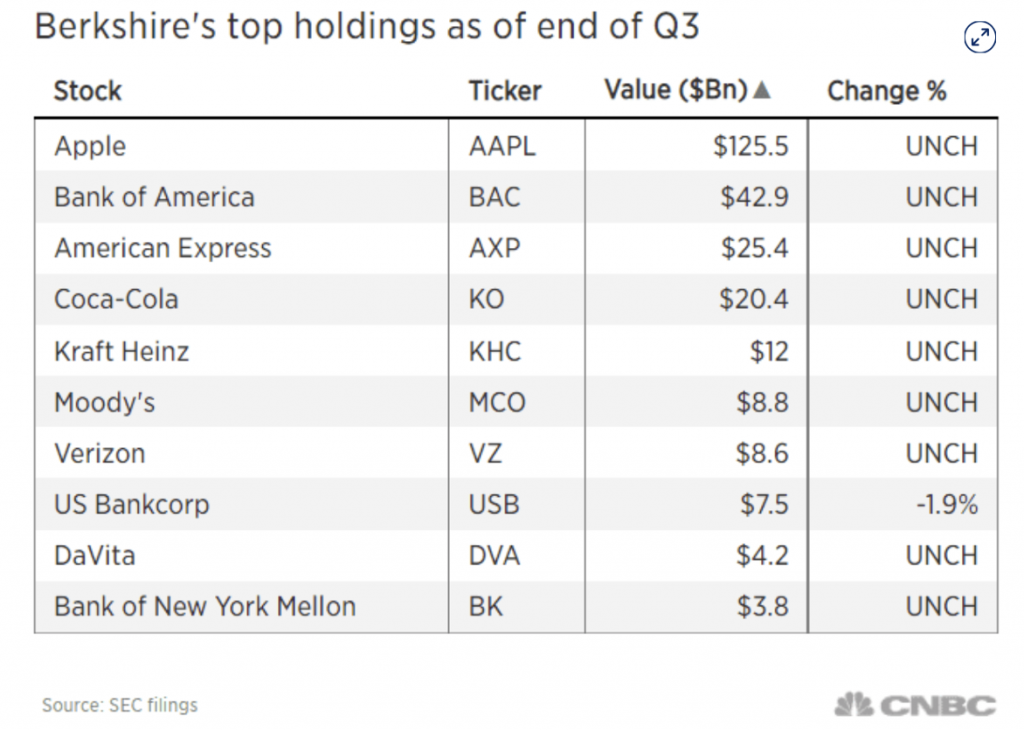 He's still holding a lot of stocks and I think he's taking his own advice "to be fearful when others are greedy" for over-hyped stocks but he's also building up stakes in other companies, showing he's not scared of a big crash.
He likes his own company. Berkshire repurchased $7.6bn of its own stock in the third quarter, bringing the year-to-date total to $20.2bn. The conglomerate bought a record $24.7bn of its own stock last year.
And CNBC reports that "Berkshire built a $475 million stake in Royalty Pharma, owning more than 13,000 shares at the end of September ... and the conglomerate also added a near $100 million bet on Floor & Decor Holdings".
What we're going to see are companies that did very well during the lockdown lose friends such as Peloton as exercisers go back to the gyms, while those companies that suffered like airlines will do well as we start flying again.
Fundstrat Global Advisors' Tom Lee, who I rate as a good big call merchant, sees a slight pullback in stocks ahead but believes it presents a buying opportunity ahead of a year-end rally.
I reckon Warren Buffett, like yours truly, sees a strong 2022 economy next year, as the world embraces normalcy, which will feed company profits and share prices.
If you want a Warren worry, make it short term.