It's lucky for the Queensland Premier that she's won her election, with Annastacia Palaszczuk and her Chief Health Officer Dr Jeannette Young having orchestrated a boo-boo of near Daniel Andrews magnitude, with their crazy decision not to force doctors and nurses who worked near and with COVID-19 patients to be vaccinated!
And this is not just an infection mistake for Queenslanders and interstate travellers, it affects international influencers like Natalie Portman, Matt Damon, Melissa McCarthy, Liam Hemsworth, his new girlfriend, model Gabriella Brooks and even Nicole Kidman and her family." The AFR reports these actor heavyweights were seen holidaying in the Byron Bay region, which was thought to be an anti-Coronavirus region until two nurses from a Brisbane hospital partied across the border bringing the UK variant of the virus into NSW.
This is a negative against the huge positives that Australia has created in beating the virus better than most countries in the world. As a consequence, we've been delivered a greater economic dividend, with our growth rate among the best in the world.
But get this, as the AFR tells us: "The nurse had not been vaccinated."
And this health and economic stuff up could have been avoided if the Premier and her Chief Health Officer had mandated doctors and nurses to be vaccinated before dealing with active COVID-19 patients.
Oh, by the way, they've now done that, which makes it a candidate for the Homer Simpson "Doh!" moment of the year.
This chart below shows you how you get a big economic result by being really smart fighting the virus.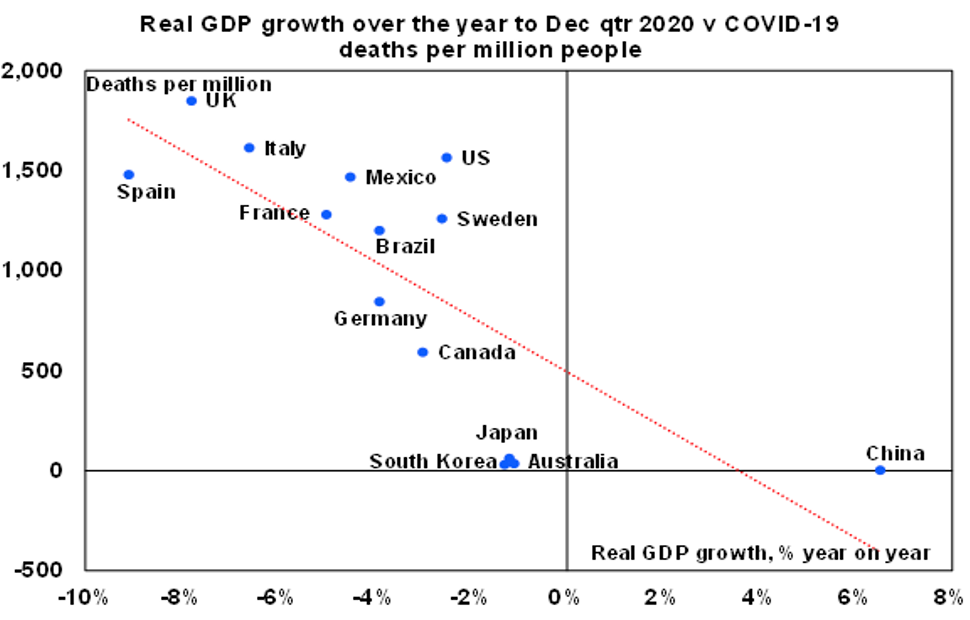 Look at our position on growth and virus containment compared to the rest of the world. Only the Chinese have done better — but who trusts their statistician?
Right now, Greater Brisbane will remain in lockdown until at least Thursday night and some states are closing their borders to Queenslanders, and not just those from the Greater Brisbane, with NSW being a notable exception.
For the moment, interstate travellers can fly in and transit through Brisbane airport on the way to other destinations in north Queensland. You can also drive to the Gold Coast or Sunshine Coast, provided you don't stop in Brisbane.
But these tourist meccas could soon unearth some virus sufferers, given the closeness to and interaction with Brisbane.
Sure, this whole crazy mistake from the Queensland Premier now puts the pressure on the Prime Minister to lift his Government's game on the vaccination rollout, not only for health reasons but for the sake of the economy, businesses viability and jobs, for Pete's sake!
This comes as their IMF is poised to bump up its forecast for global economic growth, which is really good news. And it's all related to the success of the vaccination programme in the US specifically and the world generally.
Today CNBC tells us that "back in January, the IMF struck an upbeat tone in its global economic forecasts, estimating a GDP (gross domestic product) rate of 5.5% this year. At the time, this represented a 0.3 percentage point increase from previous forecasts."
However, the OECD has looked at the US vaccination programme and pushed up its growth rate for the world by 1%.
This week the US President said 90% of adults in the US will be eligible for a Covid-19 vaccine by April 19. Meanwhile, by the end of July, all eligible Brits will have had their first shot and the European Union is expecting to have 70% of the adult population vaccinated this summer. Let's hope this Brisbane stuff up results in only a short-term lockdown and that all our politicians from Federal to States get their act together and do their best to avoid lockdowns of Dan Andrews 'dunce hat' proportions.