NSW premier Gladys Berejiklian has to make a huge decision on Wednesday that could result in country's biggest and most important economy in the national economy to be shut down. This would cancel Christmas for many, with 10 at a gathering already eating into the potential joy on Christmas Day.
Her state recorded 15 new cases in the 24 hours to 8pm Sunday and all these came out of Avalon. That was half the number reported the day before. The state is at 83 infections after 38,000 tests. The Premier and all of us have to be happy with that! The Thai Rock Café in mid-July was worse. It had 114 infections and life didn't go into a statewide lockdown. But then again, the state and the country weren't going into the madness and merriment of Christmas, where the 'hanging out' factor goes into "it's steroids time!"
For the record, the Crossroads Hotel had 57 Coronavirus infections. The Bankstown case brought 76. So there's plenty of evidence that the state's contact tracers are the "best on the planet", as Gladys declared recently. As I said to Chris Smith on 2GB breakfast this morning: "Our contract tracers are like a Labrador chasing a sausage at a BBQ!"
The decision that could cruel Christmas, statewide, for many has to hinge on a number of critical issues, but in the Premier's thinking has to be the question she'll need to answer that goes like this: "Do I make NSW take one step back to gain three going forward into January 2021?"
The Australasian College of Infection Prevention and Control wants a statewide lockdown in the next 48 hours to avoid a Melbourne-style extended closure, which we saw earlier this year.
That would mean everyone in NSW could only leave home for shopping, exercise, emergencies or essential work. Public gatherings would have restrictions and visitors to home would be reduced.
Right now the health threat looks small. 83 out of 38,000 isn't like the crazy numbers in the US right now.
In case you have ignored the latest results of being too laissez-faire about this damn virus, let me give you a US update:
December 20 brought 179,803 new cases!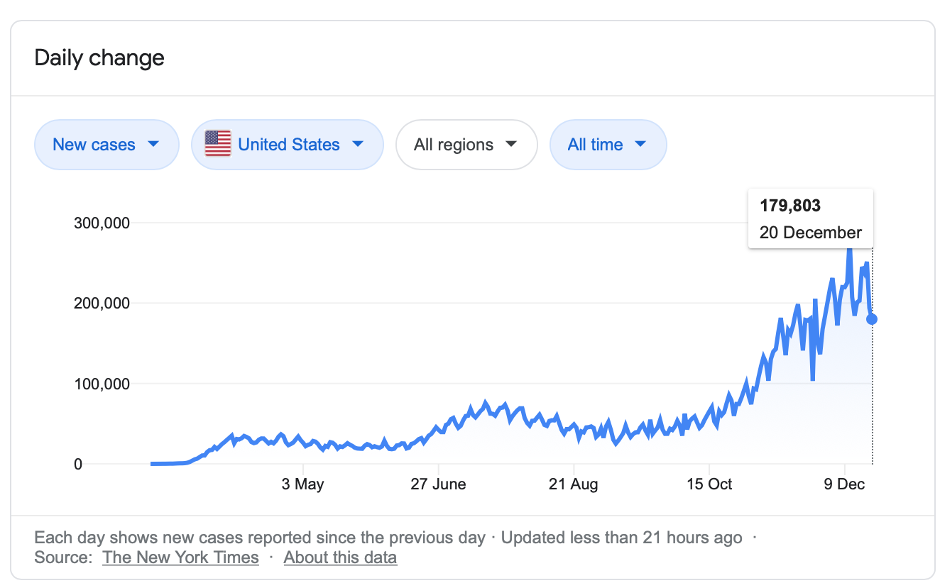 Deaths total 319,000 out of a population of 328 million.
17.9 million total cases or around 5.4% of the population.
The usual deaths from the flu in the US are about 61,000.
Being too cavalier about the Coronavirus hasn't worked out well for the US, the UK and Europe, and this has to be playing on the mind of Gladys and her team.
As an economist, I can easily argue that losing a week won't hurt the economy too much. After all, our economy grew by 3.3% in the September quarter, despite Victoria going into its second lockdown on July 9. The September quarter is July, August and September, so it shows what this economy can do even with restrictions.
One of the biggest meat suppliers to hospitality, who lives close to me, told me his business had the biggest week ever last week, but this week it had collapsed. That said, when we reopen, he expects another boom in demand — we all want out and we want it now. But the NSW Premier has to be the adult in the room.
There is an argument that retail is biggest, not before but after Christmas, when we go bargain hunting in early January, when the sales are on. So locking us up before Christmas and then releasing us after Boxing Day could be the big pay-off for a cautious Premier.
That's the economic argument. Don't forget that Gladys is a politician and there are some areas where she won't go because, at the end of the day, she's a vote-counter.
The Harvard Medical School says the basics of beating this damn virus is:
social distancing, including friends and family.
wash your hands regularly, and
wear masks.
I reckon Gladys could avoid a statewide lockdown if she just simply says, if you want to go out you have to wear a mask.
After a bad start to COVID-19, primarily because of its huge influx of tourists, Thailand has performed terrifically in fighting the virus (except for a spike in cases linked to the country's seafood industry yesterday). Two often cited reasons is the provision of masks at really low prices, which were also made compulsory. Also the Thais aren't physical, touchy-feely people when they greet. It's more a prayer-like greeting called a "wai".
I hope Gladys spares NSW a statewide lockdown and makes us wear masks in public until mid-January (when the sales are nearly over) and warns us about going the full Aussie bear hug when we catch up with friends and family. Wednesday's decision by the Premier that could upset a lot of Christmas days, might, in the fullness of time, get down to the old sporting maxim: "no guts, no glory!"