This really annoys committed pessimists but Australia has genuine claims to being a miracle economy with a double-dip recession averted, which will help the miraculous nature of our economy cope with the current 'recession'. Yep, while the June quarter recorded a 0.7% growth reading, this September quarter will be a likely 4% negative. And you can simply blame lockdowns in Sydney and Melbourne.
If you need to play the blame game, you'd point the finger at Chinese scientists or bats in wet markets and unusual people who eat raw snake with bat droppings, for kicking off the Coronavirus. Then you could blame India, which was the initial breeding ground for the Delta variant. And then the PM for thinking and punting on the Oxford 'dons' (who developed AstraZeneca) that they'd make a clot-free vaccine.
We then weren't helped by Queensland's chief medical officer who gave AstraZeneca the deathly thumbs down. And then you'd give the death stare to state premiers who were forced to impose lockdowns. Yeah, I know there's a case that lockdowns were excessive but politicians are scared of high death rates and being blamed, so it is what it is.
The end result for the miracle economy that grew for 30 years, breaking all economic history records, is a three month recession in this current September quarter, which will start to improve in October, rebound in November and surge in December, as we go mad eating, drinking and buying stuff pre-Christmas.
AMP Capital's chief economist, Shane Oliver, thinks we'll grow at a huge 6% rate next year, and the December quarter will be the launch pad for the economic take-off for 2022.
But now too many businesses and workers are struggling either with less work or none. And while the real intensity of this economic battle with the recession pressure is in Sydney and Melbourne primarily, and then the rest of the related states to our biggest capitals, many parts of Australia are recession free.
A majority of businesses in Western Australia, South Australia, Tasmania, Queensland and the Northern Territory are doing at least OK, while others would be killing it.
Even in Sydney and Melbourne food businesses in the suburbs are making hay while the sun doesn't shine on CBD businesses.
Pharmacies, hardware stores, supermarkets and even some restaurants have pivoted to become takeaway outlets, effectively developing a new line of business for when normalcy returns.
In recent weeks I was shocked to see the ANZ weekly consumer confidence numbers rise by 0.2% to a four-week high. That reminded me that there's a lot of Australia outside Sydney and Melbourne.
And I guess fully employed Australians in non-lockdown states and those working from home, saving money and 'living the dream' in outer suburbs of Sydney and Melbourne, albeit with such restrictions and having the big challenge of their kids not at school, can still be confident consumers.
How does that happen? Maybe it's why we're a miracle economy. But don't just take my word on it — check out this chart.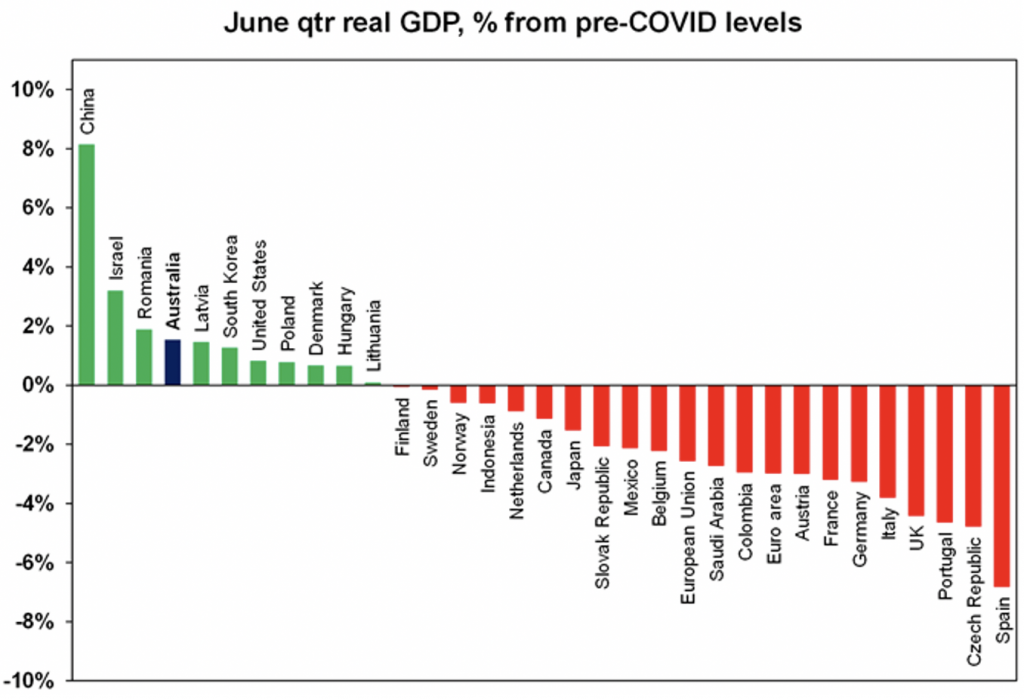 Source: Bloomberg/AMP Capital
This shows that we're one of the few countries that had beaten the pre-Coronavirus growth rates and actually were growing faster after the virus. However, our recent Delta strain experience is set to change all that.
But this chart does reinforce the view that when we get our vaccination levels at 80% (and if you believe the premiers of New South Wales and Victoria that lockdowns will cease and we learn to live with this virus) our economy will perform a miraculous comeback.
This will power jobs, hopefully reopen closed businesses and encourage the creation of new businesses. And then the stock market will head higher across 2022. If the predicted 6% economic growth can't power profits and share prices, that will be a share market surprise!
Interestingly, the country's Treasurer Josh Frydenberg isn't keeping his fingers crossed and hoping for a strong economic rebound next year. He's promising small and medium-size businesses that government assistance will continue and will be ramped up during the transition period that follows the 80% double-jab level being reached later this year.
And to get an idea about what the 80% threshold for vaccinations will mean, yesterday the Prime Minister suggested that vaccinated Aussies will be allowed to go overseas and quarantine at home on their return, once we have 80% fully vaccinated adults in the country!
"Home quarantine needs to be a viable and widespread option for people who are travelling overseas and returning, and indeed people who are overseas and have been vaccinated by the vaccines that are recognised in Australia," ScoMo explained.
Fortunately, most of us in Sydney and Melbourne are becoming experts at living locked up at home!
For many of us to get on a plane and head overseas, or even just north to Queensland, would seem like a miracle!
By the way, this positive view on the Oz economy isn't just from a one-eyed biased P.Switzer.
In September last year, this is what the Poms at the BBC reported, when we went into a 7% recession: "Despite the severe drop in economic activity, Australia is doing better than most other advanced economies that have experienced bigger downturns. The US economy, the world's biggest, shrank 9.5% between April and June, while the UK's shrank by 20.4% pushing it into recession as well. France's economy fell by 13.8% and Japan's by 7.6%."
I rest my case.