I'm conflicted on Holgate versus Morrison, which has to be called Holgate Gate!
I know them both and like them both. I taught the PM economics at the UNSW and Christine was one of the few CEOs who'd show up on my Sky Business TV show for the decade I hosted the show and the channel existed. She showed up even when the results disappointed — a lot of CEOs seldom did that!
Journalists are portraying her as a feminist wronged, and maybe she is inferring it in some of her interviews, but in no way is Christine someone who played the gender card when she headed up Blackmores and Australia Post.
She's a strong woman and some men get intimidated by competent female performers.
I think the PM took bad advice from dumb advisers or he's had a shocker personally, thinking this was a kick in front of the post issue, because most Aussies would hate highly paid executives getting bloody Cartier watches valued at $18,000.
But these executives pulled off a huge play — Bank@Post, which has now netted AusPost $220 million.
And let me add, the snouts have been in the largesse trough at Australia Post for decades!
When Christine got the job at Australia Post, I had a meeting with her at the Sydney head office. Christine talked about an upper level floor, where before her time, senior AP people used to congregate to the exclusion of others who worked closely with them.
Christine changed that, and I'm sure it created enemies.
In pre-Holgate days I was invited to Swans matches and the box was dominated by friends and families of executives. As a business owner myself, I know business expenses are meant to drive business, add to revenue and improve the business — not provide entertainment for friends and family. Seriously, AP was a huge junket for insiders for ages and no politician ever did a Holgate on the CEOs and executives of AP before Christine copped it.
And by the way, we're not talking about a plonker who should be shown the door.
During her time, Blackmores was a $217 stock under her leadership. It's now an $81 stock.
I don't think the PM singled her out because she was a woman, but he read public opinion and pulled the wrong rein, just like his Hawaiian escapade.
If the boss of AP was a bloke who gave away Cartier watches, and newspapers that now are defending Christine were questioning why, ScoMo would've thrown that bloke under the bus of unfair and rash public opinion.
The problem for him is he has underestimated the strength of Holgate, and the Government's mishandling of women's issues has given her extra support that she really didn't need.
The irony is that there are possibly hundreds of companies that would offer Christine a job, and the fact that ScoMo hasn't learnt from the former Queensland Premier, Peter Beattie, who was a master apologiser after making a mistake, really surprises me.
Pete would often admit "that we or I got it wrong" and it worked as he remained in charge of the sunshine state from 1998 to 2007.
Right now, ScoMo is building up a number of issues he better start fixing, or all of a sudden Anthony Albanese will start looking like an alternative PM.
And I never thought I'd write that but I'm not here to be a part of a cheer squad for anyone unless they have been great performers of a Christine Holgate standard!
Because I think ScoMo has potential, I hope Holgate Gate on top of Vaccine Gate on top of Higgins Gate, doesn't contribute to the demise of a basically good team that did exceptionally well leading us through the Coronavirus challenge.
The following chart shows how well we did. I've shown it before but normal people need to recall that we not only beat the virus brilliantly, we've also killed them in the economic rebound stakes.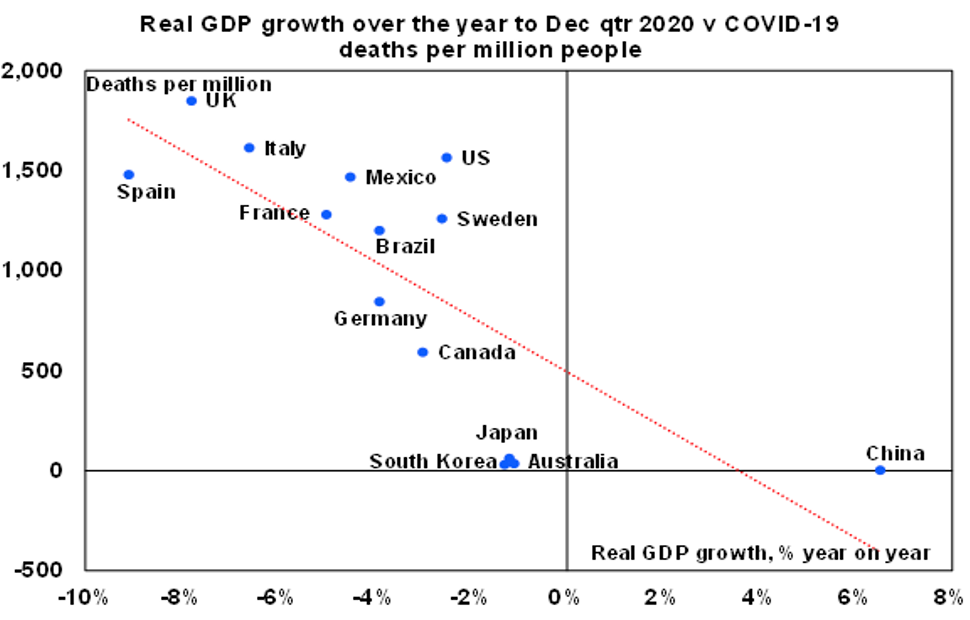 That's us only behind China in the economic growth/virus deaths story, where we're high on growth and low on deaths.
If I was advising ScoMo that would be the story I'd be reminding people of, while making the most heartfelt of apologies to Christine Holgate.
But hell, I'm only someone who understands the media and the people we talk to.