The man in the immediate economic hot seat i.e. Dr Phil Lowe (our Reserve Bank Governor) has put the pressure on the ultimate hot seat guy, PM Anthony Albanese by telling us that across-the-board pay rises of 5% or more will make it hard to put the inflation genie back in its bottle.
This warning follows the 5.2% pay hike for low-pay workers granted by the Fair Work Commission recently. This might have been socially fair but it does make the RBA boss's job of beating down inflation to restrict interest rate rises, in order to avoid a recession a lot harder to pull off.
Now The Australian's Patrick Commins says Dr Phil is bracing us for more rate rises, but he thinks he can pull off the double play of lower inflation and no recession but concedes the economy will have to grow slower and unemployment will go up.
What could make him look like a nincompoop would be too many wage rises that lead to persistently higher inflation, above the 2-3% band the RBA wants for overall price increases, which will require more interest rate increases, KO'ing lots of home loan and business borrowers and creating a recession.
That's why he's nationally informing unions and the PM, along with Treasurer Dr Jim Chalmers, that we have to contain wage rises for at least the next couple of years. After that time, inflation should be low enough and the economy strong enough to cope with more pay rises.
Wisely Dr Phil pointed to the Labor Whitlam years when inflation led to wage rises, which led to price rises and then more across-the-board pay hikes, and inflation created unemployment, which was tagged as stagflation.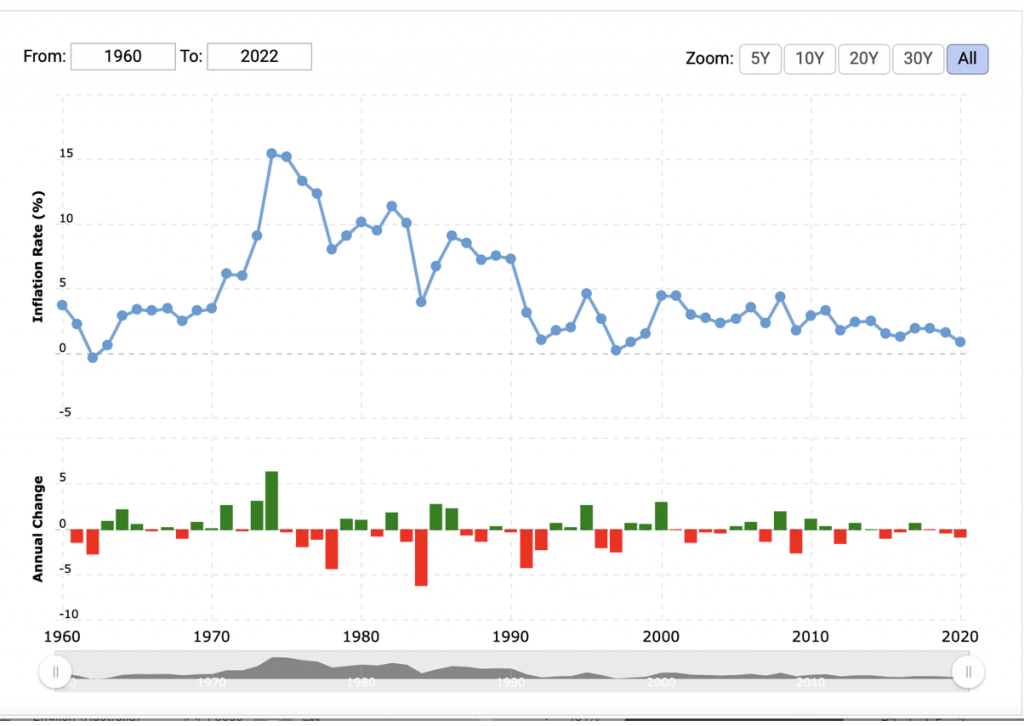 See above how inflation got over 15%. This coincided with a big spike in oil prices like what we're seeing nowadays because of the Ukraine war.
The 70s inflation problem rolled into the 1980s, and that's when home loan interest rates surged to 17%. Not long after that, we had the famous recession that Treasurer turned PM, Paul Keating, dubbed "the recession we had to have".
Clearly, Dr Phil doesn't want that kind of outcome i.e. high interest rates and a serious recession on his CV and neither do we!
Right now, various unions are lining up for pay rises, such as the Finance Sector Union (which wants a 6% jump in wages) and the Electrical Trades Union (which is looking for a similar rise).
The economists think a 3.5% wage rise is sustainable when you take into account productivity. Thankfully, Treasurer Jim Chalmers is talking the right talk, telling us that he wants pay rises to come out of workers delivering cost-reducing efficiency, which in turn deserves them to receive good pay rises.
The bigger the productivity gains, the bigger the cost reductions of doing business, which pumps up profits and justifies bigger pay rises. Those who 'guess' RBA interest rate rises say they expect another 0.5% rise on July 5, which will take the cash rate to 1.35%. This is meant to stop many of us from overspending and feeding inflation, but excessive pay rises will also feed inflation and mean more rate rises will follow.
The bottom line is that if unions and non-unionised workers ask for too much, they'll kill jobs unless they commit to being more productive. And they will make life for those overborrowed for overpriced homes a living nightmare.
Dr Phil, Dr Jim and the PM have a big job ahead. If they fail and we end up in a recession, it will be remembered in three years' time when we next go to the polls.
For the sake of the country, jobs and businesses I hope these three guys can pull it off.