If the RBA Governor and his board decide to raise interest rates before the May 21 election it will be a case of the Bank putting the economy before politics. And some commentators say that this could undermine the Government's strong poll promise that they are better economic managers than Labor.
I won't get into this debate as beauty is in the eye of the beholder and what someone thinks about an economy depends a lot upon what they actually receive in income, what happens to their house prices, the availability of jobs and other important material matters.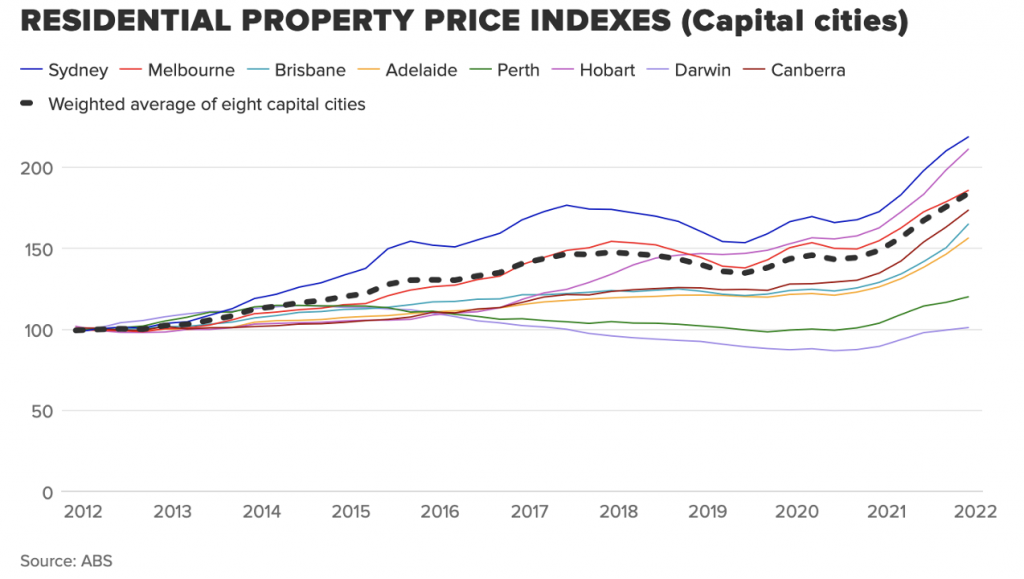 Of course, those who like rising house prices are rationally those who own, while on the other side of the equation, those wanting to get onto the property ladder could despise the past few years, where home prices have risen in Sydney alone have risen close to 60%, since the Coalition took power in 2019!
Over the year to March, Hobart home prices were up 29.8%, Canberra 28.8%, Brisbane 27.8%, Sydney 26.7% and Adelaide 23.9%.
Darwin recorded the smallest annual rise of any capital city, with prices lifting 13% over the past 12 months.
And the latest thing for us to complain about is the surge in power prices, which is not a great look for ScoMo and his team ahead of an election.
"In its latest snapshot of the National Electricity Market (NEM), the Australian Energy Market Operator (AEMO) said wholesale costs soared 141 per cent in the three months to March 31 compared with the same period last year," the ABC reported this morning. "And prices averaged $87 a megawatt hour, which was also 67 per cent higher than the three months to the end of December."
The news cycle this week is not helping when you recall the big 5.1% inflation number this week, which was a 21-year high and you add it to this power price revelation.
And come Tuesday, there will be another negative news number coming out to hit the Government and help Labor and that's the likely first interest rate rise since November 2010.
And that rise could even get more painful for the Coalition if that rise is 40 basis points or 0.4% rather than 0.15%. What a 0.4% rise in home loan interest rates will do to someone's mortgage repayments will read a lot scarier if Tuesday's bump up of the cash rate of interest at the RBA is only 0.15%.
Right now that's what many economists think will happen next week but it does get scarier for anyone with a mortgage, if the often reliable rate-caller, Westpac's Bill Evans is right with his latest predictions.
He sees the rate rises this way:
Tuesday: 0.15%
June: 0.25%
July: 0.25%
August: 0.25%
October: 0.25%
November: 0.25%
He says the cash rate, now at 0.1%, will be 1.5% by the end of the year, which means someone who say, borrowed at 2%, will see interest rate rises of 1.4% taking $1000 repayments a month to $1,700!
This is not helpful news for the Government ahead of an election.
Of course, Bill could be wrong and inflation could fall quicker than is currently expected and that could make the RBA raise at a slower rate. The cut in the fuel excise is expected to pull down inflation from the latest 5.1% to 4.85% but we need the Ukraine war to end ASAP and China to come out of lockdown and start making stuff, again, ASAP.
But in the whole scheme of things, should we be complaining about interest rate rises, higher power bills and say a shortage of workers, which a lot of business owners are genuinely worried about?
(Of course, there are more whingers out there, but will do for now.)
The reality is that we confronted a Coronavirus curveball that no economist or politician was expecting. We then dodged a Great Depression bullet where Treasury thought unemployment could hit 15%. It's now 4%.
The stock market has only increased by only 3.1% since just before the crash of the stock market in March 2020 but it has rebounded 52% since the low on March 27 2020.
ASX 200

Did I say we dodged a bullet? And along the way, home loan interest rates fell from about 4.5% on average at the start of the lockdowns, which gave way to rates in the 2-3% band for over two years!
And we're actually wealthier, as this from CommSec's Ryan Felsman shows: "Total household wealth (net worth) rose by $590 billion or 4.4 per cent to a record high $13,918.5 billion in the September quarter is up 20.2% on a year ago – the strongest annual gain in 11½ years!"
Clearly, the pandemic has been hard on many of us mentally and socially but economically many of us have actually done OK. And the statistician reckons we have about $250 billion stashed away in bank accounts because the pandemic made it hard for us to spend on services in particular.
They have historically said black clouds can have a silver lining but I wonder if the current run of news will make it easy for voters to see or recall this on May 21.
Knowing people, I don't think they will.