Paul Keating, former Prime Minister and the Treasurer most responsible for our previous recession in 1991, has ripped into the high priests of our Reverse Bank, sorry, I mean our Reserve Bank, for being too slow and indolent dealing with the Coronavirus 'infection' of our economy.
If you don't fully get my imagery of our economy being 'infected', just think about Victoria right now — locked up, depressed and contemplating business bankruptcies and rising unemployment. That's economic infection on steroids!
What the former PM is virtually doing is calling the RBA stumble bums or simply bums, who sit around and watch a crisis unfold and then do precious little to fix the problem.
In a commentary piece in today's Australian, Mr Keating labelled the Reserve Bank the "Reverse Bank" because they always have to go into reverse after going too high or too low with interest rates.
Keating wants our central bank to buy a lot more bonds. When the Reserve Bank does this, it swaps its money (that notionally lies in its vault) for bonds that the banks and other bond-owning bodies can then lend out, use it for investment, job creation and so on.
The RBA buying bonds helps the economy grow and Keating wants more bond buying from this too-cautious central bank. He doesn't want them to play too careful a game.
All this has history for our former PM.
And if the historian is unbiased, history should record that there is good Paul Keating and bad Paul Keating.
The good part says:
He's responsible for compulsory super.
Low interest rates that borrowers enjoy today from competition for the banks were brought in under his rule.
We have a less aggressive union movement, which he helped create with the ACTU's Bill Kelty.
Aussies fly cheaply overseas and internally, thanks to his deregulation and privatisation of Qantas.
Cheaper imported products are all down to him and Bob Hawke because of less trade protection.
And most Aussies enjoy his very funny turn of phrase when he wants to rip into someone. Paul Keating made politics and economics very entertaining.
The bad part includes:
His mishandling of interest rates in the late 1980s when home loan interest rates went to 17% and sowed the seeds of his 1991 recession, which he said was the "recession we had to have".
He thinks he's always right. And he whinges a lot.
He's one-eyed, evidenced by the fact he's ripping into the RBA and, to date, hasn't got stuck into Premier Dan Andrews for being a bonehead over his security guard mistake. Someone like him knows what this Victorian shutdown does to our potential economic recovery and that Dan's mistakes will kill more jobs than the slow RBA. It shows how one-eyed he is.
But this RBA bagging all has history for the ex-PM. When he was Treasurer from 1983 to 1991, the Treasurer controlled the Reserve Bank. He actually told us he had the RBA "in his hip pocket". And so those too-high interest rates of the 1980s have to be blamed on him. Clearly, he would've taken advice from the pointy-headed economists at the Big Bank and he'd recall with no happiness their recommendations.
To be fair, this was a new age of deregulation and other central banks made the same wrong decisions. But if Keating and the RBA had pulled out earlier from their interest-rate rising strategy in the late 1980s, maybe our recession would've kept unemployment lower. It hit 10.87% in 1993 and even after 10 years it was still 6.74%!
Unemployment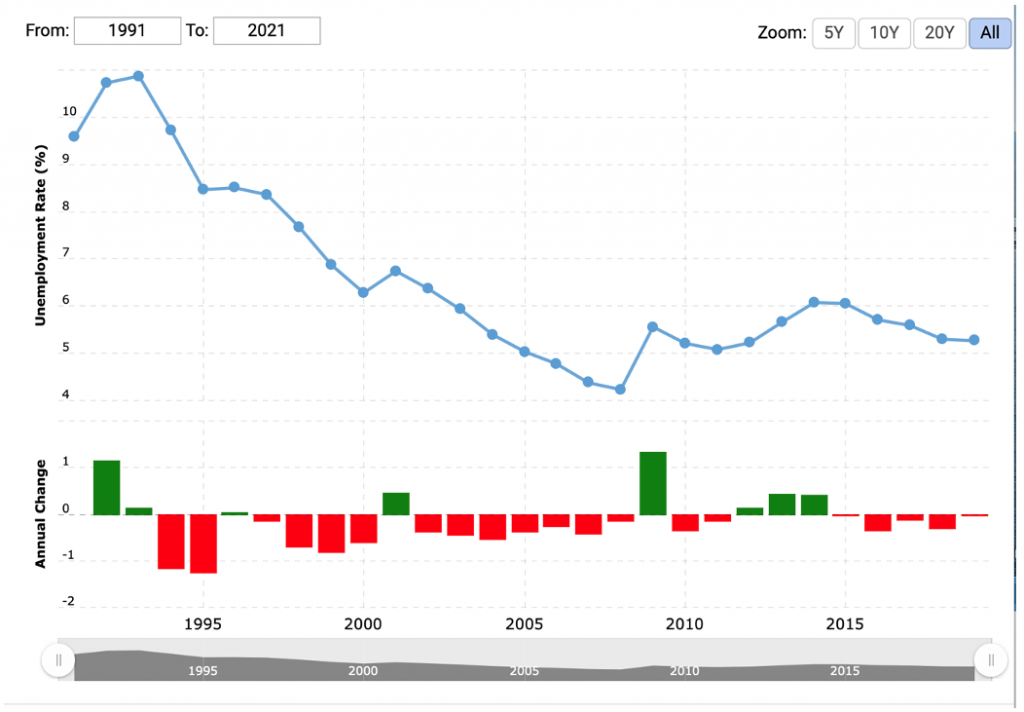 Looking at the Keating -v- RBA encounter, The Australian's Patrick Commins sought out the views of a former RBA board member and eminent economist, Professor Warwick McKibbin, to evaluate the Keating call. McKibbin didn't mince his words: "The recession in 91 was caused by Paul Keating and his inappropriate policies," Professor McKibbin said. "He is the wrong person to be criticising the bank, when he was the one who caused that recession."
That said, Keating isn't all wrong, as the RBA can be slow to act. When I hosted my Switzer TV programme for a decade on the Sky News Business channel, I ran two campaigns telling the RBA that interest rates were too high. And some viewers (not in business I dare say) thought I was outlandish bagging the RBA.
The first campaign was in 2011, when it took the cash rate to 4.75% not long after we had got over the GFC. And then when they held it at 2.5% for too long between 2013 and 2014.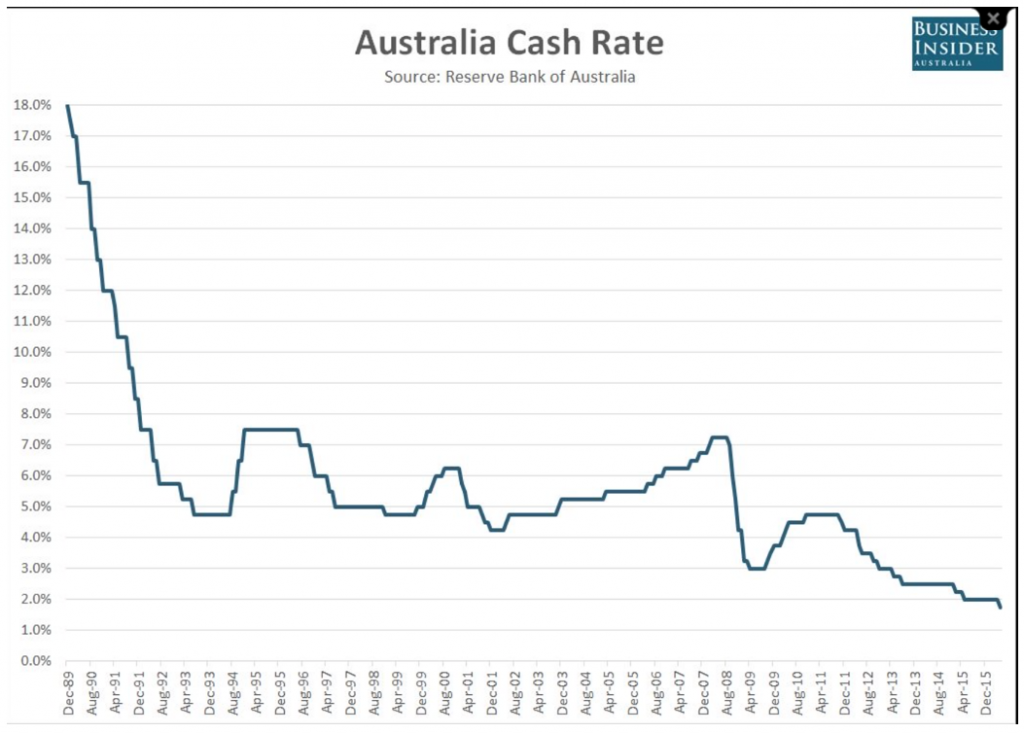 That said, working out how bad an economy is and what should happen to interest rates isn't an easy task but someone has to do it. Better it be an RBA economist rather than a Treasurer, who also happens to be a politician! Keating can be annoying but he's still such good media value.