With today's stimulus package, The Morrison Government and Josh Frydenberg have been given the kind of pressure a goalkicker faces when there's a big game and the shot depends on this final roll of the dice.
The officials with the flags who decide whether it's a goal or not is the stock market. And with the market down heavily again today on Wall Street, it's pressure of pandemic proportions!
And we now know what the announcement of a "global pandemic" is worth — try 1,300 points on the Dow Jones index! The call was made by the World Health Organization (WHO) overnight and it has rattled stock markets because we just don't know what this will mean for the growth of economies, company profits and then share prices.
That's about a 5% drop! And in case you don't know, a pandemic is not about the severity of the disease but its geographical spread. It applies to a disease that we don't have a natural immunity to, that is going worldwide and is spreading beyond expectations.
That's interesting because I think most of us thought that was already happening, and it was. But it had not been officially called a global pandemic by the WHO. And we now know that stock markets don't like hearing that the world has to deal with a damn global pandemic!
Uncertainty is a killer on a stock market.
If you're invested in the stock market, your capital is shrinking. The only historical argument that will help you through this worrying time is that stock markets do rebound out of these scary days and usually it's a very solid rebound.
Below it is worthwhile showing you the chart of previous major outbreaks from SARS to Ebola, MERS, and so on, which I have shown you before. What the chart shows is that the stock market inevitably bounces back.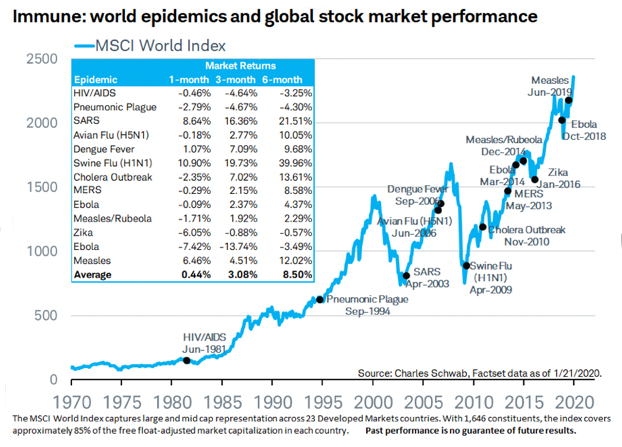 The black dots on the chart show various epidemics the world has gone through and the market reaction. As you can see, rebounds happen. However, the chart does not show the anguish and anxiety of those who are exposed to stocks. And with term deposits so terribly low nowadays, who hasn't got an exposure to stocks?
Of course, in actual terms, provided you're not a seller of stocks, your losses are only on paper. And provided you're in good quality companies, then the share prices will come back to higher than current levels. You only cop the loss if you have to sell, so if you don't have to, I'd suggest you just play the waiting game.
How will that rebound happen?
The stimulus package announced today will be a help and depending on how the market reacts to it, there could even be a stimulus package Mk II — but I hope we don't need that!
But the country with the biggest bazooka, the USA, will be the world's hope of the side. Overnight, the Poms outlined a $US39 billion stimulus package to offset its Coronavirus slowdown, which was actually the biggest budget handout since 1992 and was therefore bigger than the GFC giveaway! This follows the rate cut of 50 basis points, taking its official rate to 0.25% and it tells me that our RBA will be cutting again!
Will this kind of stuff work?
The chief economist at PwC in the UK thinks it's all a plus, saying this "should go a significant way towards mitigating the economic impact of the virus in the short term."
You have to hope we local economists give Josh a similar 'thumbs up' tomorrow morning, and further you have to hope that the stimulus we see worldwide inevitably is called "overkill" because if that's what it ends up being, we will see the economy roar back in the second-half of this year.
What we're being forced to watch right now is akin to that scary movie The Exorcist where a kid's voice is like a Hell's Angel on ICE, her head goes green and spins — it was my scariest moment in a movie house! It spooked me until the end, when normal life resumed.
We will beat the Coronavirus and its market and economic effects.
Experienced market analyst, Morningstar, sought experts to try to guess the believable impact of the virus. "Overall, we see a weighted average hit of 1.5% to 2020 global GDP and 0.2% to long-run global GDP," said the report, authored by biotech strategist Karen Anderson and energy analyst Preston Caldwell. "We forecast a muted long-term impact because damage to productive capacity will be small, plus economic confidence should quickly return once the virus subsides." (CNBC)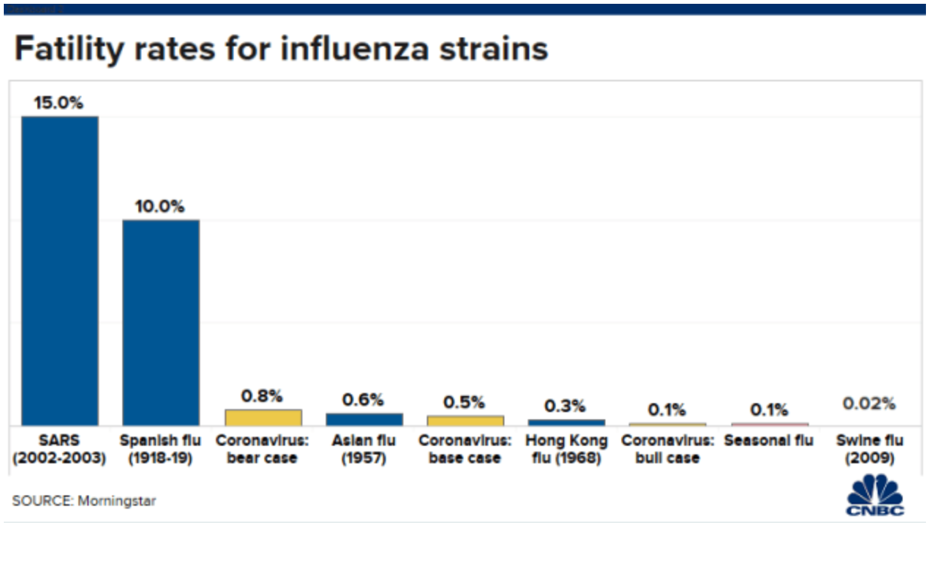 Morningstar also thinks the 3% death rate call, which media alarmist love to scare us with, will be more like 0.5%! The chart above shows how bad SARS was but the market did not have such an over-the-top reaction.
I put this together with this crazy run on toilet paper and I recognise that the big difference between now and 2003, when we battled SARS, has been the growth of social media!
Once upon a time, there were editors of media outlets who gave people like me the nod (or not) on whether our views could be put out there. If I got outlandish, defamatory and even plain wrong, sub-editors, then editors and even editors-in-chief would assess the merits of something controversial. I could even get a phone call from the legal department where some legal eagle would question why I needed to say something, which could be annoying but it was a better filtering system than today.
I hope these exaggerations about the virus — its infection rates, death rates and the economic effects — are wrong because it will set us up for a roaring return for stocks. For now, it's seat belt time, and if global governments and central banks play a smart stimulus game and the infection and death rates are contained, then this will be an economic and stock market rollercoaster ride, or a scary movie, with a happy ending!
Interestingly, the UK stock market lifted 0.33% following the stimulus package, which shows what a good government response to this virus can do to market sentiment.
Go Josh and Morningstar!