The Coronavirus has created both threats and opportunities with the latest surprising news telling us that we are sticking it to China by finding alternative markets after Beijing imposed trade bans of coal, barley, wine and other products. They did this as a get-even for the Morrison Government supporting an international inquiry into how the pandemic started and spread worldwide.
China is our most important export customer and takes about 33% of our exports, which totalled $117 billion in 2018-19.
But while that export story is good news, we've also learnt that our public debt will rise faster than any other equivalent Western country surging from 47.5% of GDP in 2019 to 77% of GDP in 2022.
And while that looks potentially worrying, there could be a silver lining in this big ballooning debt cloud. You see, given our finding of new markets, effectively reducing our dependence on China, we've potentially found alternative sources of economic growth, which are crucial to paying down our pandemic-created debt.
The greatest source of debt repayment is income generation and that's what economic growth delivers. The huge, timely spending from the Federal and state governments when the virus closed down our economy's businesses, along with what looks like world's best practice in containing the virus, have actually resulted in a bigger economic dividend than most countries in the world.
This economic activity tracker chart below, which I've shown before, screams that we have not only beaten the virus better than most, it's resulted in a greater economic performance.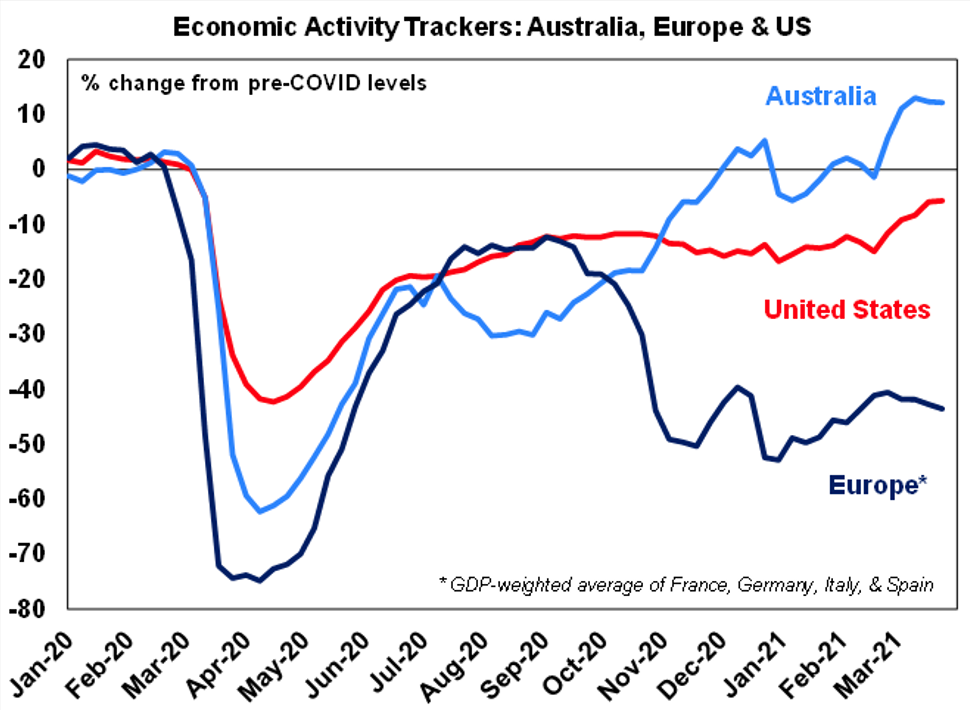 And the next chart shows how the correlation of a very good virus-beating program, co-ordinated well by most of our state governments, with the Federal Government, has resulted in lower deaths per head compared to most countries and a better economic result, only beaten by China. But who trusts the Chinese statistician?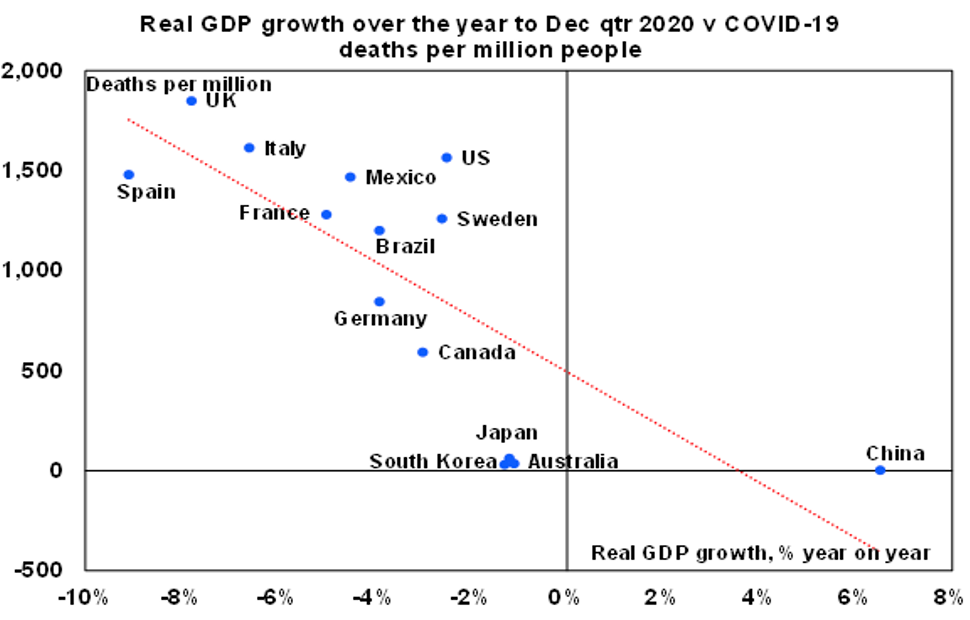 And on that subject, it isn't great that we are sticking it to China, whose leadership has hit us with trade bans but we have found alternative markets.
The Australian's Ben Packham says "…$20bn a year has been slashed from Australian exports to China, [but] the nation's barley, coal, copper, cotton, sugar and timber producers have either partially or completely offset this by diverting shipments to new buyers in other countries."
According to the Lowy Institute, only our winemakers are still feeling the loss of Chinese consumers because of the bans. China used to take our wine exports to the tune of $1.3 billion a year but tariffs as high as 212% have changed all of that!
And while this is bad for our winemakers, the Lowy Institute chief economist, Roland Rajah, said our net loss because of China's unfair trade bans was only around $1 billion, with our sales of barley, copper, seafood and timber to other markets rising sharply. And while it would be ideal if we weren't having a trade blue with our most important export customer, other countries are out there with plenty of promise.
The IMF this week pumped up India's 2021 economic growth rate from 11.5% to 12.5%, while China will grow by 8.4% over the same time. Countries like India, Vietnam and Indonesia could prove able substitutes for China as future export customers.
And fortunately the global market for exports is looking promising with the latest IMF report concluding: "We are now projecting a stronger recovery in 2021 and 2022 for the global economy compared to our previous forecast with growth projected to be 6 per cent in 2021 and 4.4 per cent in 2022.
"The projection is that an advanced economy like the US will surpass its pre-COVID GDP in 2021, but many others in the group will return to their pre-COVID levels only in 2022."
As growth escalates a lot of our rising debt will be paid down but we could see higher taxes coming along as one-time worried governments become less generous. One day the treasurers of Australia will play hardball with us taxpayers but it will be when our economy is growing so well that there will be plenty of jobs and rising wages that will bring higher interest rates.
You can count on that!
By the way, China is annoyed at us because of :
The Morrison government's call for a COVID-19 inquiry
It banned the alleged spy-laden Huawei participating in the 5G network
And we have foreign interference laws.
So, what's the problem?
China needs to grow up as a citizen of the world and if it doesn't the world should start imposing sanctions like some of the big fashion labels of the world have done recently.
I loved this from The Australian's James Kirby this week: "After a widely criticised decision to launch trade bans on Australian imports ranging from coal to wine, China is getting a taste of its own medicine from the unlikely quarter of the global fashion industry, which has introduced bans on cotton from the troubled Xinjiang region.
"A coalition of ethical investors, human rights activists and image-conscious fashion brands recently announced they would not use cotton from Xinjiang — the supplier of 80 per cent of China's cotton, which in turn supplies a fifth of the world's output." More of this collective action is needed to make Beijing play fair.