It's the tale of two headlines. The first from The SMH warns about how the rescuing of the economy has pushed government debt towards $1 trillion. And the second from Sydney's The Daily Tele reminds us that half a billion dollars' worth of spending is set to be unleashed by locked-up Sydneysiders this week now that 'freedom day' has arrived.
In actual fact, they are two parts to the one crucial interdependent story of economic growth, which should carry the message: Don't worry, just spend to save your job, struggling businesses and the economy!
Let me explain why being a spendthrift is a virtuous thing to do.
It was in the Great Depression of the 1930s that economists embraced the teachings of UK economist Lord John Maynard Keynes and the politics of US President Franklin D. Roosevelt. Both came up with the same plan to rescue their own economies and the world economy from the dole queues and social devastation of the worst economic downturn ever.
Old-world economists thought belt-tightening and paying back debt was needed after the excesses of the Roaring 20s built up debt that led to the collapse of the stock market on Black Monday, 28 October 1929, when stock prices fell faster than the poor wretches who jumped out of buildings in New York after losing a fortune!
In fact, the Bank of England sent Lord Otto Neimeyer to tell the likes of NSW Premier Jack Lang to cut spending to pay back the government's UK lenders. But old Jack virtually told him to "f-off" and went out and built the Sydney Harbour Bridge!
Like Franklin and Lord John, Jack saw the way out was not by belt-tightening. As Keynes had argued convincingly, the governments of the world had to "spend and prosper".
The lesson was well learnt when the GFC hit in 2008, where very 'spending careful' politicians and economists became Keynesian fans overnight! And it worked here. We dodged a recession bullet and no other western economy was able to achieve.
That's why ScoMo and Treasurer Josh Frydenberg went into spending mode when it was decided that the only solution to a closed down economy to beat the virus was to spend.
The impact of lockdowns has been seen again, with Deloitte Economics telling us that an economy once tipped to grow at 4% plus this financial year might only make 1.5%. However, I must add that the second half of that financial year (i.e. January to June) will be growing at a 4%+ pace because of the release from lockdown effect.
The Daily Tele says Sydneysiders will spend half-a-billion dollars this week alone, and the momentum will build as we get closer to Christmas and Victoria eventually gets a ticket-of-leave from its virus-created prison.
The NSW economy was losing a billion a week and Melbourne would be in the same boat. In fact, when Victorians are also released, we need them to spend so the country can prosper. Spending will bankroll jobs, which produces wages and profits that can be taxed to pay back federal and state government debt.
The Daily Tele revealed an important point with this: "A Business NSW survey found that more than half of the state's businesses – 53 per cent – would have closed down without the Covid assistance package from the government. The package meant that 40 per cent of businesses were ready to "snap back" to opening as soon as the easing of restrictions was announced."
No economist has an economic model that can really forecast how we will spend for the rest of 2021 and into 2022, which I think will be a boom calendar year for the economy. But one thing is for sure that a big chunk of the $60 billion we spend overseas will remain at home because there'll be a lot of reluctant travellers over 2022, who'll spend their money here at home. This might change as time goes by but I'd say local tourism businesses should be set for some strong trading years for some time.
But you might be thinking, "Switzer seems to be in la-la-land not worrying about the government debt that's now at $847 billion and heading towards $1 trillion."
And you'd be wrong. We'll all be in la-la-land if we don't create an economy that grows its Gross Domestic Product (or GDP) because that's the best way to test out whether a debt is manageable.
If you simply look at house price increases over the last 20 or 30 years, you'd be shocked but people kept making their mortgage debt repayments.
Economists look at the government debt-to-GDP ratio and Australia has one of the smallest in the western world. This is an excerpt from the Trading Economics table on Government Debt-to-GDP in December 2020 for countries of the world. The US was 108% of GDP, Japan 350%, France 116% and the UK 97.2%. And have a look at where we are and the countries around us!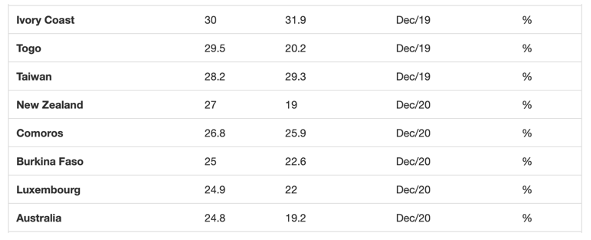 We're so small and surrounded by countries that we don't usually compare ourselves to, apart from New Zealand. Now, we might be up to 31.6% of GDP or even higher, but when it comes to government debt and the power of our economy to repay that debt, this has nothing to do with me being in la-la-land.
The governments of Australia have spent and we will prosper. And the best indicator of the dividend from their spending is the unemployment rate, which is now at 4.6% while the US is at 4.8%, the EU at 6.8%, Canada 6.9%, Sweden 8.6% and Italy 9.3%.
Treasurer Frydenberg was one of the biggest spenders in the world (as a percentage of GDP) in fighting the coronavirus. It will be his spending that will help us prosper in the future. It's the kind of thing most former Labor treasurers would reluctantly praise him for. Economics is a funny old world.