With the Omicron variant hovering and inevitably set to pounce on a world determined to reopen and embrace normalcy, the Morrison Government has bought time by suspending the opening of our borders. This will delay a veritable tsunami of foreign workers and students — 200,000! — expected to roll into Australia once the draw bridge on fortress Australia is lifted.
The arrivals were expected to start on Wednesday but now the Prime Minister has pushed back the reopening of our international borders to December 15. And while the economist in me is disappointed for the short-term loss of the economic stimulus of tourists, students and badly needed workers, the long-term economic threat of letting this new strain of the Coronavirus force us into lockdown is too big a risk to take.
This chart's blue line tracks the economic activity impact of lockdowns and no lockdowns.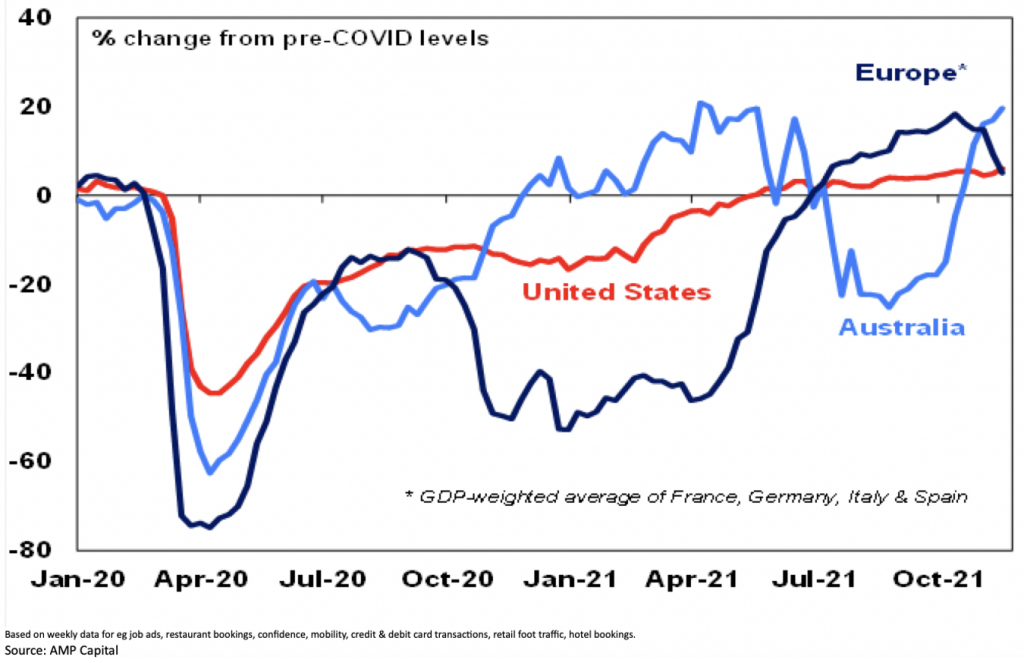 I know we economists can be a weird mob but I love this chart because it's so easy to explain to normal people. Clearly, it shows in April 2020 economic activity spiralled down because of the first national lockdown. But it recovered about three-quarters because of Jobkeeper, other government policies and the reopening of the economy.
Then in about July 2020, Melbourne's first lockdown hurt overall economic activity but by October we were on the rise again and we stuck it to the EU and the US, which struggled with the virus until improving vaccination rates overseas. Next, lockdowns in Melbourne and then Sydney in mid-2021 smashed our economic activity.
We get that shocking economic growth number tomorrow from the Australian Bureau of Statistics and it could be a minus 4!
One day we will know how to live with this virus and we are getting better at it. But right now, it's too early to punt that this Omicron variant is beatable or containable enough to live with the thing.
Right now, the latest take on the threat of the virus is being downgraded, which is why our stock market didn't sell off by too much yesterday after South African scientists suggested that this new strain spreads more quickly but is less threatening. Gotta hope they're right!
European, UK and US stock markets bought it with all of these 'voting machines' on economic positivity or negativity, opting for a thumbs up to the view that Omicron, at this stage, isn't going to give us a Delta strain shellacking.
Showing how different Americans are compared to Aussies, Wall Street loved what President Joe Biden had to say about the new face of the virus. "If people are vaccinated and wear their masks, there's no need for lockdowns," Biden told a press conference.
He also threw in that there would be no new travel restrictions.
Summing up current thinking on Wall Street is that this version of the virus is manageable. "There are still more questions than answers regarding the omicron variant, but after what happened on Friday, the bounce today is a welcome sign," said Ryan Detrick of LPL Financial to CNBC. "We've seen other variants cause some indigestion, but after a little bit of time things were able to calm down and move forward. We're optimistic that will be the playbook once again."
Ultimately, we're in the hands of scientists and the PM is a man with an election looming by May at the latest so one false move that results in lockdowns will make him 'dead man walking'.
Tomorrow was supposed to be 'reopen day' for fully vaccinated students, skilled workers and a select group of others but we now learn tourists from Japan and South Korea have also had their travel plans delayed.
The new travel restrictions add to the stopped flights from nine southern African countries and quarantine requirements from anyone who recently entered Australia from the region. Also, "all international arrivals must also self-isolate for 72 hours after landing," the SMH says.
The PM has taken the chicken's way out of dealing with Omicron but I support it until we know exactly how threatening this new strain of the virus is.