Apparently Government Ministers are "pissed off" that the Reserve Bank Governor keeps asking for more government spending without telling them where they should spend! That's the yarn in The Australian newspaper today. I hope it's not accurate, because it's up to the Government where they spend but it's Dr Phil Lowe's job to tell them that they need to!
The biggest problem with the RBA boss is that he is too nice. He's a gracious bloke who knows that he has to be respectful of the Government of the day. However, it means he won't say what he really wants to say in the media, but I'm hoping like hell he's telling Josh Frydenberg and ScoMo what he really wants when they catch up for a quiet cuppa.
Yesterday I gave Dr Phil a chance to let loose at the National Press Club luncheon by asking the following question, which I have to try to remember because it was not written down.
It went like this: "Some members of the media are lucky as they watch movie stars and sports stars but people like us have to watch you!" (That brought a laugh and Phil actually seemed to sympathized with us.)
"And my watching of you tells me that you would prefer not to cut interest rates again." (A small nod was discernible but he didn't show excessive enthusiasm, because he's not that kind of guy.)
"So when you are watching Josh Frydenberg on Budget night, what Budget Deficit number would get you out of your seat and see you say 'Yes!'?"
To cut through the economic crap, I'm thinking a big Budget Deficit number would mean Treasury would be taking on more of the responsibility to grow the economy instead of cutting interest rates again. And if the spending is on repairing bushfire burnt out homes and infrastructure, plus other overdue public projects, then private business investment spending might kick in and we could stop relying on housing debt and population growth to keep this economic growth show on the road.
By the way, Phil did give us a big clue what he wanted from the Budget, when he showed this chart below.
(Stay awake — this is important!)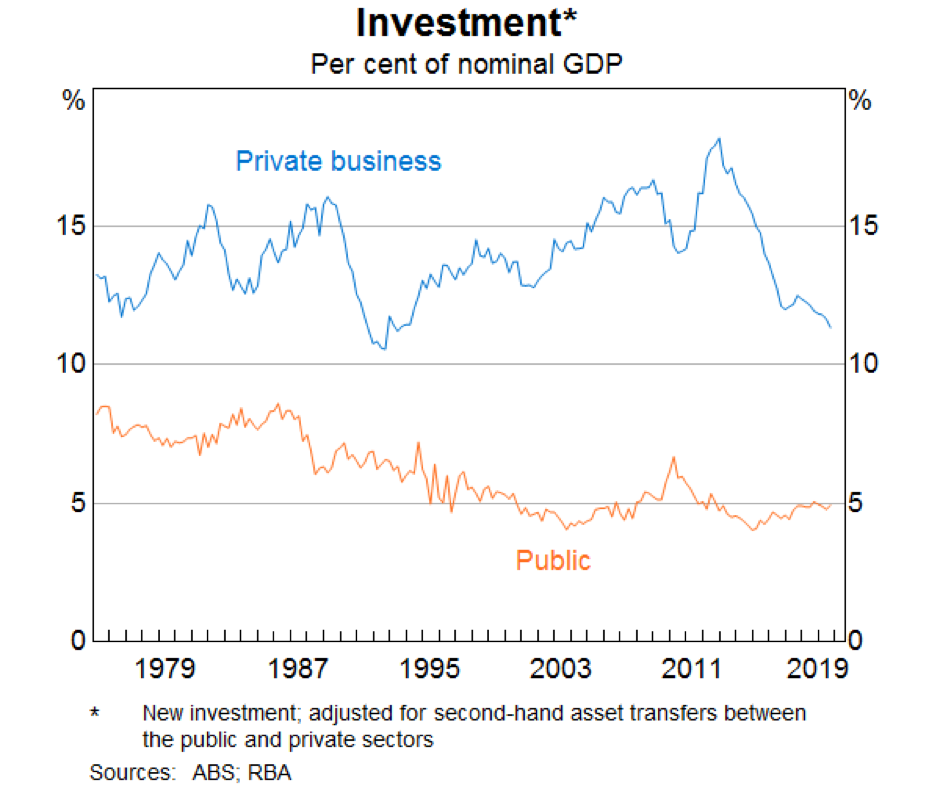 This shows business investment has fallen off the cliff since 2013, which is a huge problem that needs fixing. Investment is the maker or breaker of economies and the orange line shows Governments have been getting out of the game since 1987! They got back into it in 2009 because Labor was worried, quite rightfully, about the GFC and that spike in the orange line would have been a part of the Julia Gillard Memorial School Halls projects!
We need to take a leaf out of Julia's book but the money needs to go on more long-term business- and income-generating projects. I interviewed an economist from a company called Urbis this week, Richard Gibbs, who will be on my property show tonight (on YouTube – if you're not yet a subscriber, click here to become one for free), who reminded us how important it is for governments and private companies to develop places or open areas.
Think of the business that has followed since the NSW Government redeveloped Darling Harbour and then Barangaroo. Look at Melbourne and what Crown and the State Governments helped create with that great riverside precinct. Big ideas leaders like Jeff Kennett were important to this development's success.
A lot of the whingers who terrorize me on Twitter are rightfully worried about too much private household debt — though they worry excessively because they are programmed to be negative — but it's time for public debt to increase.
The bushfires make it essential but so does the state of the economy. Look at the blue line above again, it shows that businesses are not willing to invest and it shows that there is a confidence/fear problem, which the Treasurer has to start to fix. If it's not him, who will it be?
Australia needs economic growth to ensure that the pile of private debt does not become an unmanageable problem. When we look at the debt, we compare the dollars borrowed to our Gross Domestic Product or GDP — what we produce — and if we grow GDP faster, then the percentage of our indebtedness falls.
Growth from business and government investment is the ultimate escape route for our economy, which would not only create more production but more income, more jobs, higher wages, inflation and rising interest rates from the current emergency levels.
In the great Depression, two figures emerged as heroes. One was a US President — Franklin D. Roosevelt. The other was a legendary British economist — John Maynard Keynes.
The two once met during the 1930s and FDR confessed to be surprised at Keynes and his mathematical take on the problem but they agreed on what had to be done — governments had to spend on real and meaningful projects. The famous New Deal policy of FDR came out of this thinking and millions of Americans were put back to work and Keynes became famous for the words "spend and prosper."
Of course, it's critical the spending is on future income-generating projects but something must be done and fast!
And my advice to Phil would be to slam it to the Government because this issue cannot be ignored. It's a matter of no guts, no glory! And who knows, some inspirational Government leaders might rise phoenix-like out of the bushfire ashes!