It's either good luck, our good diets, our warmer weather, our better constitutions, our national age profiles, our better hospitals, our social distancing or I don't know what, but the early signs are that our sacrificing is working — the curve is flattening.
Wisely, the experts are telling us that it's early days and the curve can start rising again but for the moment, for a country full of people who love to compete for the prize, right now we're starting to win!
And this potential win comes when the Morrison Government has done a Crocodile Dundee on itself by looking at the size of former stimulus packages and effectively said: "That's not a knife… THAT's a knife."
You could easily invoke memories of the Demtel guy, Tim Shaw, who once advised us: "But wait there's more." And it certainly is!
This new stimulus package takes the total injection of Government-induced demand to power economic growth to 16.4% of GDP. Right now, the USA's stimulus is around 10% of GDP and it shows how the PM is determined to come out of this Coronavirus crisis with an economy firing on all six cylinders.
The third stimulus package worth $130 billion takes our total throw at the stumps to keep the economy going valued at $320 billion! This new JobKeeper programme gives $1,500 a fortnight to employers for employees to keep them bonded to their workplace.
A business qualifies for this payment if its revenue isdown 30% or more in the month starting March 1.
It applies to full-time, part-time and even casuals (but they have to have been that way for 12 months to qualify).
For many workers, the $1,500 a fortnight will be around 100% of their usual take-home pay.
The payments come via the ATO — and Kiwis on 444 visas will be included. The first payments come on May 1 but will be backdated to March 1.
And to help those who were missing out on the JobSeeker payment and the Coronavirus supplement because their partners were earning over $48,000, the new threshold will be $79,762.
This is a very generous Government and it will leave behind a huge Budget debt but if we cone out of this with a powering economy, the rising tax collections and falling welfare payments will actually help the Budget repair job that will take years. We might even have to cope with higher taxes but hell, if we can avoid 10% plus unemployment for a long time, then it's worth it.
Back to the flattening of the infections curve and medical experts are telling us not to get too excited because it could be early days and spikes could ruin this good news, but let's just enjoy the positivity and hope that it persists.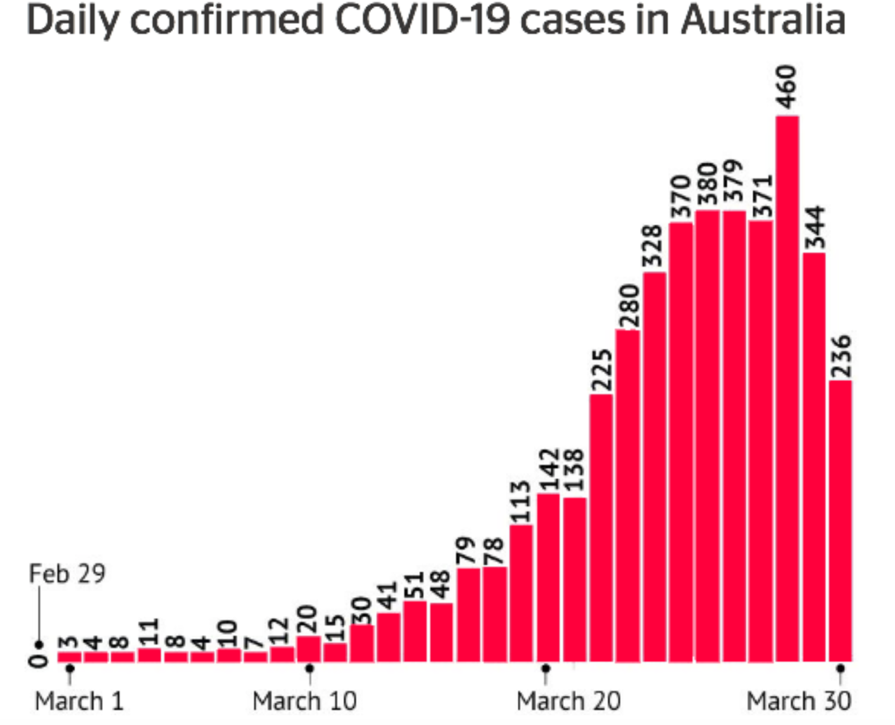 The SMH gave us two sides to the story: "A total of 236 new coronavirus cases were recorded in Australia as of 5.30pm on Monday, putting it on track to be the lowest daily total for more than one week. But potential delays in testing or processing mean the true number may be higher."
This comes as Italy recorded its second day of less deaths and Spain its first — and this happens as the drug company giant, Johnson & Johnson, has said human testing of its experimental vaccine for the virus will begin in September and could be useable for emergencies by early 2021. However, there is a drug company race to come up with a vaccine and the combined force of capitalist desires for profit and government support worldwide could end up surprising the pessimists, who seem to live with a philosophy that we'll always be ruined.
Being a parent, an employer and a former sporting coach, I know the power of positivity and today's developments are worth sharing with the people of the world, who are sacrificing their lives and their wealth to help the world.
And isn't it great that the stock market is currently joining the celebration of taking on the Coronavirus.
Larry Fink, the CEO of the world's biggest fund manager, Blackrock, said the US economy will recover from the lockdown and give rise to "tremendous opportunities".
Go the world! Go ScoMo! And go the curve!