Lobby groups are agitating for the Morrison Government to think big and outside the square. When I hear the words "think outside the square" I get a little nervous because it reminds me of the time I interviewed the smartest guy I've encountered, Edward de Bono.
When I helped create and kick off the Talking Business programme for Qantas in the early 2000s, I had the privilege of interviewing some of the best and smartest in business, politics and sport. When big name overseas guests came here it wasn't hard for Qantas to line them up for the show. And de Bono was the only one that rattled me a tiny bit because as an interviewer, if you're asking really good questions but you're not completely understanding the answers, you can be a little unnerved.
But after probing this amazing individual, I eventually understood his main proposition — great performances come out of thinking outside the square. Being trapped in old-world thinking would never have led to companies like Apple, Microsoft, Tesla and Afterpay!
Which brings me to today's topic.
It's time for our Federal Government to really bite the bullet and line up to spend $220 billion to fix up the infrastructure of Australia.
In a SMH story this morning, we're reminded of the Global Infrastructure Hub, which was an Australian initiative at the G20 summit in Brisbane in 2014. It was a big thing for then Treasurer Joe Hockey. It was then estimated that Australia would face a $217 billion infrastructure shortfall by 2040.
So that was an objective target set when there was less pressure for Canberra to fast-track needed infrastructure projects. But now with unemployment at 7.5% and going higher, it's time to think big AND think outside the square.
Sure, we've heard about a Very Fast Train for decades but not as long as we've heard about an airport for Badgerys Creek, which they say is being built right now! But before we never had a pandemic- and closed-down-economy-recession to make our politicians get off their butts and really think big and outside the square.
The Government already has a $100 billion shopping list for infrastructure projects but this was a planned spend over 10 years. That timeframe now needs to be shortened.
Marie Lam-Frendo is the CEO of the Global Infrastructure Hub and has short-listed a number of key projects that should be supported, which include:
• Dams for better water management.
A $130 billion Very Fast Train that links Melbourne, Sydney and Brisbane.
Deeper water ports for one of the world's biggest exporter of resources.
Renewable energy.
Better commuter trains that reduce travel times to make the regions close to cities better for housing needs.
More affordable housing projects.
This is a great shopping list but a lot of this will never be done if we expect governments of today and tomorrow to make it happen.
Independent economist, Saul Eslake, champions the need for social housing. I'd drop that term for starters. Social and public housing has connotations that suggests it's about welfare, when it would be better if governments stopped overloading the cost of housing developments for developers to make housing cheaper.
A de Bono idea would be for governments to allow developers to receive a rebate on a new housing project, if say a $600,000 land and package deal sold for $400,000. The tax slug on such a development can be a third and if that could be taken out of the price, the developers' profit could be higher as well but off a lower sale price for the buyer.
It's win-win for the developer and buyer but the government foots the bill. But it's better than governments building public housing tenements that often create more social problems than they solve.
But all this might make you ask: "Can we afford this?"
Well, those who can afford something easier (than those who can't) are those who earn good income and aren't straddled with too much debt. These two charts show why we can handle these big spending projects.
This chart shows we are champion growers — the best ever! And when you grow fast, you create plenty of income. Out of the last recession of 1991, we went nearly 30 years without a recession. And it also comes now with world governments all committing to big infrastructure programmes to help their economies out of this pandemic-induced recession.
Infrastructure means roads, bridges, buildings and so on. All these require resources, such as iron ore, coal, copper etc, which we dig out in spades. (Pun intended!)
So we should expect great export income to help pay off any spurge into infrastructure projects at home.
Meanwhile, this chart below (from Trading Economics) looks at the list of countries with their public debt to GDP.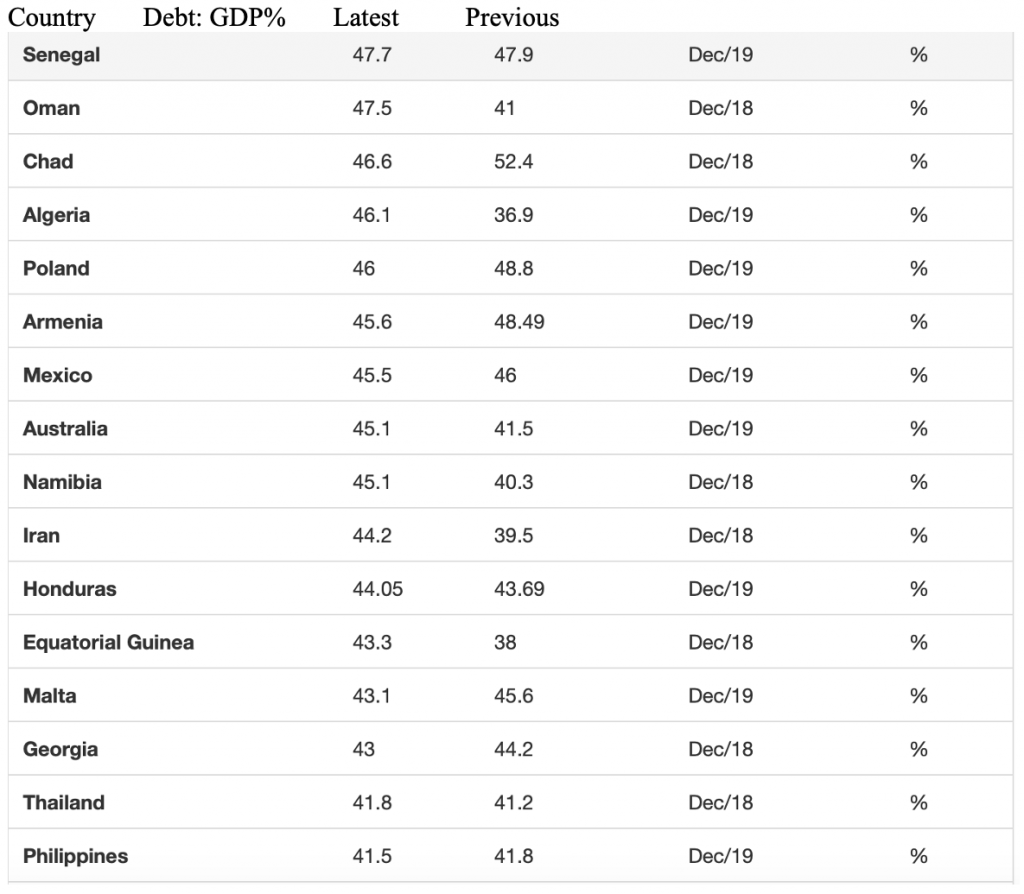 As you can see, we're surrounded by countries that are hardly first world nations because our debt-to-GDP is more on par with lesser economies, which is a great advantage for us.
The big debt-to-GDP countries are Japan 237%, Greece 177%, USA 107%, France 98.1%, Canada 89.7% and the UK 80.7%. And these are numbers before the pandemic hit, so these countries will all be in worse debt shape now.
Our debt will spike too but we went into this mess with less debt. And we can thank some good governments and the fact that we're a great growing country.
And that's why this is the right time to think big AND outside the square.