There are two important lessons to take from the current Coronavirus correction. First, you have to be diversified in your holdings of wealth-building assets. And second, you should look to companies and funds that can weather the negative winds of change that are more likely when you're in the 12th year of a bull market.
Over the weekend, the AFR did a piece spotlighting fund managers who anticipated a stock market sell off because of the Coronavirus. One of them was the legendary Geoff Wilson, of Wilson Asset Management, who revealed that he had sold shares, to be holding about 25% of his assets in cash.
When a fund manager is totally confident, he/she will be nearly fully invested to ensure they get the best and biggest returns for those investors who have put their money with them. When they get nervous, they build up their cash reserves and Geoff would have taken profit to go to cash for 25% of his total assets in his fund. But when he thinks prices have fallen to silly levels he would, in all likelihood, buy back in, unless he believed a crash was coming.
This is what fund managers do because they can play short term and long term, depending on their approach to investing described in the fund's product disclosure statement or rules.
But when you think about it, Geoff still has 75% of his money in stocks, so those wealth builders who have financial advisers, who might be 60% exposed to stocks and 40% in term deposits, bond funds, hybrids and less risky investments more likely to deliver interest rate-style returns, are even more safely positioned than Geoff!
Even if you were 70% exposed to stocks, you'd be more safely positioned. And this underlines the value of being diversified.
I was interested in the performance of one of our best fund managers — Hamish Douglas — and his Magellan Financial Group (MFG), which has been a huge success story.
Magellan Financial Group (MFG)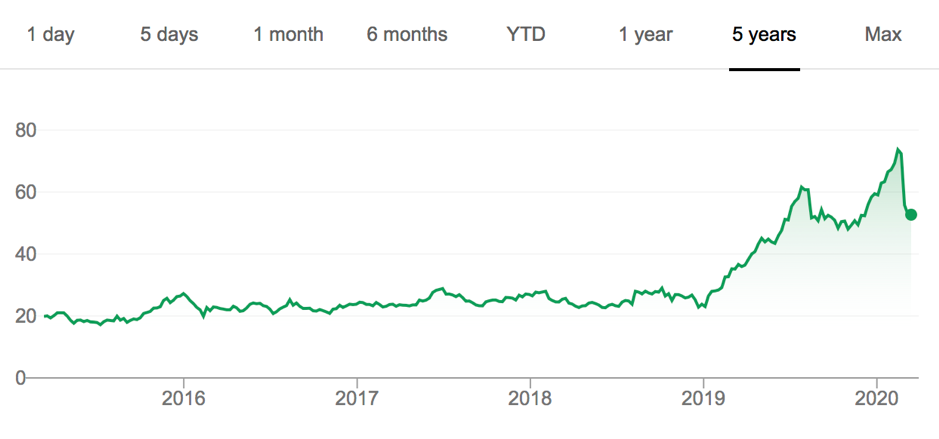 As you can see, since 2019, the share price has surged from around $23 to $73, which was a 315% huge rise! Since the Coronavirus, MFG has slumped to $53, which is a 27% fall, proving the old adage that stock markets go up in stairs and fall in elevators. That said, Hamish's climb was a steep one.
After seeing how a high-flyer like MFG had fallen, I was keen to see how our fund — the Switzer Dividend Growth Fund (SWTZ) — weathered the Coronavirus storm. This fund is never designed to shoot the lights out. It's meant to harvest income from 30 or so reliable, biggish, dividend-paying companies. Franking credits can also add about another percent or two and if the stock market has a ripper of a year for capital gain, then that can be cream on the cake.
For a variety of reasons (including Bill Shorten threatening to take franking credits tax refunds away for retirees, which mean big companies paid special dividends to reduce their franking credits before the election), the total return of the fund for 2019 was 18.87%. The yield was 8.05% but with franking, it went to 11.49% before fees.
That was a shock and a great year but usually we shoot for 5% to 6% return plus whatever capital gain comes along, though as interest rates fall and the economy is slow, this expected return could drop a tad. After all, dividends come out of profit and making profit is harder nowadays because of drought, bushfires, floods and this damn virus.
This recent bad news has taken SWTZ down 11.8% from its all-time high of $2.70 on February 20. And this has come as the S&P/ASX 200 Index has dropped 13.2%. Meanwhile, a great company/stock like CBA is down 22% and Woolworths, a really safe kind of investment because we even eat during a recession, was down 12.8%.
The point I'm making is that you have to be careful about investing to shoot the lights out, especially when a bull market could be on its last legs. That's why diversification and looking for income, even if it means less expected returns.
One day, the stock market will crash over 20%. And some time after that, I will be recommending to my clients to raise their exposure to stocks to cash in on the early, big rebounds for stocks after a market nosedives big time. But for now, I'm playing it more cautiously.
That said, I will be soon buying some companies that have been unfairly belted up in this Coronavirus correction. And I will be picking up some companies such as Xero, CSL and others, which last week actually went up as the market went south!
I might even buy some Magellan and an ETF with the ticker code WCMQ, which has only fallen 7.4% since the stock market sell off. This is a company I have some ownership in brought the WCM Quality Global Growth Fund to the Australian Stock Exchange from Laguna Beach California so I'm glad it has shown some strength during these challenging times.
A similar listed fund from Magellan, MHG, has fallen only 9.4%, which again has dropped less than the market.
Much of this story has underlined the benefits of being diversified and hanging out with people who know a little more than you know.
One final example I have to throw in. On my TV show three weeks ago, CMC Markets, Michael McCarthy, told us if you wanted to take a "put option", which is like insurance for the profits you have made on stocks, you could have paid $17,000 for insuring 95% of a million portfolio and the 'coverage' would've lasted until June.
Anyone who took up his idea would be down 5.7% rather than a potential 13.2% and they could be down even more if their portfolio of stocks was more exposed to high growth companies that have been clobbered of late.