Like clockwork, the big four banks have seized upon their chance to 'help' the RBA beat inflation by raising rates by the full 0.25%, while at the same time they improve their already bulging bottom lines. That's just typical! So is their slowness to raise rates on term deposits and other saving products, though some have been increased for window dressing purposes.
Yep, there's a bit of cynicism in my opening line that the big banks are 'helping' the RBA to bring inflation down, and if they say only raised by 0.15%, it would be good for customers but bad for what the Reserve Bank wants to achieve.
While the CBA hasn't announced its rate rise, it will soon. Unlike the favourite in the Melbourne Cup, you can bet on this tip!
Remember the rate rise game is simple to understand. The cash rate was increased from 4.1% to 4.35% because inflation isn't falling fast enough. Too many Aussies are spending too much. Too many businesses, especially services businesses, are still increasing prices, rents and other charges and homebuyers are seemingly unaffected by the 12 rate rises since May, with property prices hitting unseen before levels.
"Overall, national home prices crept 0.36% higher in October, bringing the rise to just under 5% for 2023, according to PropTrack. Sydney, Perth, Adelaide and Brisbane values are all at record peaks," theguadian.com reports. "The new figures show significant growth in Brisbane, Adelaide, and in Perth, where five areas have recorded annual gains of more than 15%, while prices in Sydney are 7.51% higher than a year ago."
Of course, this is caused more by a supply problem, with not enough houses meeting a huge demand, with immigration surging. All this combined explains why the PropTrack figures show significant growth in Brisbane, Adelaide and Perth, with many suburbs seeing increases of more than 15% and Sydney up by 7.5%!
Not helping was the September quarter CPI, which rose 1.2%, and 5.4% annually. This was largely driven by a spike in petrol prices. Also worrying was an immigration-driven jump in retail sales, which grew by 0.9% in September, which was greater than consensus expectations of 0.3%, and was the largest monthly growth since January.
All these signs that the Aussie consumer wasn't capitulating under the pressure of the cash rate rises pushed new RBA Governor Michele Bullock to flex her muscles. But the big new question is: was this the last rise?
Some economists think a December rise is possible, but it will be only likely if the economic data remains too indicative of a strong economy breeding high inflation.
Next week, we get the latest unemployment numbers, along with the latest news on wage rises. These could help or hurt those worrying about further rate rises. In simple and unpleasant terms, unemployment has to increase to get the RBA off its rate rise inclination.
And the CPI needs to start falling again. On this subject, there are some good signs. Commodity prices are on the slide as the world economy, and particularly China, isn't looking as strong as was hoped. This has helped oil prices fall over the past month, which should feed into petrol prices and inflation.
The chart below shows how West Texas Intermediate Crude oil has fallen in price over the past month. WTI Crude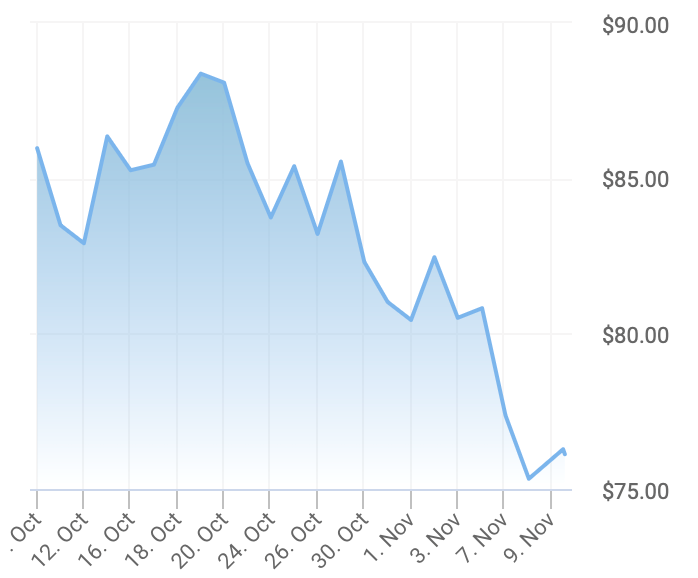 This is a good sign for inflation. Let's hope we get a nice run of economic data that shows that the last cash rate rise this week was unnecessary, but at least it becomes the last.