It's unthinkable but if Paul Keating is complimenting the Morrison Government on expected policy changes, it has to be pre-Budget leak time. And the leaks suggest that Mr Keating's recommendations on the super levy increase will be accepted. This comes as another leak says the Government will permit the daily cap on payments going to aged care businesses from their retired clients to be uncapped!
Of course, we should have seen something like this coming — where's there smoke there's usually fire. And over the past six months – Estia Health, Regis Healthcare and Japara Healthcare – have seen their shares prices rise by between 68% and 125%, which screams some smarties know something!
Yep, this is pre-Budget leak time and because the economy is booming but the Government's lead in the popularity polls has vanished, we're going to hear about some popular policies that we're bound to see show-up on Budget night.
These daily payments are separate from the government's aged care funding and are paid by the resident in an aged care facility or business, although the government funds about 40% of all aged care residents' costs through a means test for those who can't afford it.
Now as the AFR's Matthew Cranston argues, "this means the government has a financial incentive to keep these payments capped at $52 a day."
However the Royal Commission suggested it be raised to $62 to improve the life of aged care residents, but the aged care industry wants the daily payment to be uncapped, which might mean better services for some who can pay, but there could be unseen problems with uncapping these payments.
How that will work is uncertain and we'd have to see the detail on Budget night, if the Treasurer gives this the thumbs up.
It might be possible for some people to receive the government support but also throw some of their own money in for a better or more extensive service, but it could be there'll be some aged care residents living a Qantas-like life while others will be on Jetstar!
Now to Paul Keating complimenting the Morrison Government, and that could only be when the Treasurer accepted the advice of the former PM and Treasurer on the subject of super.
Mr Keating rails against a lot of things because on most subjects he thinks himself smarter than most politicians, and most Australians for that matter!
In the AFR today, Phillip Coorey reveals that the budget-leak hotline says the Government will let the levy float higher to 12% by 2025 rather than capping it at its current 9.5%.
On hearing about the possibility that the levy will be allowed to rise to 12%, the ex-PM said if it was true, "then the government deserves commendation for a mature decision".
He also threw in that if the rumour is right and the Government allows the rise, then it "would also propel Australia to the forefront of funds management in world terms, further diminishing Australia's call on overseas savings, materially lowering the current account deficit".
But wait, another rumour says Mr Keating could get cranky again.
Coorey says: "There remains a slight possibility it [the government] will allow the legislated increased from 9.5 per cent to 10 per cent on July 1 and then make the final 2 per cent optional, as either a pay increase or a super contribution."
Now Mr Keating wouldn't like that but a lot of young people, who really find it hard to get deposits for homes when 9.5% of their pay goes to super, might like it.
There is a young person belief that baby boomers have got it so good having properties they want to live in. But many boomers have crappy super funds because, unlike young people, they didn't have compulsory super.
Most young people will retire with something close to a million dollars in super in real terms but the average superannuation balances at the time of retirement (assumed to be age 60 to 64) in 2015-16 were only $270,710 for men and $157,050 for women.
That was five years ago but things haven't got any better, as the chart below shows.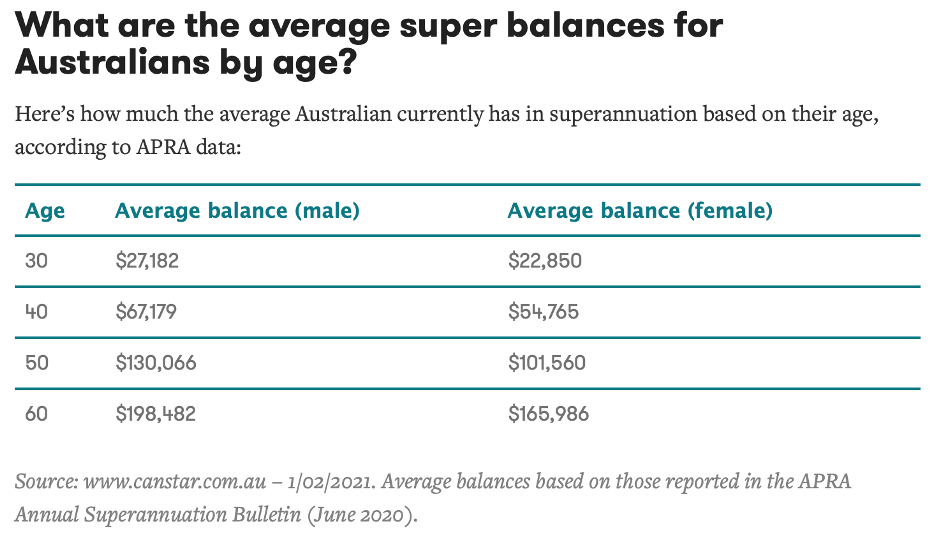 Taking super to 12% will be great for future retirement nest eggs of young people but it won't help them own a home. Young Aussies will have to become like New Yorkers and Londoners who simply rent and maybe they'll own a weekender they escape to or they simply become lifetime renters, which will mean their big super fund balances will ultimately be spent on rent!