Remember when Kath from Kath & Kim used to say: "I felt it in me waters"? Well, I felt our economy was doing better than the Treasurer and the RBA thought and now economists are looking at recent economic data and saying that the latest economic growth for the first three months of this year will be stronger than expected.
They were forecasting 1.1%. Now they say today's growth number of GDP will be 1.5%.
In the US, they'd multiply this 1.5% by four and call it 6% growth — that's what we economists call annualised growth. This annualised number gives you an idea of how well the economy is going.
By the way, the AFR says ANZ economist Felicity Emmett is tipping 2.1%. That puts annualised growth at a roaring 20's 8.4%!
Why is it happening? Well, try these 9 things for a start:
Iron ore prices are going through the roof and this is sticking it to the Beijing bully boys.
Retail is booming
$69 billion of spending isn't going overseas with tourists.
Governments at all levels have been spending, and these numbers have JobKeeper in them, as they record the economy until the end of March.
In April, Westpac's consumer sentiment reading hit an 11-year high!
The NAB business confidence number was a record high 26, while the business conditions index hit 32, once again a record high.
Construction work done in the March quarter rose the most in 3½ years.
Home building rose by 5.1% in the quarter – the biggest lift in 6 years – with alterations and additions (renovations) up by 10.8% to record highs.  
The 'final' IHS Markit Manufacturing Purchasing Managers' index rose from 59.7 points in April to a record 60.4 points in May. Readings above 50 points indicate an expansion in activity.
Yes, the place is going gangbusters, so do we need to bail out our Victorian cousins with a temporary JobKeeper payment? This chart tells me the answer is yes!
Economic Activity Tracker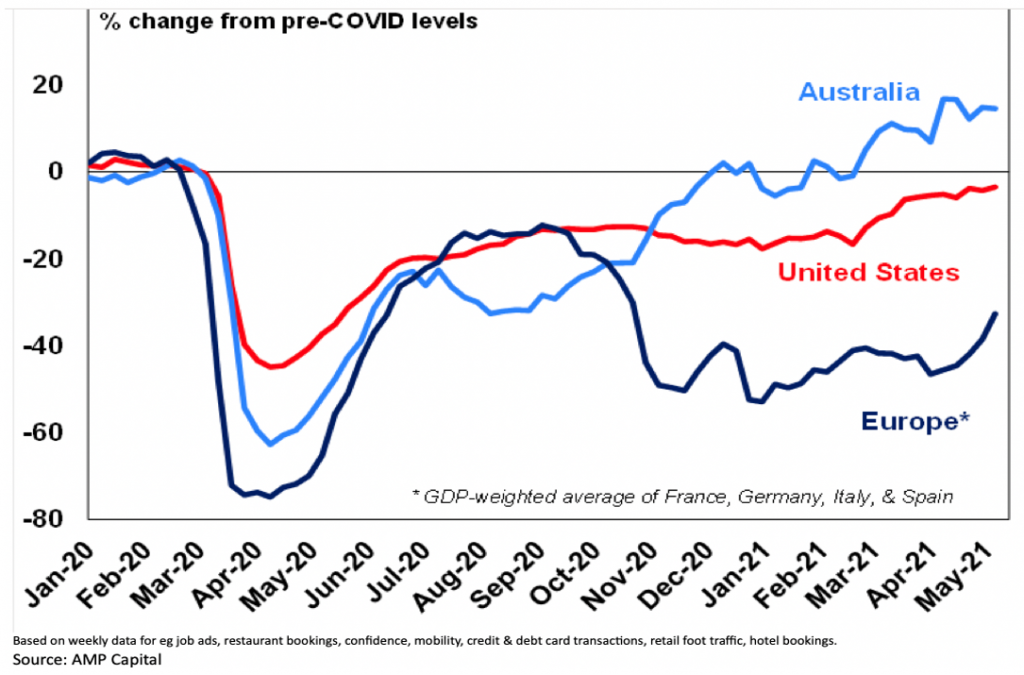 This shows how well our economy rebounded because of the success of us containing the Coronavirus. Note how the blue line was surging up, creating a near-perfect V-shape recovery until July, which coincided with Victoria's second lockdown and that was even with JobKeeper being doled out.
I don't like bailing out a state government that hasn't been able to do a job as well as other states and then blames the Morrison Government. Presuming the Federal Government's role in all states is similar, why aren't the other states as hopeless at virus control?
But that's a side issue for political debates. I'm concerned about employees and small business owners who shouldn't be punished for poor quarantining, poor virus containment and the fact that AstraZeneca can't be used on under 50s.
I have to say I think we have some dopey public servants not allocating the vaccines we have in a productive way.
That said, the stronger our overall economy, the quicker we will create jobs and kill our huge budget deficit. So a bit of JobKeeper for Victorians temporarily, will be one step back for many steps forward.
Give it to 'em Josh! Give it to 'em! And give it to the Victorian Government at the same time!