Christine Holgate's Cartier watch crisis for Australia Post is a BS, over-politicized story that has meant that we can't see the wood for the trees — it's only a $12,000 bonus between four people, which is nothing compared to the $800,000 pay boost the boss of NBN Co got but as the inarticulate lawyer from the film The Castle would say: "It's the vibe!"
And the vibe ain't great with our borders closed, Victoria in lockdown, business owners wondering whether they can trade themselves out of this pandemic/government-created recession and employees on JobKeeper payments wondering if they're a part of the walking dead but don't know it just yet!
I got to know Christine Holgate through my old Sky Business TV show when she was the CEO of Blackmores.
Blackmores (BKL)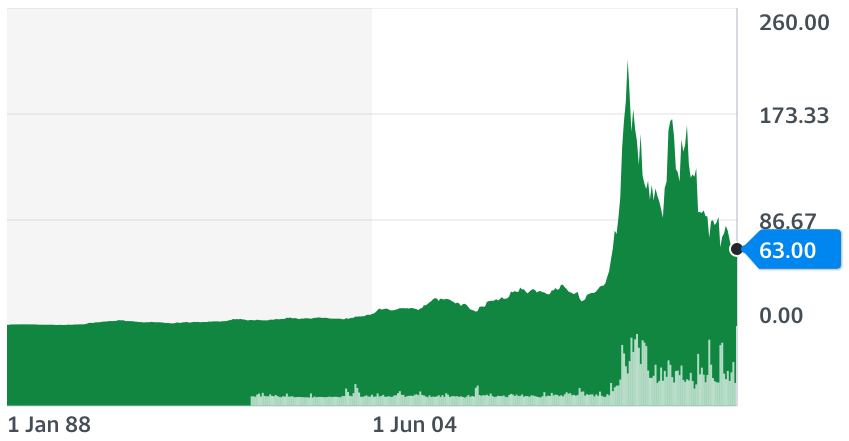 Unlike the CEOs of listed companies, who really should be more publicly accountable because they run public companies, Christine showed up on TV to talk about the company she ran — Blackmores.
Under her nine-year reign at this vitamin business, its share price spiked from $20 to a high around $217, which was mad market stuff. But when she left, it was close to $160. It's now a $63 stock.
She was a good 'get' for Australia Post but this simply looks terrible in the context of what's going on right now in our country.
We have wharfies holding the country to ransom over a pay-rise that could leave struggling retailers without sufficient supply to cash in on the Christmas shopping splurge, which is set to be a ripper, given we can't travel overseas.
Seven days ago, the AFR reported that "the construction union is ramping up moves to take industrial action against major builders in NSW in an effort to push them over the line to be the first to sign up to pay rises of 5 per cent a year." Really?
And The Australian reports that "complaints from public servants about missing out on promotions surged by almost 50% during the COVID-19 pandemic, with the Australian Taxation Office forced to provide additional ­resources to process hundreds of reviews for jaded bureaucrats."
How do we know this? Well, they have a special promotions complaints person!
"Almost 1800 applications for reviews were lodged by public servants with the Merit Protection Commissioner in 2019-20, raising concerns over promotions, salaries, leave, workplace behaviour, code-of-conduct breaches and ­adverse performance reviews," writes Geoff Chambers from The Oz.
The Holgate watch goof-up does need to be put into perspective and it looks like the idea of a reward for four executives was an idea of the Chairman and the board. But knowing Christine, I suspect she was at least an accessory after the fact. She looks like a gift-giver.
But boards do have a lot of sway as Christine Holgate's political boss, Communications Minister Paul Fletcher argued, through a spokesman only this week, when the SMH revealed that "NBN Co boss Stephen Rue is now the nation's highest paid taxpayer-funded chief executive after earning $3.1 million in the past financial year including a $1.2 million bonus. Six of his senior managers were paid more than $1 million last year, the publicly owned corporation's annual report shows."
The SMH told us that "Federal Communications Minister Paul Fletcher, who nine years ago took aim at NBN's salaries as comparable to those at the "Millionaires' Factory" of Macquarie Bank, would not comment on the million-dollar wages on Tuesday. Instead, his spokesman said the corporation operated in a commercial environment and its pay rates were a matter for the board."
As we can see, there's a lot of buck passing and pathetic insulting in the game of politics. And sometimes we wonder if any politician is able to be wise enough and mature enough not to play the silly buggers game that makes us really resent that these are the leaders we're stuck with.
Christine and her board are copping their punishment with this public admonishment but I hope she survives because the people who ran Australia Post before her were seriously ordinary performers. And if we ever did a serious "snouts in the trough" investigation of all government businesses and departments, then Christine's $12,000 watch mistake would pale into insignificance. I hope she retains her job but if she doesn't, I hope she goes back to Blackmores. If she did, I'd buy the company's stock!