The big question yesterday was: why is the market collapsing and should I be worried?
And this is what I sent out to my financial planning clients:
"I know the current volatility of the stock market is unnerving but remember you are long-term investors," I reminded them.
"And you know stock prices go up and down, but on a rising trend. Try not to worry because share prices and returns will finally resume their upward march. No one can influence what stock prices do, but Switzer clients are in quality assets — that's what we can control — and over time we should deliver what our presentations have shown and told you."
The reason I'm sharing this with you is that, if you are your own adviser, this is what you should be telling yourself right now. You should be in assets that will rise over time, even if they do go up and down as the traders and speculators, who drive markets on one hand, give us the exhilaration of getting rich, but then on the other make us feel that our economic worlds are about to end, like we might have felt over the past week.
Making these potentially high and low money moments even higher or lower is the media who really can scare the pants off a normal person. And some of my media mates, who are actually friends, can even get me questioning my confidence about what I think is going on. However, let me say this: they never threaten how I feel about my wealth and my capacity to build my clients' wealth, but they do make me ask: Am I being too comfortable with this sell off? And could I be accused of being badly wrong?
Of course, what I do — i.e. predict markets and recommend wealth-building strategies — isn't easy. It's a job of calculating the collective herd-actions of the big influencers on Wall Street and the local stock market.
And this chart — my favourite — shows what stock markets do over the long-term: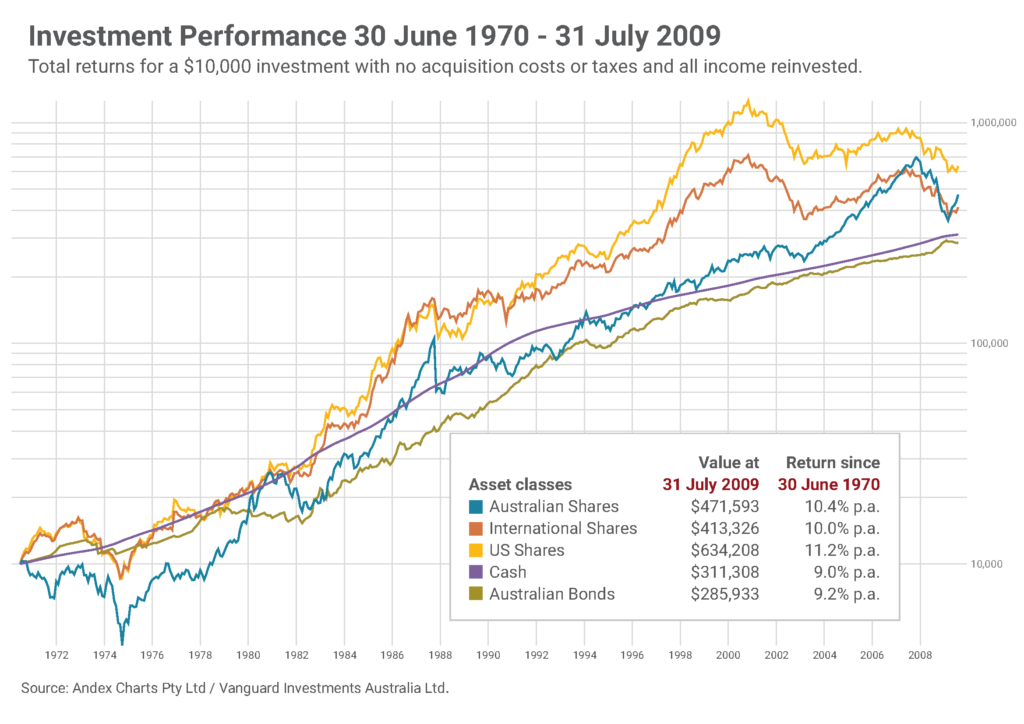 This shows how $10,000 invested in a good portfolio of stocks with the dividends reinvested each year results in $10,000 becoming $471,593!  And while this was a great result, shown by the blue line, the interesting thing is that this chart ends in 2009 — just after the GFC — when our stock market fell around 50%!
This blue line and the story it tells show that the value of quality stock market assets grows over time, with crashes and corrections, but its rising trend tells you that it is a reliable source of income creation. The only problem is that you have to cope with these big down-periods and that's why I call this my favourite chart — it helps me keep the faith.
The only thing I have to do for my clients and myself is to make sure I select the quality assets that can do a job like that beautiful blue line shows. And that should be your greatest goal in building your wealth — be invested in quality assets.
And now today's question has to be: Is the worst over and is it time to buy quality stocks at bargain basement prices?
The stimulus packages in the USA and Australia will help stock prices and this guy on CNBC nailed it:
"Fiscal stimulus is the antidote that can bridge the gap between what was happening before coronavirus and what will happen after it," said Brent Schutte, chief investment strategist for Northwestern Mutual Wealth Management. "It certainly can't cure the virus, but it can help contain some of the economic fallout."
But the stock market has to deal with the infection and death rates of the Coronavirus, which could easily rattle stock markets again.
I think we will see more down days, but not as bad as recent ones, and then a bottom will be created. And when the health scare reduces, the stock market will rebound. If the virus can be contained, I think stocks will head up in the second half of 2020.
I'm betting on the world medical fraternity and world governments, with the latter making it a more risky bet!