In case you missed it, I don't just do news, I always try to explain it. And when it comes to money stories, I always try to work out how we can get richer or avoid being poorer because of some new news.
My favourite mantra is: "Anything worth doing is worth doing for money!"
So I want to know what does this auction clearance news now say about when I should be trying to buy or sell a property?
What's interesting about the latest auction clearance rates is that despite extended lockdowns in Sydney and intermittent shutdowns in Melbourne, the Aussie passion for property won't be quelled.
In Sydney, seven out of 10 properties are selling at auction. To be precise, it's a 70.5% clearance rate, but in March it was 81.4%!
In Melbourne, it's 69%, but in Brisbane it's a huge 80%! If you think that's huge, try Adelaide at 87% and Canberra at 88%!
These are some of the best mid-winter clearance rates ever, though in 2016 (which was a huge boom year for property prices), the numbers were historically big.
In Sydney, houses continued to outperform units, with respective clearance rates of 72.2% and 66.5%.
OK, that's a lot of impressive data but the big questions remain:
Do I sell my property now or wait until vaccination rates spike in Spring's October and November months, and lockdowns are over? Spring is seen as a great time to showcase and sell a house.
Do I buy now or wait until Spring?
On last night's TV programme now on Switzer.com.au, I asked Charles Tarbey, founder of Century 21 (or C21 as it's known nowadays) why the clearance rates are so high.
He said the lockdown has really hurt supply but demand remains strong. Sure, some properties require open houses and people travelling from everywhere but others can be shown effectively online.
Charles admitted that he convinced his son to sell his investment property now rather than waiting for Spring and his offers so far are 20% over the agents' best price guess!
This even surprised Charles but he predicts that in Spring and beyond, a lot of people who have withdrawn their properties for sale will come back to the market, and supply will be much better than it is now.
His analysis implies that the rate of supply increase is likely to be bigger than the expected demand increase, so many sellers might be better off selling now while buyers might be wiser to wait.
Domain.com.au has shown the varying clearance rates in Sydney, and there's a lesson here for all property players right across the country. And that lesson is that clearance rates across a city can vary substantially, and it should influence your behaviour if you're a buyer or seller of real estate.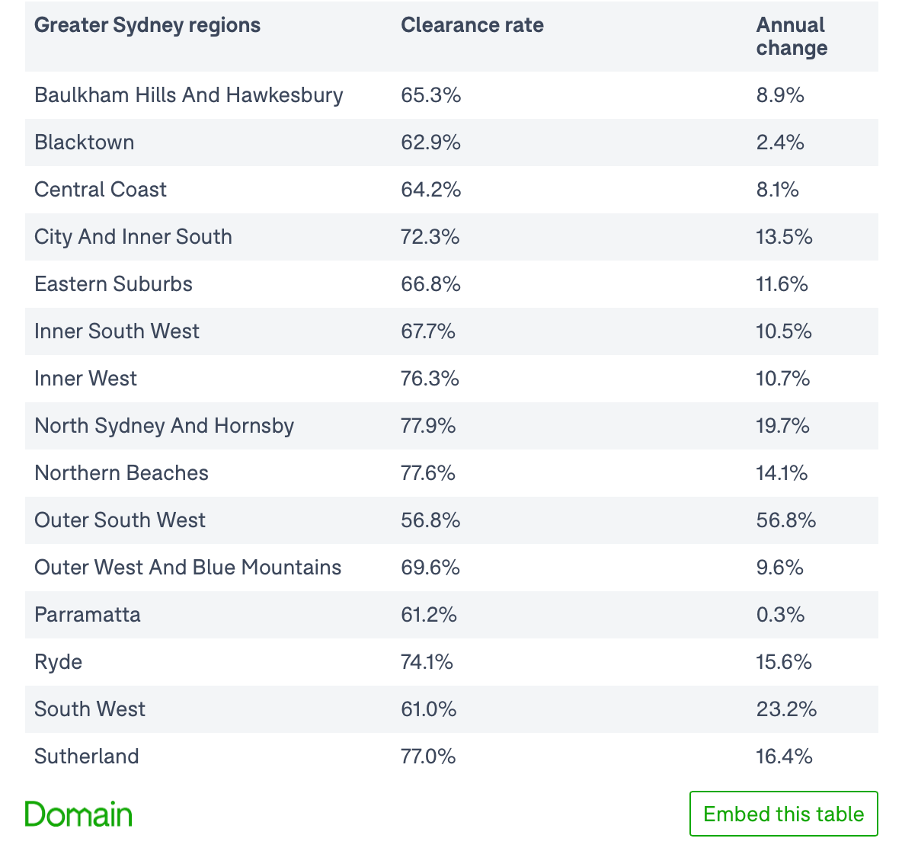 This table shows sellers in Ryde, City and Inner South, along with those on the Northern Beaches and North Sydney have much more power than those in Parramatta, South West Sydney, Blacktown and the Central Coast.
The big lesson is to do as much homework as you can on where you want to buy or sell. And it would be a great idea to watch Switzer Investing on Thursdays if you want to be a more competitive as a property player.
I know this is a gratuitous plug for my stuff, but I don't charge you anything for this content, and as I've already said: "If anything is worth doing, it's worth doing for money!"
At least I'm consistent.