One of the greatest drivers of the current economic optimism is the unbelievably low interest rates and the 'promise' from the big kahuna of interest rates — Reserve Bank Governor, Dr. Phil Lowe — that he'll keep the cash rate of interest at 0.1% for three years!
As an economist, former economics lecturer and media commentator for over 30 years, that call of Dr. Phil's surprised me. Yesterday I interviewed James Kirby, the Wealth Editor at The Australian newspaper for next week's Switzer Income Conference and he too agreed that he was a surprised at the three-year call. James agreed with me that if the economy does as well as is currently predicted, Phil might have to break his promise!
So he lied? Well, no, because the world of economists is a bit like the world according to the TV programme Seinfeld. One of the lead characters, George Costanza, in one episode explained: "It's not a lie…if you believe it."
And when Dr. Phil told all and sundry that rates won't rise for three years, there was actually a fair bit of wriggle room if he ever wants to back away from this 'promise.'
This is what mortgagebusiness.com.au headlined after Phil gave his undertaking on rates: "The Governor of the Reserve Bank of Australia has revealed that the cash rate is not expected to increase until 2023, at the earliest.
"RBA governor Philip Lowe has revealed that the central bank does not expect to increase the official cash rate for "at least three years", or at least until there is a lower rate of unemployment and a return to a "tight" labour market."
So it has been portrayed as a promise but it's not. It's economist-speak, and we see it all the time. A respected economist is quoted on his or her forecast in one month, then a few months later they say "we have upgraded or downgraded our forecast".
It's the right thing to do but I've never heard anyone of them (and I know a lot of them) ever say "sorry, got that one wrong!" OK, I get it, forecasting is hard but someone has to do it, and when economists like the RBA Governor make forecasts about future interest rates, the whole truth should be made clear, lest inexperienced people make bad borrowing or saving decisions.
In the past I've called this 2020 economic 'collapse' as the craziest recession ever and because of some crazy unwanted 'athletic' hotel behaviour in Victoria, our economy, though doing well, could've been rebounding better if our southern cousins didn't have to go into a second lockdown.
And now South Australia is going into a short lockdown, which will be another negative for the overall growth of the economy, which is still looking pretty damn good.
Only yesterday, the CBA's CEO Matt Comyn actually said the economic recovery next year is now forecasted to be 4.5% rather than the 2.75% which was the old forecast of the bank's economics team.
When I heard that, I thought: "That could help job creation and inflation and push the generally honest Dr. Phil into the possible porkies camp!" (Porkies? Pork pies = lies!)
The irony is that the good doctor's 'lie' might be the lie 'we had to have' because it has clearly injected enthusiasm into the economy, which will power home loan borrowing, constructions of houses, consumer spending and less damn saving!
Saving sounds good but we don't need it now — we need spending.
Another crazy development from this recession is that we have become excessively responsible savers.
In the June quarter, the recession took hold and our economy shrunk like a woollen jumper in a hot wash with a 7% contraction. Household spending fell by 12.1% and the savings ratio nearly tripled, close to 20%!
But at odds with this number was the explosion of retail sales at Harvey Norman, JB Hi-Fi, Kogan.com, Bunnings, Temple & Webster and so on. So how does that work where we save more and buy more?
Well, retail has exploded but that only accounts for 30% of what we spend. This means 70% goes on services, which under Covid couldn't be accessed — ask blondes in Victoria who nearly disappeared off the face of the earth during the lockdown as they had to ditch their hair salon services!
People working from home could easily have started cutting their own lawns, cleaning their pools and their cars so the economy could have missed out on these items of spending.
This economic tracker graph shows how the economy has been going.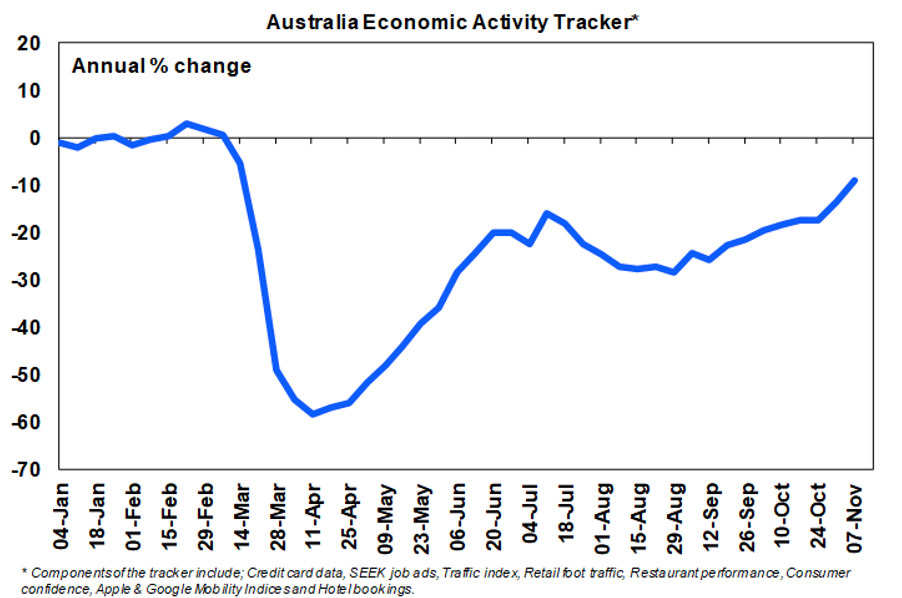 This shows how the economy collapsed March to April but started to rebound in a V-shaped recovery with help like JobKeeper and low interest rates rebuilding economic activity. But then in June Victoria went into lockdown and activity fell but it's now rebounding again.
Looking at the chart above, we now seem set to have a Nike-swoosh-like recovery, provided problems like we're now seeing in South Australia don't go national.
Helping will be a vaccine, with news out today that the Pfizer product is 95% effective, which is better than the 90% effectiveness reading that has helped our stock market spike about 6% in eight or so days.
If the vaccine and Australian infection news all tend to the more positive and borders open up sooner rather than later, then 2021 might be a boom year for the economy and the stock market. It would bring more jobs, a smaller Budget Deficit than the projected $213.7 billion and inflation.
This will be good news for nearly everything, except for Dr Phil's 'promise' on keeping rates where they are for three years.
For the sake of the economy, Phil has told us "sweet little lies". Remember that when you're tossing up about fixed or variable rates of interest and for how long. If he's honestly fibbing (and I think he is) and you're overborrowing, then you might want to fix longer rather than shorter. (That's not advice but a sweet little dose of financial education.)