Next week I do an economic and market outlook speech for an advisory group with whom I did my last live speech for 2020 because of something that will be unforgettable — the Coronavirus!
Last year their event was held in March before we went into full lockdown. It was done with social distancing rules and we were guessing how bad this was going to be for the economy and the stock market.
Always ahead of the curve, the market was selling off and I was expected to come up with my best guess of the futures of the economy and the stock market. So I started off by explaining that although I used to lecture economics at one of the world's best commerce faculties i.e. at the University of New South Wales, neither as a lecturer nor as a student had I ever been involved in anything you might call Pandemics 101.
It was the hardest forecasting assignment I've ever had, so let's see what I came up with.
Heading: New Threat: Coronavirus + Containment
Recession is almost certain — tick!
Rate cuts and $17.6 billion stimulus will build stronger growth in Q3 & Q4 — tick!
But $40 billion more will be needed — underestimated that!
I also showed how stock markets do rebound out of major virus outbreaks, as the graph below shows. But I never imagined such a huge, quick bounce back. But who would've guessed then that Treasurer Josh Frydenberg would go for the nuke option and plan an October Budget Deficit of $213.7 billion! And who would've guessed the RBA would cut the cash rate to 0.1% and virtually promise it would keep it there until 2024!
No one!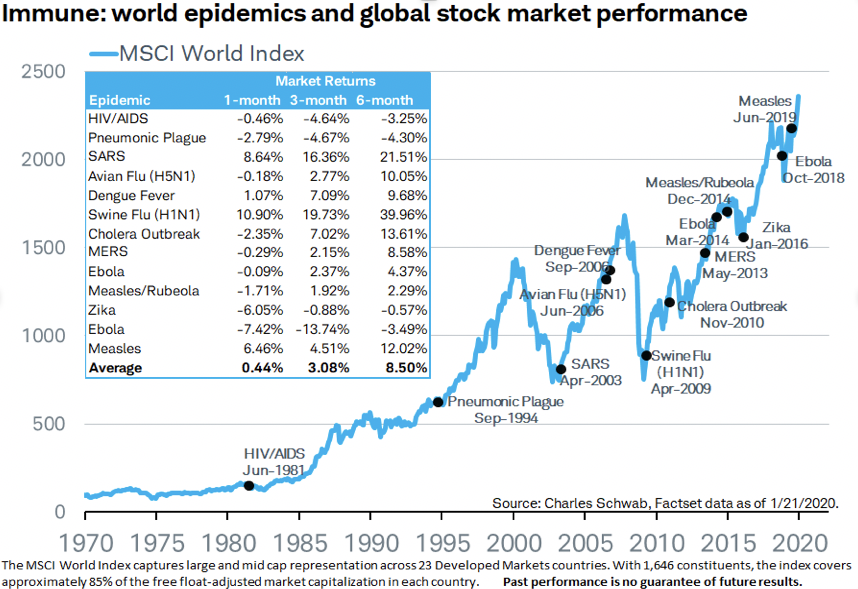 My final argument was that if we could get on top of the infection rate ASAP and lockdowns could be limited, we could save both lives and the economy.
I shared a quote from Coolabah Capital's and the AFR's Chris Joye, which was meant for the advisers in the room and online (who were very nervous for their clients' and their own investments) to give them some hope.
This is what he predicted: "When all is said and done, markets will get what they want through signalling what is and is not acceptable. And this crisis will pass, probably within one or two months. Those that survive will face the investment opportunity of a lifetime!"
Joye had his team of bond market PhDs honing in on infection rates. By May, Australia was leading the world on beating the Coronavirus, though Victoria struggled, and the end-result was a short, deep recession followed up by a V-shaped economic recovery and a whopper of a V-shaped stock market rebound.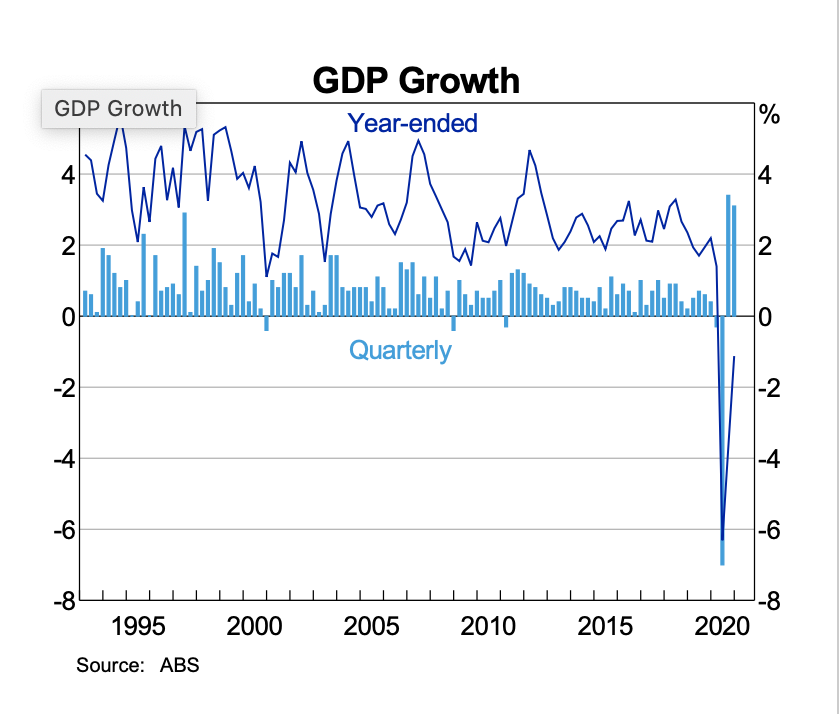 You can see the narrow and steep V on the left of the graph above. And below the S&P/ASX 200 chart shows a lopsided V, which looks more like the Nike-style swoosh shape that I tipped was more likely because there were businesses in our top 200 list of companies that were going to struggle for a time. These included travel and hospitality operations and the banks, which were recruited by the PM to help save the country.

Despite all the bellyaching by groups who always complain or from those who hate ScoMo, deep down we all know we've had a damn good experience with this virus compared to most economies of the world and this chart proves it.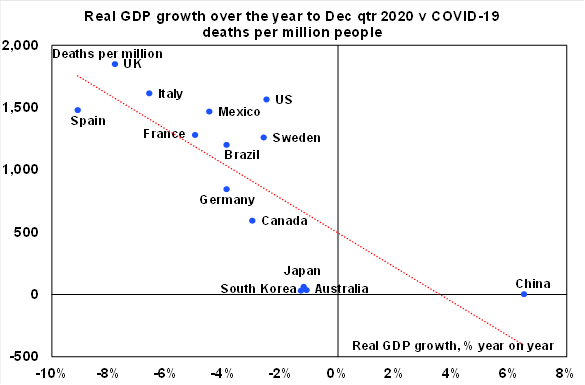 See where we are low on the vertical deaths per million axis but high up on the horizontal Real GDP growth axis.
The next chart shows how good we've been compared to the US and Europe, with AMP Capital's economic activity tracker showing how our better Covid-containment efforts have translated into a better economic rebound.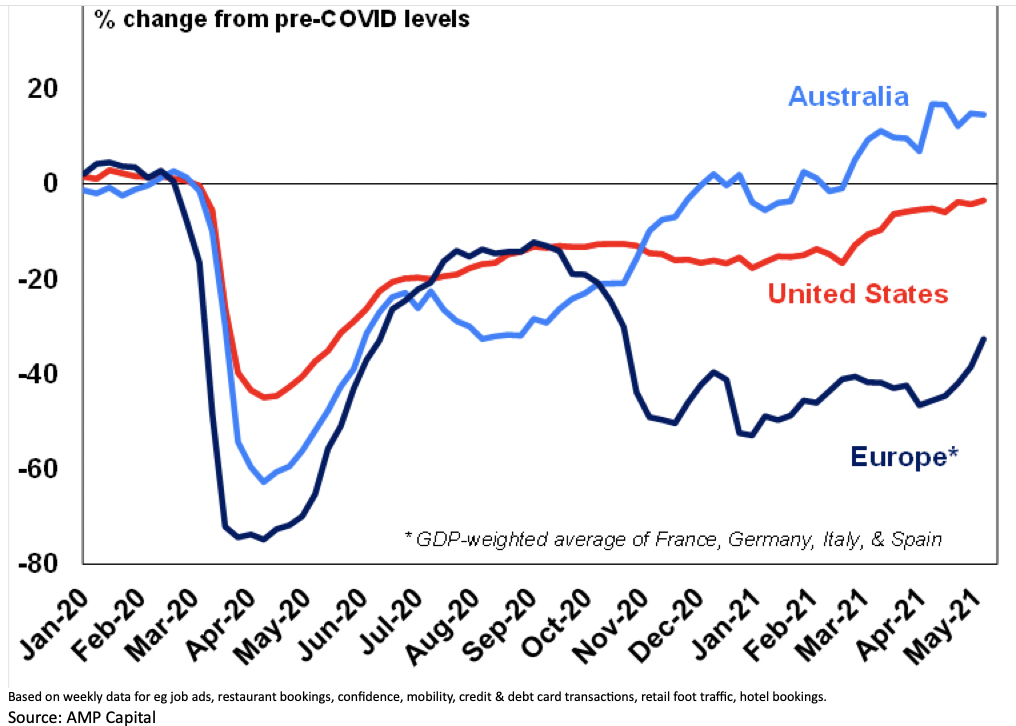 But that's the past. This week Josh shared his Treasury crystal ball and these tables sum it up.

See how good our upcoming financial year looks with growth of a huge 4.25%. But Josh's numbers say we'll fall back to 2.5% but that looks way too conservative.
Sure, we'll miss immigration as a pusher of growth but Treasury says business investment will be 10% in 2021-22, which should lead to a big multiplier effect, helped along by unemployment at 4.75%.
Treasurers can be conservative with growth numbers because if we actually grow faster than tipped, then the deficit falls faster. This makes the country's top number-cruncher look like a financial wizard!
And remember, the RBA is promising that interest rates will still be unbelievably low in 2023 and might rise in 2024, and if that can't help growth in 2022-23 be more than 2.5%, well I'll be a monkey's uncle! (Can we say that nowadays?)
Right now, there's terrific local economic momentum. And by mid-2022 we're bound to see international borders open and by 2023 it will be Greek Islands 'here we come'. And hopefully Chinese tourists will be raiding our chemist shops and filling up our airports.
I think the very act of the world getting back to normal will be an enormous confidence booster globally.
Here's my summary of the best latest economic readings, which help explain my positivity about the year ahead and why I believe Josh is right with his growth guess for next financial year (though I don't think he's on the money for the following year). Check these numbers out:
The NAB business confidence hit a record high of  26 index points in April with business conditions at a record high of 32 index points!
Westpac consumer sentiment at an 11-year high — up 6.2% in April.
Skilled job ads are at their highest level since October 2008!
SEEK job ads rose by 11.9% in April (at all-time highs since records began over 23 years ago).
RBA: Economy tipped to grow 9.25% over the year to June. Up from 7.75%!
Home prices hit record highs in 63 of the surveyed 88 regions across Australia.
The AiGroup Performance of Manufacturing index rose by 1.8 points in April to 61.7 points (the strongest level since March 2018 - indicating a stronger pace of expansion. 
The 'final' IHS Markit Manufacturing Purchasing Managers' index rose from to 56.8 points in March to a record 59.7 points in April. Readings above 50 points indicate an expansion in activity.
National payroll jobs were 1% above levels at the start of the pandemic (ABS).
Council approvals to build new homes rose by 17.4% in March – the most in three years. Approvals are up 47.4% on a year ago – the strongest annual growth rate in 11 years!
New vehicle sales totalled 92,347 units in April – the highest number of sales for the month of April on record. Sales are up 137.2% on a year ago. In the 12 months to April, sales totalled 1,000,676 – a 13-month high.
The Australian Industry Group and Housing Industry Association Performance of Construction index (PCI) eased from a record high of 61.8 in March to 59.1 – but it's still in record high territory.
I don't need to go on. We are going gangbusters. And it's likely that we're heading into a 21st century version of the Roaring 20s. But a Treasurer has nothing to gain by predicting this sort of thing, even if he believes it's a real chance.
There's a good chance that his growth numbers could prove to be a little too conservative.