We get our latest inflation reading next Wednesday and
We're bracing for a big bad number, though it won't be as scary as the 9.1% result in the US for the month of June. But our inflation is so bad that a bottle of new Penfolds Grange is being flogged for $1000!
The AFR's Simon Evans tells us that the previous price of a new bottle of Grange was $950, so we're looking at inflation of 5.3%. The RBA boss Dr Phil Lowe could possibly buy a celebration bottle next week if our Consumer Price Index reading gives us inflation of only 5.3%!
Now this number covers the June quarter (i.e. April, May and June) and CommSec's economics team is forecasting 6.2% inflation for the year to 30 June 2022.
This is a step up from the 5.1% figure we saw for the March quarter, but over those months the price of oil (and therefore petrol and energy prices) all skyrocketed.
It's what President Joe Biden blamed for the 9.1% reading in the US. And when interviewed about this bad number (in a year where there are mid-term elections and his popularity is nosediving), he said it was "old news".
Biden argued that nearly half of the rises were linked to higher gasoline and energy prices, so when I heard that I thought: "Yep, a politician would say that, wouldn't they?"
Then I went to the official US statistician, which said exactly what Joe told us. So the President might be right in suggesting that the July number will come down because of the fall in oil prices.
This chart shows how oil spiked in February when the Ukraine war started.
Oil price 2022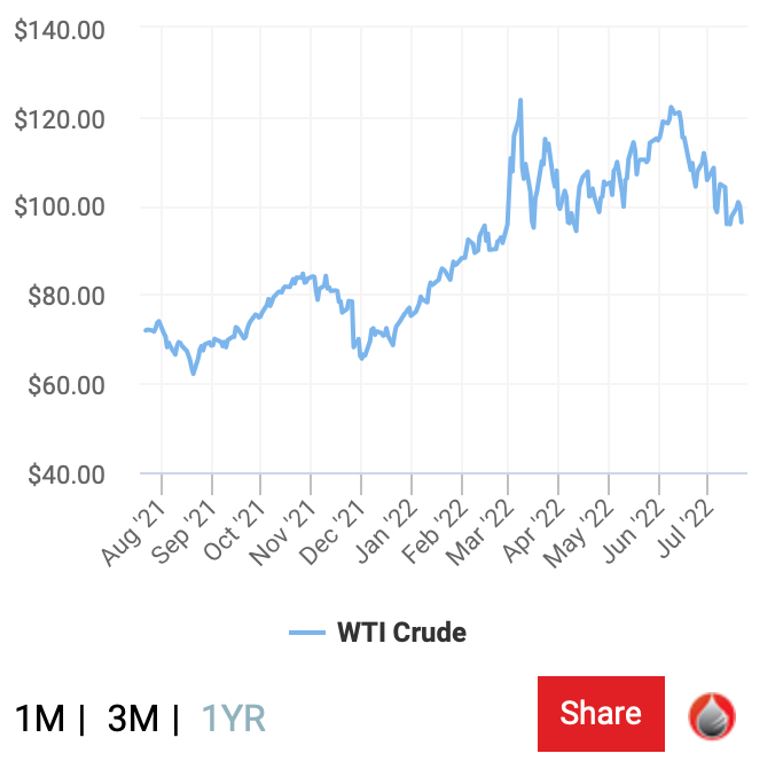 Joe's oil call for July makes me think that if we can get a 6.1% number for the June quarter and oil remains at current levels (or even lower), and China's lockdown issues get better (meaning we get more supplies at lower prices as production zooms higher), then the inflation outlook gets better, and we mightn't see the 7% inflation predicted for Australia.
In turn that would hose down the fire in Dr Phil's belly to raise rates rapidly between now and the end of the year.
Fortunately, the RB Governor said this week that he will watch the data and the cash rate doesn't have to go from 1.35% to 2.5% by year's end or even by mid-2023, if the economic data (inflation in particular) doesn't go as high as predicted.
Right now there's a sense that economies and stock markets have been ravaged by excessive negativity on inflation, how high interest rates will go, and then whether there'll be a US recession. At the moment, the optimists are having a good time with stocks going higher, especially the over-smashed tech stock sector.
Since June 16, the tech-heavy Nasdaq has been rebounding and US reporting season has shown that trend was justified. Companies such as Netflix and Tesla have reported better than expected and helped the Nasdaq rise 13.2% over that time.

"What you're seeing in the market today is continued potential recovery, some continued potential optimism for numbers not being as bad as feared," said Robert Cantwell, portfolio manager at Upholdings to CNBC. "But that's been happening in the market now for almost a month."
I've been suggesting for over a month that the stock market has been trying to bottom. I couldn't get too many experts to agree, but more are getting on board now.
We need company reporting in the US and then here in August to keep being better than expected. We also need to get inflation data heading down, which will reduce the fears about central banks taking rates too high and creating recessions around the world.
Right now, a majority of market players are starting to see the economic, company and market futures less negatively. If this continues, I just might join the man most responsible for beating inflation i.e. Dr Phil, and share a bottle of Grange with him for a job well done.
As I often joke at conferences, when I talk about making big changes to boost business: "Anything worth doing, is worth doing for money!"
And finally, back to the Penfolds Grange story. It's great to see that its company — Treasury Wine Estates — has coped with China's unfair 175.6% tariff. However, the AFR reported strong sales for one of the world's best reds and expensive local wines, but given the RBA is trying to stop us spending too much to lower inflation, I hope a lot of us can get off the drink until inflation falls.
That's when we should start popping corks and twisting caps on some of our great wines, because our share portfolios will be paying for them.