It's an irony that Melbourne (often hailed as the world's "most liveable city") is going through a close down crisis and every Australian should feel for our southern cousins. The Treasurer, Josh Frydenberg, yesterday referred to his concern for his fellow Melburnians, with lockdowns being psychologically bad for a place built on self-belief and optimism, despite its at times challenging weather.
As you can see, I love the place. Even as a dyed-in-the-wool Sydneysider, we have an office and a grandson there, who (luckily for us) came with his Mum and Dad six weeks ago for a visit but aren't going back any time soon!
Sure, there's an emotional thing going on here but there's also an important economic issue as well!
We're not talking about Victorians who we compete against and have rivalry with. We're talking about Australians who we've cheered on the international sporting fields and prayed for in the fields of the Somme, the Mekong Delta and Iraq.
Amidst all the worrying news that was revealed by the Treasurer on Thursday was the Treasury Department guess that Victoria's lockdown would only be six weeks. We better hope the number crunchers in Canberra are on the money. If scary stories out there saying the southern capital could be locked down to Christmas, then our national economic scenario (which looks pretty good) will go to custard.
Yep, our economic outlook is so good that The AFR says the three credit ratings agencies have reconfirmed our AAA-rating. That's despite our biggest projected Budget Deficit since World War II, when it was 17% of GDP. This one is tipped to come in at $184 billion (or 9% of GDP). Meanwhile, our public debt spikes to a huge-sounding $850 billion (or 45% of GDP). But let's put this into perspective: the US public debt is over 100% and Japan over 200% right now before all their new Coronavirus spending is factored in!
For those interested, this is the list of the top AAA-economies:
Australia
Canada
Denmark
Finland
Germany
Luxembourg
Netherlands
Norway
Singapore
Sweden
Switzerland
Explaining our economic greatness compared to so many other economies, the economist from the US investment bank, Goldman Sachs, pointed out: "The silver lining is that Australia's relatively strong fiscal position means there remains scope for a significant further increase in fiscal support should it be required."
And that's really important to understand and to remember if in the future any government in Canberra tries to justify some tough economic medicine on Budget night. Why we can afford to extend JobKeeper and have one of the biggest recovery-spending programmes in the world (as a percentage of GDP) is because we got out Budget-house in order before the Coronavirus came to town.
Anyone who doesn't want to celebrate our 29 years of economic growth without a recession is either a committed anti-capitalist or pre-ordained to hate anything positive. They need help. Fortunately, our economic success (shown in the chart below) means the rest of the nation can help Victoria through its time of need.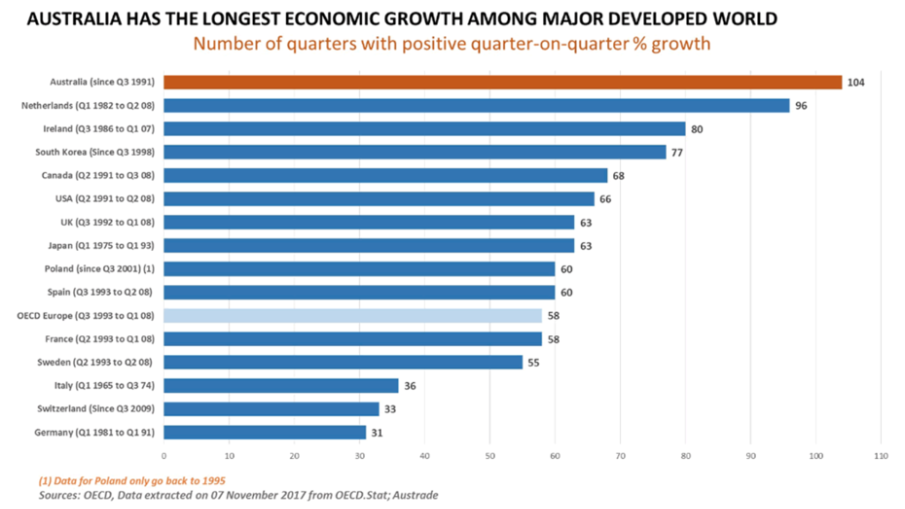 One final point needs to be made. Given what this damn virus has done to economies and people worldwide, the fact that it looks like our economy will contract by only 0.25% for last financial year (that ended on June 30) and then only 3.75% for 2020 before growing at 2.5% next year, shows how good our economy is.
Only last week the European Commission said the 19-nation single currency area would contract by a record 8.7% in 2020 (previous estimate -7.7%) before rising by 6.1% in 2021. And US unemployment was 14.7% in April, while our jobless rate (though serious) is only 7.4% now.
The numbers show it. And so do surveys by the likes of USnews.com that put us 5th in the world behind Switzerland, Canada, Japan and Germany, as the best countries in the world to live in. And as we know, good old Melbourne has been in the top ratings for the most liveable city for years, so let's hope they get back to enjoying their great city ASAP.
Yep, we're up there as "simply the best!"
Going forward, Victoria's infection data is going to be a crucial 'economic' indicator for the rest of the country, so I'm going to be watching it very closely.
Go the Vics!