When PM Scott Morrison had his first year as Treasurer I rated his 2015 Budget as a D for distinction. He actually had been a former economics student of mine at UNSW and when he came on my old Sky News Business program, SWITZER, he reminded me that I'd never given him a D when he was student. To that I replied: "You weren't that good at economics then!"
So how did Josh rate with his Budget last night?
I hate giving Treasurers/politicians a reason to think I've gone soft but this is the right Budget for the time.
We need jobs, business investment and confidence after the Coronavirus created the first recession since 1990, and so this creating jobs and rebuilding our economy plan from Josh Frydenberg is exactly what is needed.
The Budget will also give the Morrison Government votes for what I expect to be an early election. Our election expert Malcolm Mackerras in February tipped a late November election and apart from this being the right Budget economically-speaking, it also looks politically wise as well.
A smarty on the ABC called it a "Hot Chocolate Budget", linking it to the old pop group's smash hit "Every 1's a Winner" and that looks less lame than my assessment that this was a "Vote for US" Budget.
Given the above, let's look at the big winners:
Job seekers — economic growth of 4.25% in 2021-22 plus tax cuts as well as huge government spending means unemployment is expected to fall to 5% this year. And I bet it will be lower.
Retirees — the downsizing rule change meaning 60 year-olds can sell a big home, buy a smaller one and put $300K each into super is a ripper. It was only open for 65 year-olds and over before last night. The killing the work test for those 67 to 74 years of age means retirees can put up to $100K a year into their super over that time.
Low to middle income taxpayers — enjoy another year of the tax offset up to $1,080 for individuals or $2,160 for dual income/working couples. And you will get this just after you file your tax return.
Business — the instant tax deduction for buying equipment, cars, etc. and the loss carry back idea is extended for another year. This link shows what is available for businesses: https://budget.gov.au/2021-22/content/jobs.htm#two
Young savers —under the First Home Super Saver Scheme, $50K can be dragged out of super rather than $30K for a deposit for a home loan but remember it is for super contributions the saver has put in over and above what your employer has put in. See it as the best place to save for a deposit, as super funds have returns around 7% while bank deposits are lucky to pay 1%.
Homebuyers — the New Home Guarantee scheme means new homebuyers will only have to find a 5% deposit. The Family Home Guarantee scheme means single parents will only have to find a 2% deposit to get a loan for a home.
Aged care spending —The Government is committing record additional funding of $17.7 billion over five years to reform the aged care system in response to the Royal Commission into Aged Care Quality and Safety. This investment will make the system more accessible, improve the quality of aged care, grow a more skilled workforce and help older Australians stay in their home for longer. This is a good initiative and overdue and will create jobs in this important sector, so it's win-win for old and young Aussies.
Stock players — if our economy grows at 4.25% in the next financial year, stock prices boom! Why will it boom? This Budget and the Government's commitment to think outside the square and spend more, when many Treasurer's would've pulled back on spending, is a gamble that will pay-off in terms of jobs and growth. It will help stocks as well.
However, one day Josh or his replacement will have to play hardball to rein in the debt but this is not the year. The Treasurer has made the right call to keep spending and is the lesson Franklin D. Roosevelt in 1938 learnt the hard way.
As the Great Depression dissipated under the weight of the New Deal spending, conservative politicians forced the White House and Congress to go restrictive rather than keeping on with the stimulus. So in 1938 the US fell back into recession!
A lot of people are worried about the debt implications with Net Debt closing in on a trillion dollars by 2024-25 but that's only 41% of GDP while the US is over 100%!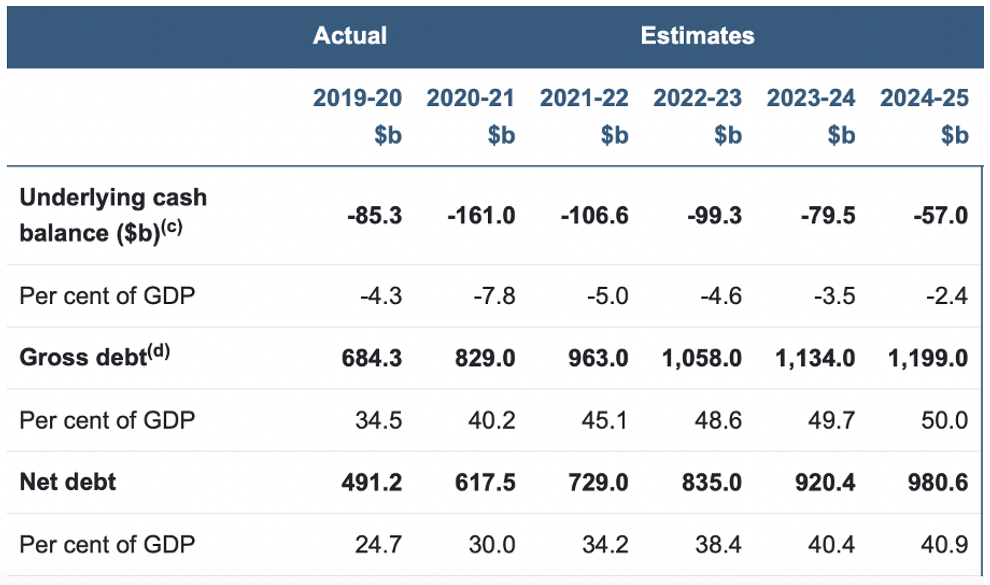 Our Government debt to GDP is one of the lowest in the Western world, so sleep easy. Finally, the best way to kill a budget deficit and debt worry is to help the economy grow faster because this produces income, jobs and tax collections. And last night we learnt that the faster paced recovery delivered a better budget result than expected, with the Treasurer confirming that this year's budget deficit was $52.7 billion lower than forecast.
Recall at the last Budget in October Josh tipped a $213.7 billion deficit but as the table above shows it's expected to be $161 billion falling to $106.6 billion next year, followed by $99.3 billion 2022-23, then getting to $57 billion by 2024-25.
Is there anything I don't agree with in the Budget? Sure, there are always small things you can complain about but in desperate times you have to cut Treasurers some slack, but I think his economic growth numbers beyond next year are conservative. Treasury says growth will be 4.25% in the financial year coming up — 2021-22 — but it then falls to 2.5%. I don't believe that. This is a typically conservative guess by Treasury that ignores the impact of consumers and businesses reacting to the big growth in 2021-22.
Treasury tells us that business investment will rebound by 10% in 2022-23 so how doesn't that produce growth better than 2.5?

I think we have two very strong years ahead and maybe three as long as China does not do anything stupid and the Prime Minister comes up with a cunning plan to rebuild our working business relationship with the Beijing bully boys.
So my rating? High Distinction!