It says something about us and therefore our media that yesterday's great jobs result got buried in less important albeit more sexy yarns about bitcoin.
I know because even I was a victim of the headline grabbing yarns, such that I needed a phone call from the Treasurer to make me have a harder look at something that had genuinely excited him.
And even today the newspapers are more firmly focused on the bad news out of the Victorian horror Budget for business, than the unbelievable decimation of the once much-hyped "fiscal cliff!"
Gee, wasn't that used to scare the pants off us a year ago? I couldn't go out for a social outing without some friend or total stranger asking me about us all falling over that cliff.
I got so frustrated with so many people worried about what would happen when "Frydenberg takes away JobKeeper?", I started jokingly telling these people to stop watching the perennially negative ABC!
Aunty's selection of experts who had us tumbling into an economic abyss partly explained why many of my questioners were so nervous. Yes, I hang out with ABC fans and while I'm a fan too, I'd joke with them. Unlike them, I'm not worried. With over three decades of teaching and writing about economics, I'm actually qualified to watch the ABC!
So why did I need a happy Treasurer to remind me of how good yesterday's job numbers were? Well, I did a speech to a group of financial advisers in the morning, where I told them we have at least two years of great growth and a rising stock market (albeit with a few downs and ups though more ups than downs).
In the afternoon I was on a conference panel discussing our economic and investing future, then I did an interview for Seven News on bitcoin because it's the speculative plaything of techies, young investors and criminals.
After topping out around $US60,000, Bitcoin had slumped to below $US33,000. One day on, it's now $US39,000. This is a far sexier story for business news but hell, this economic rebound out of the worst recession since the Great Depression really underlines how we take good economic news for granted!
And worryingly, there were many of us (me not one of them) who often lamented that millennials needed a 'good recession' to teach them about the realities of the real world!
These poor blighters have not only been materially spoiled by parents like us, had their brains and life captured by the Internet and money-makers who have mastered this new age medium, they've also lived through one the best Aussie economies ever that didn't have a fair dinkum recession in close to 30 years! In the modern economic context, this is considered a world record! So if our young people look at the worst economic crisis since the Great Depression and decide to invest in stocks to make up for low interest rates on bank deposits and try to get rich on something inexplicable like bitcoin, who can blame them?
But it would be a good example if we (as older and hopefully more life-experienced elders) reminded them just how lucky we are. Are we? Yep, just look at how lucky we've been with the Coronavirus compared to Indians, Brazilians, Italians, Brits and even Americans!
This has delivered an economic dividend shown in this graph below.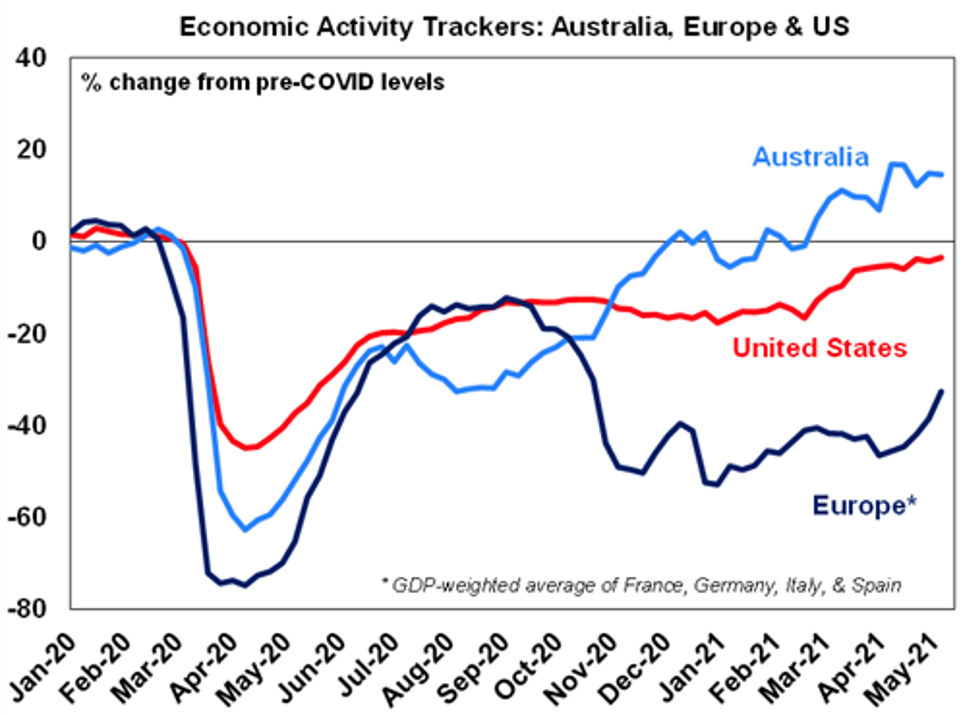 That blue line shows how our economy rebounded out of the short, sharp, deep recession. And when it dipped around July to August, that's when Victoria went into its second lockdown after a quarantine problem. This shows how virus control and the economy are so interrelated. That's an important lesson all Australians, not only recession-unaffected millennials, need to learn. We're a lucky country even if the left and other whingers want to highlight our weaknesses. All countries, families and individuals have weaknesses but when working out someone's overall worth and good fortune, it has to be a 'positives' versus 'negatives' analysis and on that criteria, yes, Australia is a lucky country.
So let me get back to where I started — the good job numbers the Treasurer is happy about.
On first blush, a 30,600 loss of jobs in April hardly looks champagne-popping stuff but this is the full month reaction of the labour market after the end of JobKeeper!
So the fiscal cliff ends up being nothing more than a slight step down that wouldn't even force someone to trip, let alone fall.
Let's do a quick look at the numbers:
Jobs down 30,600 in total.
But it was mainly a part-time loss of 64,400.
And many of them might've gained one of the 33,800 jobs created over the month.
And get this, employment is actually up 0.3% since February last year, which was pre-Coronavirus!
Also, the unemployment rate fell from 5.6% to 5.5%
You can only look at these numbers and find reasons to criticise them if you either failed to think how bad the fiscal cliff was portrayed 12 months ago or you look at these numbers with one eye!
Whatever your politics, this is a great result. This is how AMP Capital's Shane Oliver saw the end of JobKeeper effect: " However, the impact looks to have been minimal, with the ABS noting that its analysis 'did not identify a clear aggregate impact from the end of JobKeeper'. This is consistent with data showing a decline in people on unemployment benefits in April and Government analysis of payroll data showing that only 16,000 to 40,000 people on the wage subsidy had lost their jobs up until April 11. This is minor compared to concerns that many jobs would be lost as one million jobs were still on JobKeeper prior to its ending."
Wisely, the Morrison Government has done a Labor-like thing and kept the spending to help the economy going for another year with a more-than-expected generous Budget. But unlike the misguided Labor Budget in Victoria released yesterday, the Federal Government hasn't raised taxes.
The Victorian Treasurer Tim Pallas is gambling with Victoria's recovery and because it's the second biggest economy in Australia, he's risking our national recovery. Pallas should have waited a year before he raised payroll tax and slugged the property sector, but the Andrews Government often looks out of touch with what might seem sensible.
For the sake of Victorians I hope he gets away with it and doesn't derail the state's economic comeback. Because of the business-negative effects of the lockdowns, this is the one state that really needed a bigger spending Labor-like budget that really got the economy rocking and growing. Did I say the Andrews Government has a history of being unusual? I really hope Tim and Dan don't create their own fiscal cliff!