Anyone who says they know how the Coronavirus will affect the global economy and stock markets, is either a visionary or a liar! We are in the hands of how badly this damn virus spreads and then how it hits businesses and economies. It's a waiting game and could turn out to be worse than expected, or better.
Wall Street reacted positively to the Fed boss, Jerome Powell, indicating that, if needed, the central bank would cut interest rates, and Bank of America even suggested the magnitude of the challenge was such that the first cut could be 50 basis points (or 0.5%).
The stock market liked that and it made someone I know, and whose judgment I respect, tell me that he would be buying stocks on Monday. For me, it looks too early to buy stocks and I'm getting ready for negative headlines and an overreacting media this week, which will fan the fires of global stock markets.
On Friday, the chances of an interest rate cut were 15%, but now the money markets say it's 90%! That's why the Oz dollar is 64.72 US cents this morning.
As I've said before, however, it's going to be infection and death stats, not economic ones, that will be the big driver of stock prices in the near term. That said, an economic statistic over the weekend shows why there are lots of concerns about global economies, with China's manufacturing purchasing managers' index falling from 50 to a record low of 35.7 in February, with services down from 54.1 to a record low of 29.6. Any number under 50 says the industry is contracting, but these numbers scream it!
A key question I keep getting is: why is this going to be worse than SARS of 2002-03 and its economic and stock market effect? Try these reasons:
China was the sixth biggest economy then, but is now the second biggest in the world.
It's responsible for 16.3% of world GDP, but when SARS happened it was only a 4.2% contributor to global growth.
The IMF said in 2019, China was responsible for driving 39% of global economic growth!
In SARS days, China's products were less critical to world supply chain but now it's critical to the likes of Apple, car companies and every manner of tech/retail businesses.
8,000 people were infected and 800 died but with COVID-19 the numbers are 85,000 infected and 2,900 deaths!
Most of the economic cost of the outbreak, though, "is not related to the virus," said CEO of the World Travel and Tourism Council Gloria Guevara, who was the tourism minister for Mexico during the H1N1 outbreak. "It's related to the panic." (CNBC)
Twenty four days ago, the experts at HIS Market were tipping a notable hit to world economic growth.
"If the current and unprecedented confinement measures in China stay in place until the end of February, and are lifted progressively beginning in March, the resulting economic impact will be concentrated in the first half of 2020," the Report says, "with a reduction of global real GDP of 0.8% in Q1 and 0.5% in Q2."
I've had a lot of economic training and experience, but I've never mastered the link between a potential pandemic, the world economy and stock prices. All I know is uncertainty about negative forces that could kill business — and we have that with this damn virus — will always take stock prices down.
"Bank of America has cut its China forecast again to 5.2% from 5.6% for 2020 due to the coronavirus, and now expects "roughly zero" sequential growth in the first quarter and a more delayed recovery," Business Insider tells us. "That will also likely lead to "large spillover effects" that could hurt the entire global economy, leading the bank to lower its global growth forecast excluding China to 2.2%, also the lowest rate since 2009."
With China included, the growth forecast is 2.8% and the IMF says a 2.5% number will be akin to a global recession! Clearly. We're in the hands of medical staff worldwide and all we can do is keep our fingers crossed.
But here is the big question: "Should you cash out of investments?"
If I was a trader, I would've sold last week and waited for a believable rebound linked to much better infection/death numbers and then eased back into stocks.
But I'm a long-term investor and all the stocks in my portfolio have been bought at lower prices than currently prevail. And if this correction gets worse, I'd be a buyer of great companies at lower prices, because I'm a long-term investor.
In the past, Warren Buffett has warned not to sell during small crashes and instead to weather the storm by focusing on the long term. He says, if the companies you own are successful, established companies, they too are likely to return to their pre-crash price before long, making holding onto them the wisest decision.
That said, if you think the worst is behind us, that could be a mistake. All I can do is show you the chart I've shown a number of times over the past month — but it shows the kinds of rebounds out of these virus challenges.
The bottom line takeaway lessons have to be:
The rebound in stock prices more than makes up for the slide because of the economic dislocation of a virus.
Governments and central banks stimulate to make up.
And the market often overreacts to the uncertainty.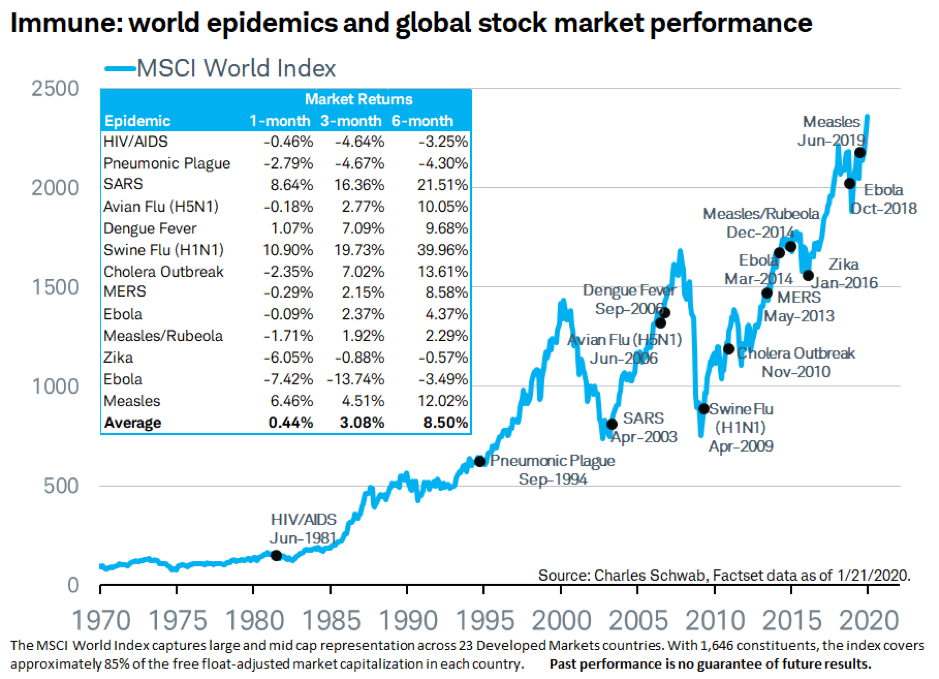 My best advice is to try not to worry. And remember, you are a long-term investor. If you're not, then worry, because if you're a trader who gets in and out, you can make lots of mistakes.
Good luck with that.