With the Australian stock market up 45% since March 23, the big question is: can you expect stocks to rise in 2021?
That's a question I keep getting from financial planning clients, readers, TV and radio hosts, friends and family!
So I thought I'd share with you what my stock market crystal ball is showing me.
As a base case, a few weeks ago I was happy to say that I expect at least a 10% rise in the S&P/ASX 200 Index. It fell close to 37% in the Coronavirus crash, which meant it needed a 52% rebound to get back to where it was before the virus came to town.
Right now we need another 8% to get back to the 7,162-level the Index was at before COVID-19 closed down our economy and led us into recession. But a few weeks ago it was 10%, and that's where my number came from. I do think we'll top that old high for the Index because the magnitude of the Budget stimulus, combined with the historically low interest rates, will power the economy into an economic boom that will drive company profits and then share prices.
That means a 10% gain from here is nearly a given. But wait, there's more.
As we all know, the local stock market can't resist the lead from Wall Street, so I went looking for the outlook for stocks from the top market analysts in the States.
Last week I was happy to see that the world's most-watched investment bank Goldman Sachs tipped US stocks would rise by 16% next year. This was a huge call, given the major US stock market indexes are in record territory.
Goldman says investors are still "sitting on a mountain of cash", as Business Insider headlined it. With interest rates so low, this cash will eventually head towards the stock market. Triggers will be the widespread availability of vaccines that's starting in the US now, and an eventual stimulus package that has been delayed by the recent Biden-v-Trump election and the squabble between the Democrats and the Republicans in the size of the Coronavirus stimulus spending. "Heightened cash balances is best illustrated by $US5 trillion in assets in money market funds, which is still about $US1 trillion higher than they were at the start of 2020, and almost $US2 trillion higher than they were before the most recent Fed hiking cycle," Goldman's experts noted.
When infection rates fall and vaccinations rise, there'll be another leg up for stocks and scaredy-cat investors in cash will chase stocks.
Now all that was believable and made me think my 10% call for our market was conservative. And that went double when I saw what JPMorgan market experts tipped for 2021. These guys think a 25% gain for the S&P 500 is a possibility and their reasoning would be similar to that of Goldman — infections falling, vaccinations rising plus stimulus spending, all leading to great confidence and greater spending, which powers economic growth and profits as well as share prices.
JPMorgan thinks the first half will be better for stocks but positive momentum for the year is expected but simply at different paces.
I think there'll be oscillations between stocks that will do well because they'll benefit from the reopening trade, such as Webjet, Tyro and others exposed to travel and hospitality. And yep, I've invested in them because of my thinking but there are no guarantees that I'll be right.
I also think some companies that did really well during the lockdown phase, such as JB H-Fi, could be dumped, while reopening trade stocks are chased. But this could provide a buying opportunity with these stocks.
Over the past month, JBH was dumped as reopening trade stocks were chased. It dropped from $46.67 to $42 but it's now back up to $46.21.
JBH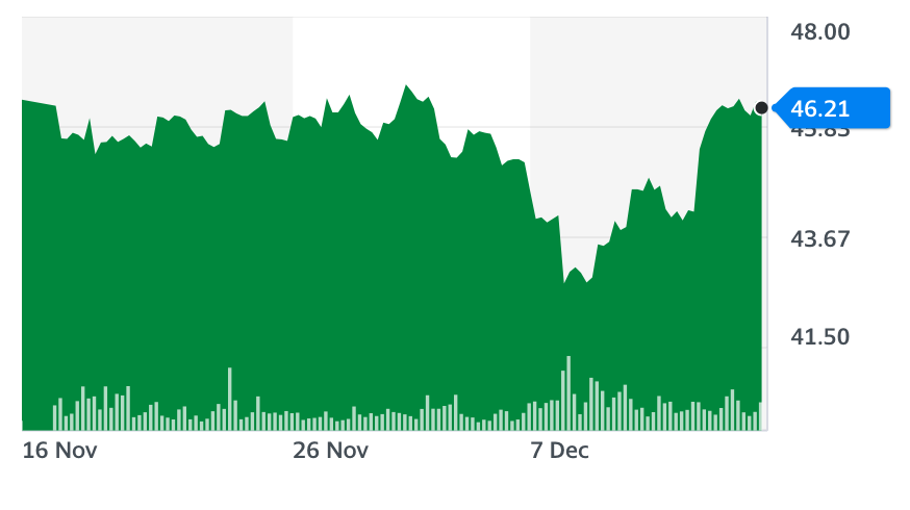 Smarties will be looking for quality companies that might see falls in prices but they will be buying opportunities. But I do think reopening trade and quality tech stocks will really do well.
For a great discussion on stocks to watch, see my Switzer TV Investing programme for this week, where Julia Lee of Burman Invest and Jun Bei Liu of Tribeca Investment Partners share their insights on some interesting stocks. And they pass judgement on my gamble to buy Treasury Wine Estates and A2Milk with all these Chinese trade ban worries.
And if you want help investing next year, think about becoming a Switzer Report subscriber — it is the gift that keeps on giving!