Oh no, it's lockdown in our Gladys's hometown, Sydney. And while many want to get the limo driver who looks to have played ducks and drakes with the truth and give him a good talking to, there are bigger issues that have come out of this.
The first is who runs the public service department that allowed such lax standards for limo drivers who have been assigned to carry those pandemically-threatening people called international airline crews?
I've always been worried about the fact that the Health Minister in NSW, at a time of greatest hazard to health, wealth and business, has the name Brad Hazzard!
It's also intriguing that the first Reserve Bank Governor to ever warn us that he will be keeping interest rates where they are (historically low) for three years has the name Lowe — Dr Phil Lowe.
Judging from the run of economic data, Dr Phil and his Treasury counterpart i.e. Josh Frydenberg are really doing their jobs with unemployment falling from 5.5% to 5.1% in May. Only eight months ago, Treasury thought unemployment would hit 6.5% by the June quarter of 2022!
I can't link Frydenberg easily to something relevant for this story but I will say that Josh is at least not frying the economy with a badly cooked up economic strategy.
To date, Premier Gladys Berejiklian has been hailed as having the "gold standard" policy for handling the Coronavirus but it lost a bit of its gloss when Friday brought stay-at-home orders.
And this is what a STAY AT HOME ORDER means:
Anyone who lives or works in the following LGAs should stay at home unless:
shopping for essential items
care and compassionate reasons
exercise (in groups less than 10) 
work and education that can't be conducted remotely.
And it applies to these parts of Sydney.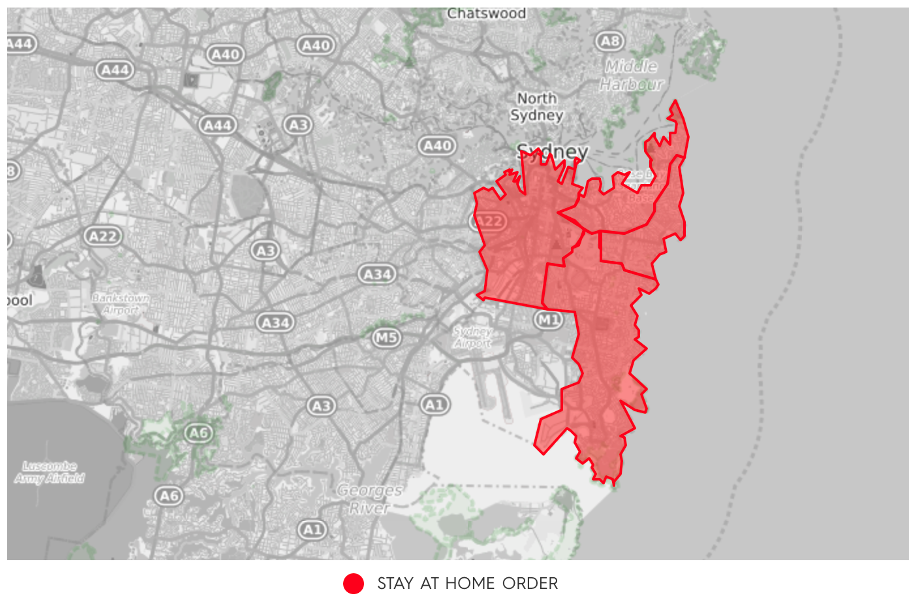 It's not a draconian Dan Andrews total lockdown and does resemble the Northern Beaches lockdown over Christmas. Three days has been extend by another seven days and while a lot of people will feel these restrictions for heaps of reasons — school holidays are starting, cancelled trips away and yuddha, yuddha, yuddha, I have the greatest concern for those businesses teetering on the edge because of these lockdowns on top of a post-Covid worker world becoming addicted to doing it from home.
My coffee shop guy in the centre of Sydney's CBD told me this morning that "Monday's trade was down 20%, Tuesday 40%, Wednesday 60% and Thursday 80% and who knows today?" Well, in fact, he shut as soon as this announcement was made.
That was 6am this morning when I got my first shot for the day. By lunchtime, he and his partner shut up shop! Why 6am? I do my money spot for Ben Fordham's breakfast show at 6.35am each day and it means I get to the office early.
This was a business in the pre-pandemic days that was often so busy I'd often go elsewhere for my must-have hit! Andrew and Pip said the line of coffee cups could then be three metres long. Today it's lucky to be a metre.
And that's a good indicator of the collapse in turnover. These guys aren't only being pressured to start paying their old rent by Christmas, they're also starting to pay back the rent they owe for the 'rent holiday' their landlord gave them.
By the way, this new landlord who only recently bought the office block the shop is based in on the ground floor, has explained that the tower will be demolished within two years, which means Andrew and Pip will find it hard to get someone to buy their business with only a two-year horizon remaining.
Did I say I feel for business owners and employers?
Sure, the Coronavirus has taken away some employees jobs but labour market stats point overall to good times for wage-earners.
This is how the international stats-watching business Trading Economics sees our job market: "Job advertisements in Australia jumped 7.9 percent month-over-month to the highest since 2008 of 213,894 in May 2021, after a 4.7 percent increase a month earlier. This was the 12th straight month of gains in job ads, suggesting strong demand for labor could withstand both the COVID_19 lockdown and the removal of some government emergency support programs."
And wages are rising.The Fair Work Commission recently announced a 2.5% increase in the minimum wage and related award minimum wages. This will take the minimum wage for Australia's lowest-paid workers to $20.33 an hour, or $772.60 a week for full-time workers. It will mean an extra $18.80 a week for Australia's lowest-paid full-time workers. (abc.net.au)
This is news that suburban businesses enjoying a boom, courtesy of the work-from-home crew, will be able to deal with all this, given their ballooning bottom lines. But small businesses in the CBD relying on passing trade from customers will like this pay rise lot a hole in the head!
The following chart shows how damaging the second Melbourne lockdown was, with the blue line representing Australia's economic activity, flattening out during that lockdown.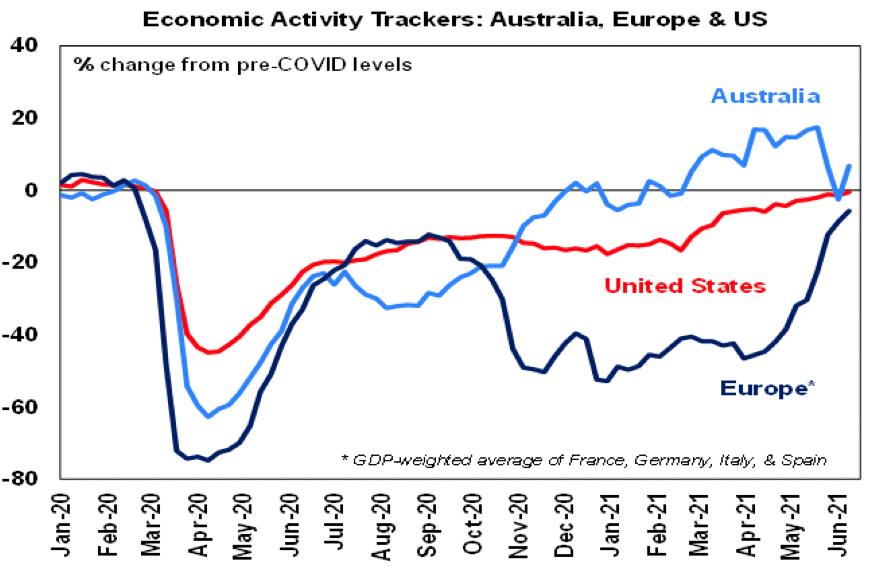 The blue line shows how we beat the world with our economic comeback from October until now. The Yanks and the Europeans are catching up via their better vaccination programmes, and our latest dip is because of Melbourne's latest lockdown. Sydney's lockdown is bound to take us down a notch.
But to see how lockdowns really hurt an economy, look at our blue line between July 30 and September 30. That was Dan's hotel quarantine screw up. And now Brad and Gladys have their lockdown drama to play out.
If we can beat it by next Friday, then it will be of minimal economic consequence. The fact that the S&P/ASX 200 was up 40 points or so on Friday says the market thinks it's manageable. And the fact it's not a full Sydney/NSW closure of business reads better than the Melburnian full-on lockdowns.
To her credit, Gladys and her Treasurer, Dominic Perrottet, came up with a ripper idea of $100 Friday long lunch vouchers to help Sydney CBD restaurants. And I'm looking forward to having a long lunch and rolling into a CBD hotel for the night with my $100 hotel voucher.
But this is only a short-term measure for businesses that are set to face the ongoing problem of Aussie workers wanting to work from home. This week, the CEO of Zoom, Eric Yuan, said the hybrid work model is here to stay. He could be right and Zoom's share price will show that in coming years.
If he is right, I'd invest in Wesfarmers as well because I'm told this week as my Sydney CBD resembled a ghost town, local Bunnings were packed!
CBD businesses will need some forward-thinking politicians to help them navigate the post-pandemic working world. I really hope that they can come up with better performances than those who allowed an irresponsible limo driver close down the financial and business heart of New South Wales.
Running an economy during a crisis like this can't be left to plonkers. It's a job for a committed 24/7 grown up. And all those small business job-creators out there, really doing it tough, deserve a lot better than this!
Brad's surname has always worried me and it has come back to haunt us.