The former Business Council boss Tony Shepherd says we have to be worried about a decade of deficits coming out of this week's Budget but we have to be more worried about stressing out too much about the debt itself and coming up with dumb policies that impede economic growth and make debt repayment too hard.
And by the way, even though our debt sounds big heading towards a trillion dollars by 2025-25, in real terms, it 'ain't' so bad. More on that in a moment.
In all my three decades of publicly covering Federal Budgets, this is the most well-received ever. You even had the usually sceptical ABC calling it a Hot Chocolate Budget — with the tag "everyone's a winner."
And an old mate, but more leftish caring kind of economic writer, Peter Martin, praised Treasurer Josh Frydenberg on the ABC for really tackling the jobs crisis.
And while I was very happy with a Budget that ensures our economy does well over the next few years, I was curious on Budget night to see how this big spending would affect our future debt obligations. Despite a chorus of conservative commentators squealing about our debt for three decades, it never got in the way of this country actually growing for 30 years without a recession.
That in the dull world of economics is actually a world record and maybe a smart person might think that maybe debt can be used to help growth via assistance to industries with potential, such as education and tourism, which over that time have become huge exports for our economy.
Right now education is our third biggest export behind iron ore and coal, which makes it more important than wool, wheat, beef and other mining products!
Also, when governments borrow to build roads, tunnels, airports, etc that's debt that drives efficiency, production, jobs, incomes and, ultimately, taxes that pay off that debt.
When I trawling through the debt-revealing table on Budget night, below is the good news I found.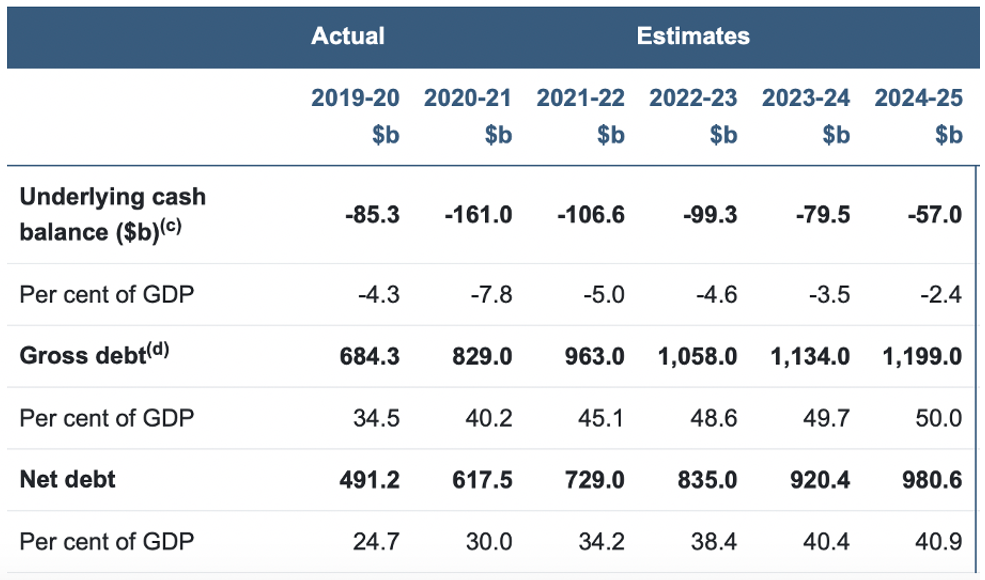 Even though the dollar value of the debt went to nearly a trillion dollars — $980.6 billion to be precise — the Net Debt as a percentage of GDP was only 40.9%.
If we understand the Government borrows and runs up debt for the country to help people keep jobs and businesses make profit, then we can look at what we make (Gross Domestic Product or GDP) like it's the income of a family.
If this family borrowed $500,000 to buy a home and only earned $200,000 a year, the debt-to-income or GDP for that household would be 250%! And a household doesn't have the potential to earn income like a country, so 40% of GDP isn't a real worry.
The US debt-to-GDP ratio is now over 100% and Japan's net debt-to-GDP was 153% before the Coronavirus and gross debt was 263%!
Any Australian losing sleep over this rising debt should stop doing that but keep an eye on what governments nationally and stateside do to encourage economic growth and jobs.
If we grow, tax collections will rise, but it will be with falling tax rates, provided we grow fast. Tony Shepherd knows the debt is manageable, but we need to get business, governments, the public services, unions and opposition parties recognising that we have gone through a war against a life-threatening and a potentially economy-killing virus, so we have to play a better economic game going forward.
Scott Morrison has to sort out our differences with China to ensure normal exports resume and so Chinese tourists can resume their love affair with our country.
A2Milk's CEO is one guy who's hanging out to see Chinese tourists with suitcases loaded up with A2Milk product to take home, which will be a big help for his bottom line and share price, which has fallen 72% since June of last year!
The calibre of economic leadership will determine how long this debt stays with us. And be certain about this: if we have smart Treasurers and PMs who encourage businesses and entrepreneurs to come up with clever business ideas, we won't have a decade of debt.
It will shrink as we grow faster than ever before because good government will bring forth business investment and we will "go gangbusters", as Paul Keating used to love to say. Keating can be a pain-in-the-butt commentator at times but the reforms he introduced powered a lot of the great growth we saw after his "recession we had to have!". And it helped to explain how John Howard was able to 'kill' government debt before Kevin '07 and the GFC came to town.