You might have heard it, or more correctly read it here first, but the International Monetary Fund is now jumping on my bandwagon telling us that our economy is rebounding faster than expected. Not quite the speed of light in scientific terms, but in economic terms these numbers for the Oz economy are at record-breaking rates!
And I reckon you also read it here first that our RBA Governor, Dr Phil Lowe, could have a Fleetwood Mac problem by telling us "sweet little lies" on interest rates.
Of course Dr Phil is not a liar, but he is an economist, and these number crunchers are often good at looking at the history of economies and then use this to predict the future but history (like Crowded House has told us) "never repeats."
The present can be similar to the past but it's never the same and when Dr Phil told us he plans to keep interest rates at these low levels until 2023 or even 2024, that was based on his economic guesses, sorry forecasts, actually being right.
He didn't know what the economic rebound would be like, and that's why now he's saying that he's keeping an eye on house prices.
And why wouldn't he?
In Sydney, home prices spiked 3.7%, which was the quickest jump in 33 years! Melbourne was up 2.4% despite all of its lockdown dramas, Brisbane was 2.4% too and the table below shows not only the monthly rises but also the annual increases, where Darwin was up 14.2%, Hobart 12.5% and Canberra 12.1%. And this was in a recession year — the worst since the Great Depression and you wonder why Dr Phil is keeping his eye on house prices and lending, which he says isn't worrying him at the moment.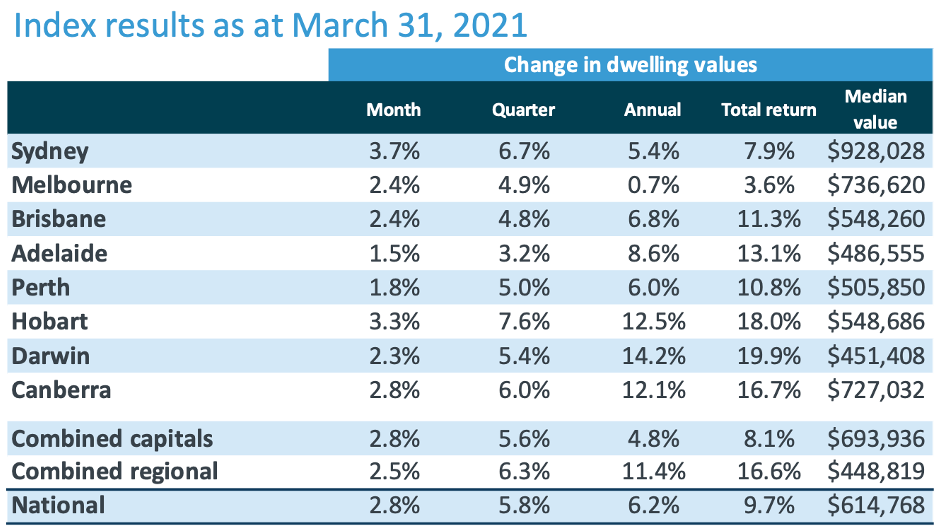 And while on the subject of unreliable forecasting and the difficulties of using history to work out what's going on and what will go on, check out the IMF's track history.
Before this week, the international monitor and financial helper of world economies, had us growing at 3.5% this year. Now it has pushed that number up to a huge 4.5%! And I reckon they will push it up again.
The SMH's Shane Wright put the IMF's forecasting into perspective writing: "Globally, the IMF expects advanced economies to expand by 5.1% this year and 3.6% in 2022. In January, it was expecting 4.3% growth in 2021 and 3.1% next year.
If all this happens, we'll see jobs created and wages will rise as workers become harder and harder to find. Great workers will be headhunted by Seek and Linkedin, which will make bosses pay more in higher wages.
There's a lot of complaining that wages haven't been increasing in the decade after the GFC but no complaining is being done by the people who paid those wages! In the decade before the GFC, I can recall conversations with our business manager who explained if we didn't pay fatter and fatter pay packets we'd fail to attract new people as we grew, and we'd lose good people to other employers.
If these growth numbers work out as expected, the opposite will be the case in the decade ahead but that means interest rates will start to rise to more normal levels.
And one day when that happens, you might recall when I suggested Dr Phil was an involuntary sweet little liar, but to make up he helped create a rip roaring economy.
I know the media will eventually complain about rising interest rates and broken promises but being a journo is a much easier job than being an RBA boss.
It's a tough job and if a little bit of lying is needed to get an economy going and employing, then it's the kind of lying I endorse.
As New Zealand opens up to us and then Singapore next, and as the US grows at 6.4% (if the IMF is right), the reopening of economies worldwide will create huge economic growth and opportunities we could never have dreamed of this time last year as the Coronavirus clobbered us. This is the beginning of a boom. And it might be fair to steal a Ronnie Reagan line and say: "You ain't seen nothing yet." It was shocking English but it conveyed an unignorable message that economic seat belts might be a good idea.