When it comes to the giddy world of money, you have to expect the unexpected. Last night on Wall Street (the most famous stock market index in the world), the Dow Jones Industrial Average went up again. And a company that's regarded as a great forward indicator for the world economy went up over 5%. Putting these two developments together, I have to wonder why and how this is happening.
Last night on my Switzer TV Investing programme, fund manager Julia Lee said her fund was 100% invested. And my charts expert Michael Gable from Fairmont Equities showed charts that said the stock market is ready to go higher and retail, as well as energy stocks, are on the way up.
This is a crazy crash!
A few weeks ago I wrote what I thought was a 'brilliant' piece on 10 reasons why the stock market should sell off. And in particular, as second-wave infection rates increased in the US, the Donald Trump-China heated up and you looked at the magnitude of the bounce back for shares since March 23, when we saw the bottom of the Coronavirus crash.
This chart of the hi-tech Nasdaq captures how odd the stock market's reaction to the pandemic is.
NASDAQ Composite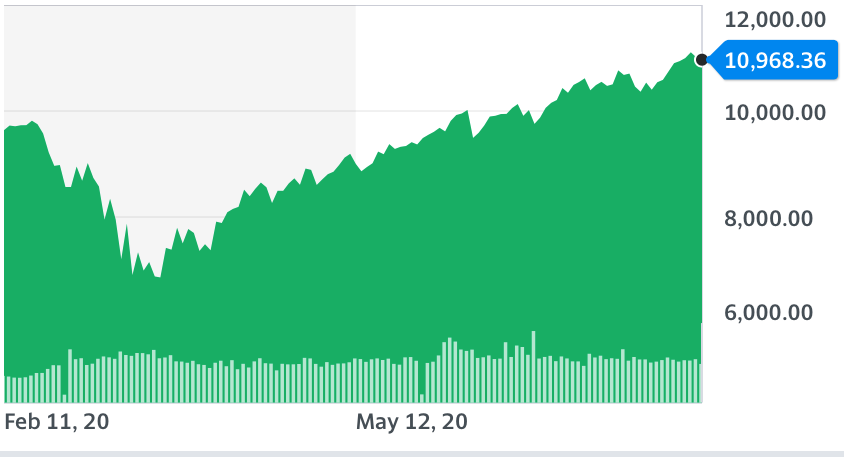 Yep, this index that captures the famous FAANG stocks — Facebook, Amazon, Apple, Netflix and Google (Alphabet) — along with Microsoft and other well-known tech stocks, is now actually 12% higher than it was before the crash!
Did I say this was a crazy crash?
Now there are lots of reasons why the Nasdaq has rebounded so hard. A lot of it is because when people are locked up at home they use the companies behind the FAANGs. They use their Apple devices for work and play. They rely on Microsoft's software and Skype. They buy stuff on Amazon — big time! They keep up with their personal world on Facebook and they chill out on Netflix. And who doesn't live half their life accessing Google?
These big US companies have their fangs right into our lives and that's why their share prices have gone through the roof and taken the Nasdaq with it.
But it's not just hi-tech companies doing well. The S&P 500 Index (which has the top 500 companies on the US stock market in it), is only 26 points off its pre-crash high. And sure, the hi-tech stocks are also in this Index but other non-tech stocks are doing well, helping to explain why the US stock market seems to be comfortable living with the Coronavirus!
As I said earlier, one stock that's a good bellwether company for the global economy i.e. Caterpillar, actually rose 5.26% overnight. That upward move has to be seen as another plus for optimists who hope we can crawl out of this terrible chapter in our social and economic history.
But how could this be happening?
Well, two stories in the AFR this morning help explain what's going on.
First, calculations by numbers experts say that over 60% of the Government's stimulus — JobKeeper, JobSeeker, and all the other money pumped into pensioners, business and others — is being spent!
The second story explains how retail businesses are doing spectacularly well because working from home is giving rise to home improvement spending. Also, there are a whole pile of yuppy Aussies who holiday every year overseas. These people have been virtually put under State-arrest, with borders closed around the country.
In 2018-19, more than 10 million Australians took overseas trips, spending $65 billion and now that potential spend has a very big chance of being outlaid right here.
A retailer such as Adairs recently reported a 19% increase in net profit as retail sales rose 8.2% in June (in seasonally adjusted terms) compared with the same month last year.
Now I know some commentators might worry that businesses are doing well out of Government assistance but the spending was meant to do that. You can't get an economy to grow to create jobs to shorten a recession, without actually helping businesses make profit. It's that profit that then becomes dividends for shareholders (retirees, super funds, investors, etc), who then feel wealthier and keep on spending to make businesses invest in their future, which helps the economy grow.
Some worried commentators think this government assistance is excessive but economists say the excessive outlays from the Government spark what they call the multiplier effect. And it's our best hope to reduce the smashing of the recession and the escalation of the dole queue.
No one wanted a pandemic but it looks like the Government's response is saving jobs and businesses. And if poor old Victoria had dodged its infection challenge and stage four restrictions, the news would even be better.
Let's keep our fingers crossed for our cousins in the south-east corner of this great country and then hope our state borders are open ASAP. That too will save jobs and businesses as that $65 billion usually spent overseas is spent here.
Have a look at my show to see what stocks the experts think are going to benefit from this good economic and market news.