Like it or not but with the election of US President Joe Biden, the Greenies are coming and the stock market won't be able to ignore the implications. Today in our 5 things you should know, two of our top stories are about the environmental 'police' on the prowl for climate bandits!
First we saw Joe Biden get so serious about fighting climate change that he's prepared to hit exports from other countries with a carbon tax, which the European Union also endorses. And then the Australian Council of Superannuation Investors (ACSI) put our top 200 companies on the local stock exchange on notice over their climate policies, threatening to take action that could see directors ousted if they fall short on managing climate-­related risks. ACSI advises the likes of Australian Super, and if this fund stops buying a company's shares, the stock price will go down the gurgler.
Did I say the Greenies were coming for the market?
And it comes as ridiculously low interest rates are creating a new group of younger investors using the stock market to build their wealth the fast, albeit more risky way. The rise in Tesla's share price shows both the inclination of new age investors to chase pro-environment businesses and a general desire by them and others with vision to invest in companies with a good future theme.
But it would be a mistake to think this "Go Green" movement for stocks is just a young, leftie, tree-hugging exercise because a big US investment house in Fidelity International thinks it's an investing theme that can't be ignored.
Fidelity's Jen-Hui Tan looked at three investing themes which the money is bound to pursue in coming years.
"Sustainable investing identifies themes that will grow in importance based on our needs as human beings," he wrote in a piece on the company's website under the headline of Three sustainable investing themes for 2021.
"We need a stable climate to survive and, to achieve that and thrive, we need a more balanced society," he continued. "That means narrowing social divides where possible, including ensuring equitable access to the internet as the world shifts online."
The conclusion I took from Tan's analysis was that anyone keen to make money out of stocks should look for companies that are in tune with:
Understanding nature-based risks as part of tackling climate change.
Looking after employees, supply chains and communities.
Redefining ethics for a digital world.
In my Switzer Report, James Dunn looked at companies that are pushing into the hydrogen energy space and the market is welcoming these companies. The Hazer Group and Leigh Creek Energy are two of the companies that James looked at in March this year and this is how they've performed over the past year.
Hazer Group (HZR) one year

That's a 96% gain in a year and that makes me happy as the company has presented at our investment conferences over the past year!
Leigh Creek Energy (LCK) one year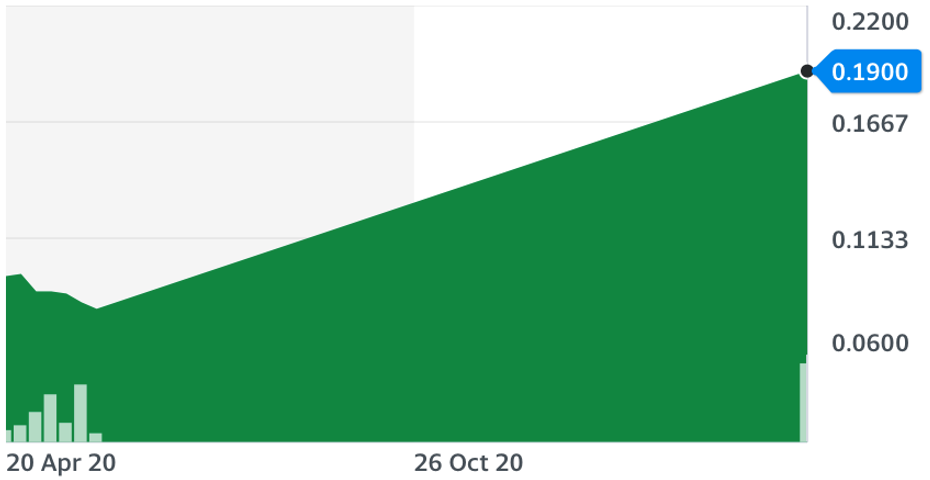 This company is up 98% in a year and where there's smoke, there's fire (or potential). I'm not recommending any of these stocks but the trend is interesting and I have to confess to investing in Hazer after they presented at our conferences.
My colleague Paul Rickard looked at investing with an ESG bent in our Switzer Report under the headline of "Does environmental, social and corporate governance (ESG) investing stack up? And what's the best ETF?"
Paul's conclusion was that ESG investing doesn't always pay great dividends but that was based on a history that wasn't so heavily "going green" as we're seeing today. I suspect if Paul wrote his story in five years' time, he might have been more enthusiastic about the returns from investing in companies with an ESG inclination.
By the way, if you want to know what funds specialise in ESG investing, have a look at his analysis.
Also, our online Investor Strategy Day starts tomorrow and is on Wednesday as well. We have some of the best fund managers and investors presenting, including Magellan's Hamish Douglass on Tuesday and Treasurer Josh Frydenberg on Wednesday (with the Budget only three Tuesdays away). I encourage you to watch these interviews either live or after the events. It's the investor conference that your bottom line has to have! Click here to secure your spot.